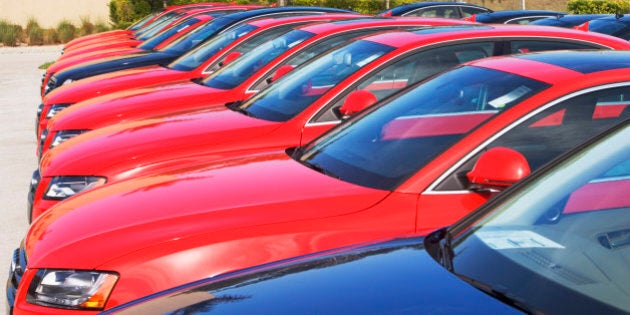 A major international ratings agency sees irrational exuberance in Canada for auto loans, and that could mean trouble for Canadian banks and consumers.
In a report issued Thursday, Moody's Investor Service reported the value of car loans in Canada quadrupled in the space of six years, to $64 billion last year, from $16.2 billion in 2007.
That's an annual debt growth rate of 20 per cent, more than double the rate for mortgages, credit cards and lines of credit, Moody's noted.
And it's thanks to a long run of very low interest rates coupled with "riskier" borrowing practices by lenders, the agency said.
Thanks to easier loans, Canadians are buying more expensive cars than they used to, Moody's said. But that has translated into a rising number of unpaid loans.
Auto loans seem to be the one area of consumer debt that are seeing increasing delinquency rates. Credit rating agency TransUnion reported earlier this year that auto loan delinquencies shot up by 14.2 per cent over the course of 2013. During the same period, credit card delinquencies fell by about 25 per cent and line-of-credit delinquencies declined by about 18 per cent.
The agency noted, however, that even the higher rate of auto loan delinquency, 0.11 per cent of auto loans per year, is "very low and … not a concern."
TD Bank, RBC and Scotiabank are the largest auto loan lenders in Canada, and so are at greatest risk if auto-loan delinquencies rise, Moody's said.
In an interview with Bloomberg, TD Bank said it didn't see a problem.
"The financing we provide fits within our risk appetite and satisfies our thorough qualification criteria," spokesperson Brian Jantzi told the news service. "We anticipate no unusual risks associated with this sector as our business grows."
Popular in the Community