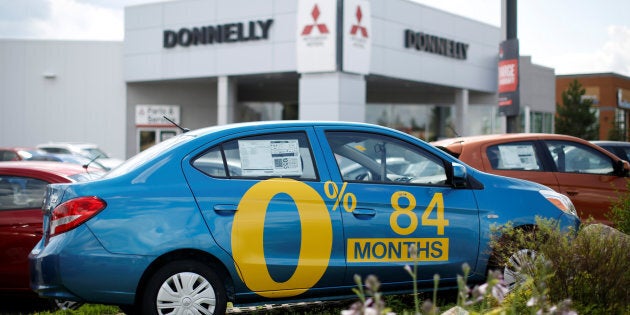 November was a bad month for Canada's auto industry.
November light vehicle sales dropped by 9.4 per cent compared to the same month a year earlier, according to data from Global Automakers of Canada (GAC).
Watch: Canada's auto industry could be gone within a few decades, but a turnaround is possible (story continues below)
In what GAC calls a "worrisome trend," this marks the eighth month in a row that sales have declined, dropping for much of the past year from record highs in 2017.
November's decline drops sales back to where they were in 2014, and it's the largest decrease since the financial crisis a decade ago, Bank of Montreal senior economist Alex Koustas noted.
"While sales are still solid on a historical basis, the recent softening has certainly been more rapid than anticipated," he wrote in a client note.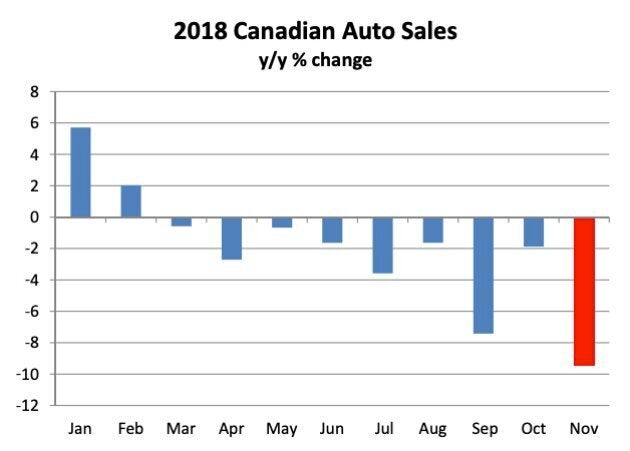 "This is one more pebble in the Bank of Canada's shoe," Koustas added, meaning this data will put pressure on Canada's central bank to slow down its interest rate hikes.
The auto industry is very sensitive to changes in interest rates, and the Bank of Canada has hiked rates five times in the past year-and-a-half, in an effort to cool inflationary pressures in the economy.
With interest rates at record lows for many years prior to that, Canadians have come to rely on increasingly long car loan terms.
More than half of all car loans in Canada are now for seven years, something many credit experts say is too long a time to pay off a depreciating asset. By comparison, in the U.S., only about 10 per cent of car loans are seven years long.
Like Canada, the U.S. seeing a slowdown in auto sales, although the U.S. slowdown is not quite as steep as Canada's. November vehicles sales were down 0.6 per cent from the same month a year earlier.
Like in Canada, rising interest rates are expected to take a bite of car affordability.
"We expect some moderation in sales through 2019," TD Bank senior economist Thomas Feltmate predicted in a client note Monday.
Popular in the Community