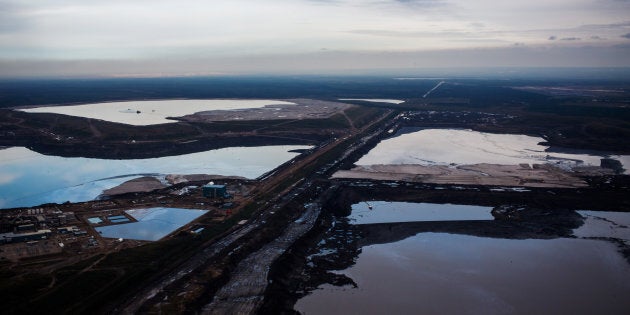 FORT MCMURRAY, Alta. — Steve Kelly remembers days not long ago when Fort McMurray could still be called Fort McMoney.
"There was a time when you could call your cousin and say, 'Hey, there's work up here, c'mon up,'" he says. "It's just not the same place that way anymore."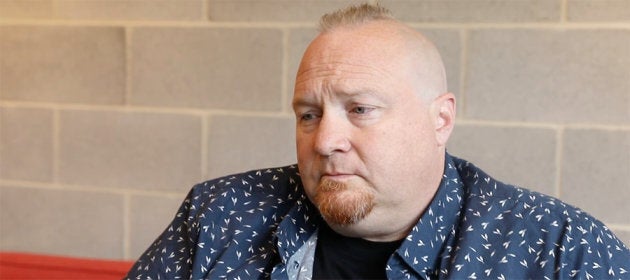 Kelly is tall and thick, and has a shock of hair that runs like a three-dimensional "I" atop his otherwise shaved head. He relocated from Newfoundland to Fort McMurray in 1996, and took a job at an animal shelter. In 2003, he invested in community college courses and Suncor hired him to drive a heavy-haul truck.
The work is gruff — 12-hour days, six days on, six days off — and dangerous, as he now commands a 4,000-horsepower machine in a dirty, post-apocalyptic-looking mine. Kelly is paid handsomely for this unglamorous work, though — more than $150,000 per year.
But Kelly — a rep for drivers through the UNIFOR local 707A union, which represents a large portion of Suncor's workforce — could be one of the last permanent employees to do this job, and he knows it.
In February, Suncor, which employs about 6,100 people in Alberta's oilpatch, announced it's introducing more than 150 autonomous, 400-tonne heavy-haul trucks at several oilsands mines over the next six years. As these robotic trucks start to drive bitumen back and forth, 400 human drivers will be affected, though the company says it will work to find them new roles.
Meanwhile, several sources say Suncor now only hires heavy-haul drivers on temporary, five-year contracts. Company officials would not confirm whether contracts are replacing full-time positions. Erin Rees, a spokeswoman for Suncor, said, "As we move forward, recruiting efforts will focus on different skill sets."
Rees says the earliest the company will reduce positions is 2019, and that "doesn't necessarily mean people would leave the organization due to retraining and other strategies." Suncor is not forecasting any layoffs "to permanent full-time employees over the next number of years as a result of [autonomous trucks]," she said.

Regardless, the autonomous trend is spreading. In July, Imperial Oil announced it will test seven autonomous heavy-haul trucks this year, and it has already tested automated bulldozers at its Kearl oilsands operation, though "no decisions have been made regarding implementation of the technology," said company CEO Rich Kruger in an investor call in July.
Oilsands giant CNRL announced it, too, will start testing automated machinery at its Horizon and Albian Sands operations in 2019, though it has said publicly the pilot will be "small."
Neither CNRL or Imperial have detailed if jobs would be affected by automation. Still, those wanting to quantify the human toll point to comments from another oil company exec, Cenovus CEO Kieron McFayden. At a 2017 investor meeting, Fort McMurray Today quoted him as saying, "We can de-man the oilsands."
Jobs that pay well for one's willingness to work, rather than a degree or a surname, is Fort McMurray's brand. Walk the streets of the small sub-Arctic metropolis and you still find McJob to McMansion narratives — of people moving to the city to take a handful of weeks of training, land a job at the mines and then earn more than some CEOs do. As one McMurray resident, who recently left Ontario and did just this, told me, "I felt like I'd just won the lottery."
The problem is, in 2018, that lottery could soon stop printing tickets.
The costs and benefits of 'de-manning'
Before daybreak, chartered buses start to roll north after gathering up an army of workers from homes along the culs-de-sac of suburban enclaves. After driving a road that cuts through tailings ponds, boreal muskeg and dull-brown clay for 45 minutes, the buses deposit the crews at a handful of operating mines: Suncor, Syncrude, CNRL.
Then, each evening, as the lights on the upgraders glisten a sickly yellow, like a scene from "Blade Runner 2049," the process reverses itself. Indeed, Fort McMurray at either end of a day appears to an outsider as less about a commute to work than a mass mobilization of humanity.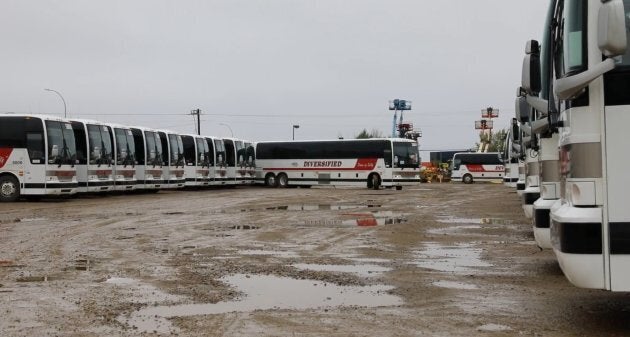 What would de-manning this industry mean?
According to a 2012 report from IHS, a global analysis firm, the oilsands create more wealth than all of Saskatchewan does, nearly 500,000 direct and indirect jobs and about five per cent of Canada's overall GDP. Some see loss coming with technological change, others see gain.
For IHS economist Kevin Birn, the question is not about particular jobs — heavy-haul truck driving jobs, for example — but instead how much a company can get done with a given amount spent on labour. Automation just means these equations are becoming quite blunt, and that companies hungry to find new ways to thrive are interested.
Is that the most efficient use of labour capital for a company, to have that person drive a truck?Kevin Birn, economist
"I think it's safe to say that, since [the downturn in] 2014, the oilsands have gone through an evolution — the need to be more efficient, lower cost and competitive in a lower-price environment," he says. "Labour's obviously a major cost component. The [oilsands are] not alone in focusing on ways to be more efficient with the labour they have and make the labour more productive."
Birn says automation is focusing these equations and offers interesting opportunities, from removing people from monitoring operations or analyzing data to more productive tasks.
"Is that the most efficient use of labour capital for a company, to have that person drive a truck? Or, could I have that same labour-expense spent on something else that potentially could be more productive — things like more engineering and design, to improve the function of the plant, and allow [it to produce] more barrels?" he asks, rhetorically. "Does that allow me to make greater investments in growing the plant, and in doing so allow me to hire new labour for new production? If I can change fundamentally how I produce oil, can I build more [plants]?"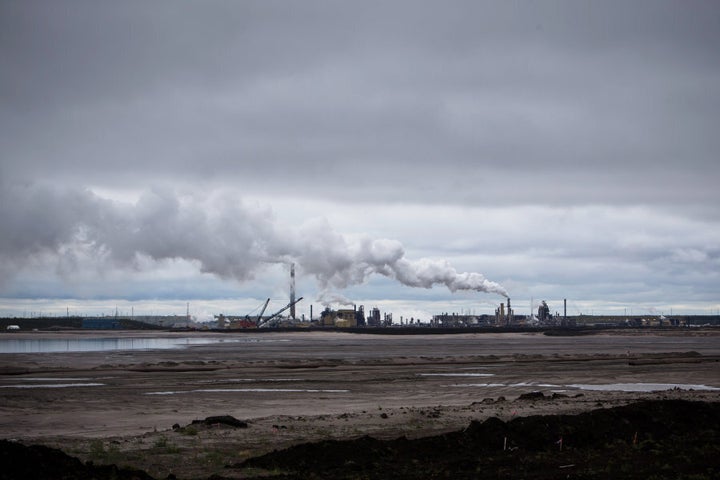 The case for a safer workplace
Self-driving trucks aren't the only automation being considered in oilsands mining. In Australia, for the past decade, Rio Tinto's iron-ore "Mine of the Future" has featured automated heavy-haul trucks, trains and even drills, with human employees located 1,500 kilometres away, in Perth, overseeing things.
The company says automation increases profits but also takes workers away from potential risks — fatigue, dust, noise, vibration and human error. Indeed, Rio Tinto has had zero injuries attributed to the 150 billion kilometres driven by the robotic trucks since they were adopted 10 years ago, the company says.
Court documents, reported on by the Edmonton Journal, outline safety problems, including unattended idling vehicles rolling into gas units, and impaired forklift drivers dropping thousands of pounds of steel. In one description of Fort McMurray's five workplace fatalities since 2013, the Journal reported, "an employee who later turned out to be legally impaired by alcohol climbed a ladder while checking high-voltage currents and was electrocuted."
Automation vs. humanity
Paul Spring says automation makes its best case on safety. He owns Phoenix Heli-Flight and has counted oil companies as his central customers for decades. But, if you get him chatting, Spring is liable to tell you stories of his considerable skill in the face of risk, of having an engine failure and crash landing so gently his passengers didn't even notice.
It's in that context, when Spring talks about drones taking helicopter jobs from Phoenix in hostile environments, that he's sanguine.
"We're in the heart of the Canadian oilsands here so it is oil production, and you do have stacks — flare stacks or exhaust stacks — that may have a heat plume on them," he says. "So, the operators of the plant may need to inspect the top part of that stack and it's a dangerous thing to fly a helicopter through a plume of hot gases or steam, or you may not even be able to get in there. So, we're seeing a camera equipped [drone] ... go up there and do that check quite safely.
"If something goes wrong you've got maybe a $3,000 package that could fall to the ground, but it only weighs a few pounds and likely won't do a lot of damage."
What this shift has underlined for Spring is not that he's being made obsolete, but that his human qualities have become even more valuable. He explains that a drone may spot a problem on an oilsands site — a broken plume, a thicket of noxious weeds — and then he will be called in to ferry experts to the site, with a difficult landing approach, to see more. And he also notes these experts have repeatedly told him that if they're getting in a helicopter to inspect things, they expect it to be piloted by a human.
"If they're going to go up 1,000 feet in the air in a helicopter, they want a live person in there sharing the same risk," he says. "The skin in the game aspect."
But Kelly views these same equations differently. His identity is wrapped up in his driving work. Being a heavy-haul driver has meant "everything," he says, from allowing him to buy a home to raising his family. He worries about job losses and that workers will get a raw deal if technology isn't kept in check.
"We've seen historically what can happen when technological advancements move into an industry and devastate them," he says. "We're not suggesting that you stop automation or technological advancements. We talk about partnering and how can you do that. Let's sit down and have a conversation about where we get our best assets, how can we marry the two, so that we're doing the best by the company and by the communities."
Beyond this, however, Kelly says Albertans own the oilsands and, therefore, deserve to share in the wealth it creates, through jobs anyone can qualify for.
"Some folks aren't meant for management and some folks aren't meant to be a reporter," he says. "You need that unskilled workforce to help support all those base economies. When I go to Tim Hortons, I'm relying on somebody being there so that I can have that cup of coffee in the morning. Or if I'm going to the grocery store, I won't walk through a self-checkout because I'd rather stand in line to make sure somebody has a job.
"By moving forward with this type of technological advancement, my kids aren't going to have that opportunity. So, I don't talk just talk jobs today but I talk jobs tomorrow. The idea that our resource that's owned by Albertans can be operated anywhere else in the world is concerning for us."
The next generation
One day in 2015, Said El Mejdani watched as his students left his math and physics lesson at Westwood Community High School in Fort McMurray, only to notice one of them hanging back. As the room emptied, the young man approached and asked for help to make an app.
El Mejdani, who is 45, has an apple face, gentle mannerisms and loves to talk about his completed PhD in computer science in his native Morocco, felt surprised. "I tell him, 'Come to me after school and I'll start teaching you some coding, some programming, so you can make your phone application,'" he recalls.
Hours later, the student arrived — and brought with him 14 others. They all wanted to learn more about programming and had no formal class to do it in.
Today, what started as an after-school workshop has become a standard class at Westwood, with 250 enrolled students, a budget, robots and computers, and a handful of awards to its name. But outside the school, the offerings for Fort McMurray residents to learn skills for the future are limited. The feeling that this learning needs to happen is not.
El Mejdani says one recent evening, as he discussed his students with their parents, several of them — some highly paid in the oilsands industry — quietly proposed he teach them computer programming, too. "I had four engineers coming and asking if we could offer [them] after-school or night courses."
Later, when he organized a workshop on the Python programming language at Fort McMurray's Keyano College, a large chunk of those enrolled were adults who, like their kids, can sense the world of work is shifting.
"I think computer science and coding is invading our life more and more and those kids are seeing the wave coming," El Mejdani says. "Yes, you could still be a good engineer, but in few years an engineer who is not having these skills will not be as good paid as the one who have them."
I don't think the realization has really sunk home yet that these jobs are not going to be there.Steve Kelly, heavy-haul truck driver
This shift is taking time to filter into the work cultures where workers are potentially most vulnerable. Automation "still isn't front and foremost" on the minds of friends, Kelly says.
"They believe it's still in trial stages. It's still only the idea that companies have announced that they're trying it out. I don't think the realization has really sunk home yet that these jobs are not going to be there, and what the potential to that work will look like. Will it end just at haul trucks, will it move on to other pieces of equipment?"
This sentiment is echoed by other workers in the oilsands HuffPost talked to but who asked to remain anonymous for fear of their jobs being at risk. Many workers are putting their heads down, they say, and there's a belief that while this may affect people in the future, they may be able to survive the first wave of change unscathed.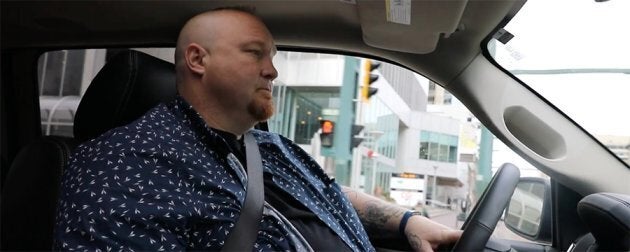 Kelly has a longer view, though. "Automation is going to devastate my community," he says. "When you look at just my own worksite, when it was first announced, there was an idea that maybe potentially 800 jobs, maybe now it's only 400 or maybe ... you know, those are still being worked through. But when you spread that across all the work sites, we're talking about thousands of positions, whether they're lost or just not there."
Look broader and you're talking multiples more.
"We were a community that helped build the nation, essentially. When you go back to different parts of the country — Kelowna, Saskatoon, back home in Newfoundland — [the oilsands] helped build a lot of these communities. So when I sit down and talk about what's going to happen in the future with people ... I don't think it's really sunk home yet.
"I don't think people realize what's going to happen in 10 or 15 years."