Twelve-year-old Autumn Peltier didn't get to deliver her speech in the presence of the prime minister, but she's still spreading her message that the Canadian government needs to protect the country's water.
Peltier, who is from Wikwemikong First Nation in Ontario, had been asked to be part of the introduction of Justin Trudeau at the Assembly of First Nations' annual meeting on Tuesday. She had prepared three handwritten pages of a speech.
"I'm not here to just have fun to travel and anything, because I have a really serious statement and I really want it to be heard," she told The Huffington Post Canada in an interview.
But when Peltier got on stage at the Hilton Lac-Leamy hotel in Gatineau, Que., she ended up with only a few moments of the prime minister's attention, as she gifted him a "water bundle" of a copper bowl containing a red cloth, some tobacco, and a copper cup.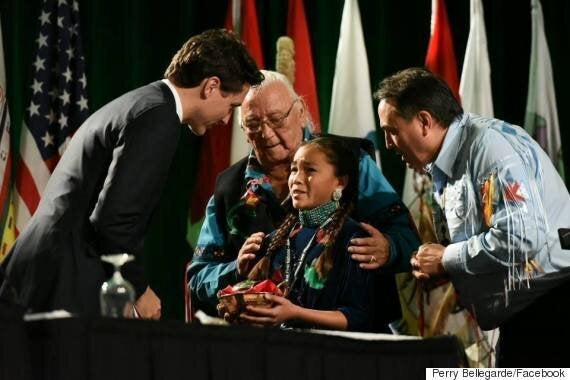 "I said 'I'm very unhappy with the choices you've made'," Peltier recalled. "And he said 'I understand that.' And then I started crying and then after that, all I got to say is, 'The pipelines.'"
She said Trudeau replied to her, "I will protect the water."
Peltier explained on Wednesday, "I was upset with him because he broke promises with the First Nations people when he accepted the pipelines."
Trudeau had pledged a new relationship with indigenous communities and their concerns. Last month, his Liberal government approved two major oil pipeline expansions, including the controversial Trans Mountain line through a Vancouver suburb.
Many indigenous people opposed the Trans Mountain expansion because of the environmental risk from a larger number of tankers travelling in B.C. waters.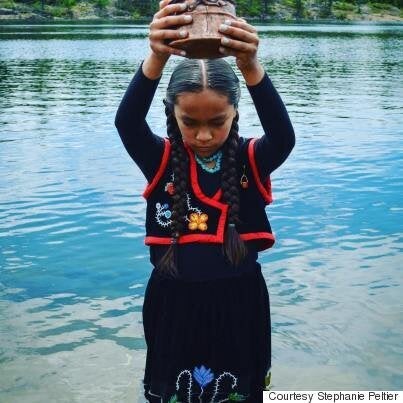 "All that water does for our lives and the thought of water being contaminated and we won't have any clean drinking water — it makes me very sad. And it was just my chance to say it to the prime minister," Peltier told HuffPost.
"After time, pipelines erode, they rot and break down. There have been pipelines breaking all over," she wrote in her prepared speech.
"I should not be standing here right now worrying about my future and my children and grandchildren's future," she wanted to say in front of Trudeau, who is also the minister of youth.
"Mother Earth has been in existence for billions of years and it has taken us less than a century to destroy her.... We know climate change isn't going to change tomorrow. But tomorrow is a new day and we can try to sit together and work together to discuss other ways we can save the environment."
"She had a speech, but it seems they only had time on the schedule for her to present a gift," Belcourt wrote. "What a huge loss that we didn't take the time to listen to this young girl speak as what she has to say is powerful."
The 12-year-old said she's inspired by her aunt and elder Josephine Mandamin, and by her own mother.
"She used to work with all the chiefs, and she used to say I used to be all around all that stuff and big meetings, so I used to hear all that stuff when I was in the womb," said Peltier.
In her speech, Peltier referred to the extended protest by thousands of protesters in North Dakota, who are blocked construction of the Dakota Access Pipeline near a Sioux reservation.
"We came together for Standing Rock and we can certainly come together for water. I hope we can stand together in unity," she wrote.
On Thursday, the Assembly of First Nations' Youth Council started a "water protector fund" to support protests against pipeline construction, reported CBC News.
"It's not a matter of whether Standing Rock will happen in Canada, it's a question of when," Will Landon, the group's co-chair told the outlet. "We're trying to make sure we have pre-emptive measures in place to get resources for when those camps do occur," he said.
With files from Emily Anonuevo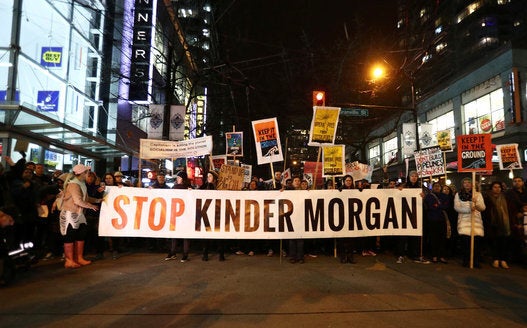 Vancouver Kinder Morgan Pipeline Protests
Popular in the Community