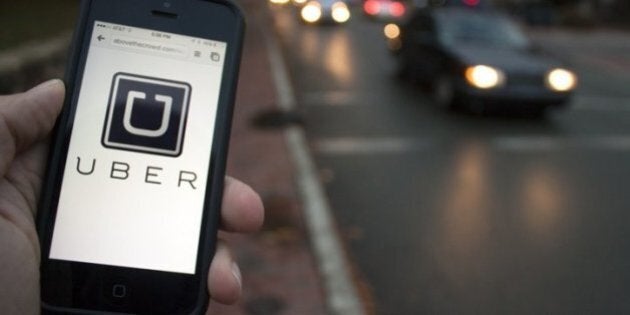 An insurance company that made a point of de-insuring Uber drivers has now developed a product specifically for them.
In what appears to be a Canadian first, Aviva Canada says it plans to offer coverage for drivers and passengers using ride services like UberX.
Insurance experts had been warning the ride-sharing industry about a potentially serious crimp in their business model: If you get in an accident, you may not be covered.
Personal auto insurance doesn't cover vehicles that are used for commercial purposes, and so far multi-billion-dollar Uber Technologies Inc. has been covering drivers' costs from a contingency fund it set up.
Aviva Canada made the news last year when it started cancelling the auto insurance policies of Uber drivers, saying personal vehicle insurance can't be used by commercial drivers.
"When consumer needs change, we must evolve our insurance solutions to respond."
The company's new coverage, which launches in February, initially will be available only to Ontario drivers, but the insurer says it's working with provincial regulators to make the policy available in other provinces "in the coming months."
"When consumer needs change, we must evolve our insurance solutions to respond."
"With ride-sharing on the rise, consumers have new options available to them, however there is a gap in insurance coverage which potentially leaves them without appropriate protection and benefits,' Aviva Canada president and CEO Greg Somerville said in a statement.
The issue of insurance has been one of the biggest complications facing cities that are looking for ways to regulate ride services and create a level playing field between them and taxi services.
The Insurance Bureau of Canada has been pushing the provinces for regulatory changes that would allow Uber drivers to purchase insurance. It sent a proposal to several provincial finance departments to "eliminate some gaps and allow for competitive insurance markets for transportation network companies," as a spokesperson told the Globe and Mail.
According to the Toronto Star, Aviva hasn't yet received regulatory approval from the province for the insurance policy, but it expects to apply for it "very soon."
Aviva's product preempts an earlier effort by Intact Financial to bring insurance to Canadian Uber drivers. Uber itself is reportedly working with Intact on that policy.
In the U.S. some insurers have already begun offering policies to Uber drivers. Companies like MetLife, Geico and Farmers provide ride-sharing insurance in some states.
Popular in the Community