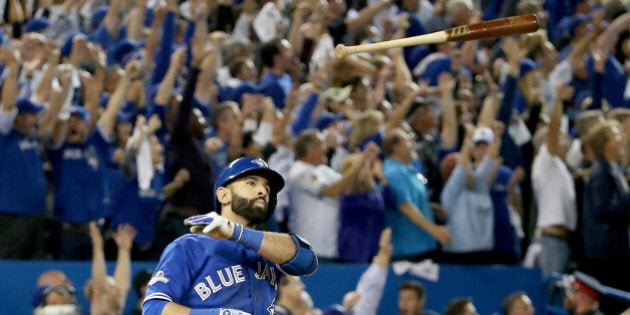 Great sports moments hold a very special place in our hearts. We're able to recount every detail of these memories and tell you exactly where we were when we first experienced them. They're the ones we imitate when our kids are competing on the diamond, on the field, and on the court. But these days, emulating our favourite sport moment might require some recuperation afterwards, but hey, you can't put a price on glory. In partnership with Motrimax™ 12-Hour Liquid Gels, we present you with awe-inspiring sports moments we will never forget.
Texas Rangers vs. Toronto Blue Jays, ALDS GAME 5, 2015
Ask any Toronto Blue Jays fan if they remember Game 5 against Texas and you'll see their face light up.
With the score at 2-2, a controversial (yet technically correct) call allowed the Rangers to score a go-ahead run in the top of the 7th and the home crowd was livid. Booing loudly and throwing beer and other items on the field, they prompted a stoppage of play.
When play resumed, the Jays went to work, loading the bases due to some timely hitting and some shoddy Texas defense. American League MVP to-be Josh Donaldson tied the game 3-3, bringing Jose Bautista to the plate with two men on. What happened next immediately catapulted Bautista into Blue Jays lore. His incredible home run and subsequent bat flip for the ages electrified a team, a city, and a country.
University of Connecticut Women's Basketball Wins 90 Straight Games
There are winning streaks and then there are winning streaks. The UConn women's basketball team constructed the latter over a series of seasons. They followed a 36-2 season in 2007-2008 with one of the most dominant runs in basketball history.
The Huskies went 39-0 in 2008-2009 and 2009-2010, and despite losing key players in the 2010-2011 season, they won their first 10 games of the season to push their streak to 88 consecutive wins.
Their 89th consecutive win established a new NCAA record, and their 90th win pushed them over the top. But all good things come to an end. Their winning streak ended after a game with Stanford University.
Northern Iowa vs. Texas A&M, NCAA Tournament, 2016
The history of sports is littered with improbable and incredible comebacks, but this one defied explanation.
In a second-round game versus Texas A&M in the 2016 NCAA tournament, the Northern Iowa Panthers were up 12 points with only 44.3 seconds left on the clock and it looked like Texas A&M were going home. But looks, as we know, can be deceiving.
With some timely baskets, rebounding and vigorous defense, Texas A&M tied the game 71-71 when time expired. They'd eventually win the game 92-88 in double overtime. It's already being called one of the greatest comebacks in NCAA basketball history.
Michael Phelps Wins Eight Gold Medals At One Olympics, 2008
It took 36 years for an Olympian to beat Mark Spitz's 1972 Munich Games record — winning seven gold medals at one Olympiad.
Against arguably better competition at the 2008 Beijing Olympics, Michael Phelps shredded the competition en route to a stunning gold medal haul. In the end, the Baltimore Bullet bested Spitz by one, winning his eighth gold medal for his leg in the 4x100m medley relay for the American team.
Nadia Comaneci's Perfect 10, 1976
"Perfection" is a word and a concept tossed around a lot when it comes to sports: a perfect season, a perfect game and a perfect pass. Rarely, though, has an athlete been as perfect as was Nadia Comaneci at the Montreal Olympics in 1976.
Comaneci, a 14-year-old from Romania, entered the Games as just another talented amateur athlete. She left as a sporting icon. In the team competition, her routine on the uneven bars was awarded a perfect score of 10.00 — the first in history.
Strive for greatness like your favourite athletes with Motrimax™ 12-Hour Liquid Gels. Motrimax™ 12-Hour Liquid Gels provide quick, effective and long-lasting relief from joint pain and pain from inflammation so that you can hit your own home runs.