Shot by fashion photographer Ellen von Unwerth, the snap shows the 23-year-old singer sporting a leopard-print bodysuit, red boots, long locks in two shades of purple and... wait for it... a black cat on her head. With a knee leaning on a leopard-print stool and a hand covering her open mouth in mock surprise, Azealia looks fierce and in charge.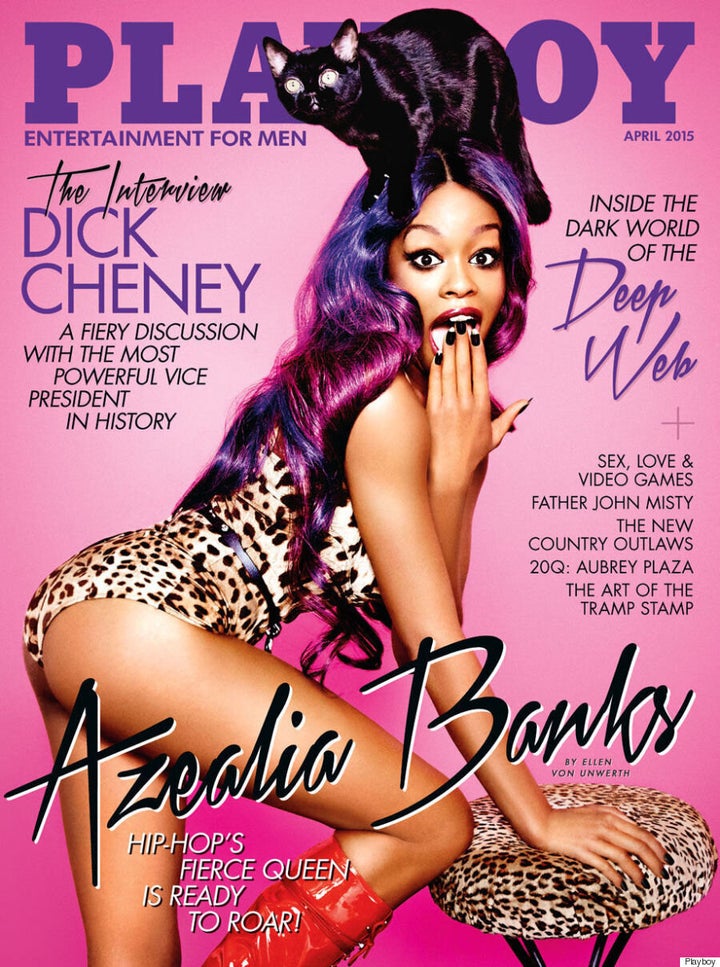 The inside photo shoot is just as fascinating: the "212" songstress sports looks that would make Catwoman jealous. The "Broke With Expensive Taste" songstress loved the shoot so much she posted snaps on her Instagram page.
One pic has her wearing a kitty cat mask (and nothing else) while holding on to two cats that cover her chest. Another pic shows her playing with a giant ball of yarn and wearing dominatrix-inspired leather boots and a leather-and-chain bodysuit. Finally, in true Ariana Grande style, the outspoken rapper wears sequin cat ears while playing in a sudsy bath.
"Yeah, I am loud and boisterous. And I am black, and I am a pain in your ass," she says. "But I'm not really talking to you, and that's what makes those people mad. You're not invited to this conversation. This is not about you. When you rip a people from their land, from their customs, from their culture—there's still a piece of me that knows I'm not supposed to be speaking English, I'm not supposed to be worshipping Jesus Christ. All this sh*t is unnatural to me."
35 Fashionable Playboy Cover Girls