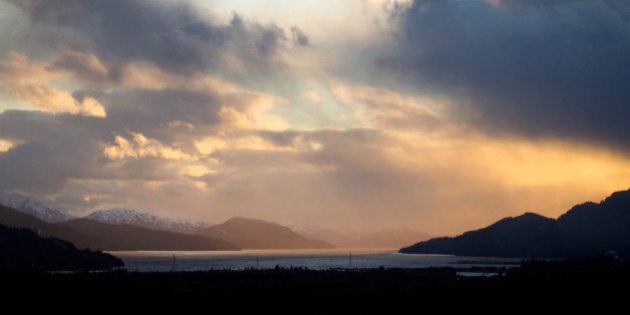 Some of the strongest legal challenges against the Enbridge Northern Gateway pipeline come from B.C.'s First Nations, and supporters from across B.C. are digging into their pockets to help ensure those are a success.
Pull Together, a grassroots campaign to raise funds for the legal challenges of six First Nations, has been so successful that organizers are bumping their goal from $250,000 up to $300,000 by December 31.
On Thursday the Haidi Nation announced they would join the initiative alongside the Gitxaala, Heiltsuk, Kitaxoo/Xai'xias, Nadleh Whut'en, and Nak'azdli Nations to carry legal challenges forward against Enbridge's project.
"The Pull Together campaign is driven by people who care and are politically astute," said kil tlaats 'gaa Peter Lantin, President of the Haida Nation. "They can see how the future of the country is shaping up and want to be part of it."
Chief Marilyn Slett of the Heiltsuk Tribal Council said the fight against the Northern Gateway is a "global issue."
"It's an issue that we all should be standing up to protect the land and the sea, we have that responsibility as human beings."
First Nations lead legal challenge against Northern Gateway
First Nations hold unique constitutional powers in Canada and assert Canada's "duty to consult and accommodate," which leaves individual nations with the ultimate decision-making power over resource projects on traditional territories.
Since 2010, over 100 First Nations have signed the Save the Fraser Declaration, an indigenous-law based agreement definitively banning oil pipelines and tankers in their territories. In 2010 nine coastal First Nations signed the Coastal First Nations Declaration that pledged "oil tankers carrying crude oil from the Alberta tar sands will not be [allowed] to transit our lands and waters."
At least nine legal challenges have been launched by First Nations to stop the Enbridge Northern Gateway pipeline from being built. After the federal government approved the pipeline, a large group of First Nations, councils, and assemblies launched a joint federal suit announcing that they "will defend [their] territories whatever the cost may be."
Under the Tsilhqot'in decision, economic development can still proceed on traditional territories with local First Nations' consent or where the government can demonstrate that development is pressing and substantial.
As part of its pre-construction conditions, Enbridge must prove it adequately consulted with all potentially affected First Nations and that it has plans in place to mitigate or repair any damage caused by the construction and operation of a pipeline on traditional lands.
Individuals, businesses, faith groups get behind B.C.'s First Nations
Over 30 businesses and more than 1,000 individual donors have come together in more than 100 online fundraisers to help Pull Together, an initiative of the Sierra Club BC and Victoria-based legal defense fund RAVEN, work towards its goal.
"British Columbians do not want First Nations to stand alone against Enbridge and they're demonstrating this with passion, creativity, and their wallets," said Sierra Club BC campaigns director Caitlyn Vernon. "It's incredible to think that Pull Together began in the summer with a community group in Terrace raising $2,000, and now we have raised a hundred times that."
Moksha yoga studios are also participating in a "Stretch Across B.C. Challenge," which has raised $8,500 from participating studios across the province. The community of Pender Island raised over $4,000 by hosting a local concert, and the United Church of Canada pledged to fundraise from its congregations throughout the month of November.
Susan Smitten, executive director of RAVEN, said financing legal challenges against the pipeline is a "an extensive, costly legal process."
"The next stage involves gathering all of the evidence required for the Nations to make their cases at court," she said.
"While the Nations are committed to going it alone, standing together and pooling resources with all British Columbians ensures equal access to justice and a successful outcome with much more likelihood of success."