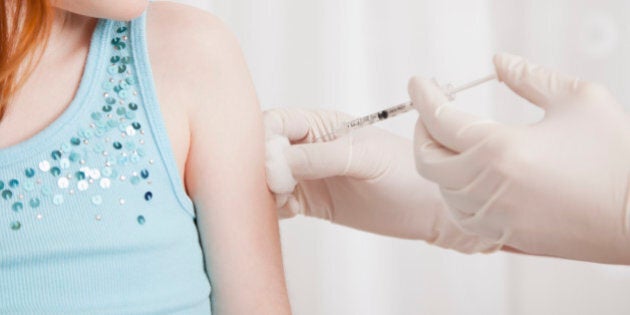 A routine vaccination has turned into a nightmare for a B.C. family after a six-year-old girl was exposed to HIV.
It happened earlier this month when the child got a routine booster shot at the Fort St. James Health Unit.
"While she was getting her shot, she flinched and the needle went through her arm — like, in one side and out the other — and into the nurse's hand," the father told The Huffington Post B.C. in an interview on Monday. He said he wishes to remain anonymous to protect his daughter.
Blood was exchanged as the needle was pulled back through the girl's skin.
The nurse informed the dad there were protocols following such an incident, and asked if the daughter had any blood issues. The father replied no, and asked the practitioner the same question. The nurse said she was fine, but he later found out that she was HIV positive.
"I got a call a week later to come into the clinic and they explained to me that my daughter had been exposed to the HIV virus," he said. The girl must now undergo testing every couple of weeks for the next eight to 10 months to determine if she was infected.
Northern Health, which oversees health services in northern B.C., confirmed it is conducting an internal investigation into an "incident."
"I can't share any information about the client or the health care worker," Dr. Sandra Allison, Northern Health's chief medical health officer, told HuffPost B.C. in an interview. "Anytime there's an incident we definitely take a review of the circumstances and do a critical analysis of what happened."
The girl's father said there are drugs to combat HIV exposure but they must be taken within 24 hours; the child was not able to take them because the family did not find out about the risk until the following week.
"We're just disgusted," said the father. "I feel definitely let down by Northern Health."
However, "an immunization itself is a safe procedure" and is not considered an "exposure-prone" practice, explained Allison.
Northern Health cannot stop the employee from working with patients, she said.
"The organization cannot discriminate against people based on their blood-borne pathogen status including HIV and hepatitis B," she told 250 News. "It is a human right to be able to continue to work."
She also emphasized to HuffPost B.C. that Northern Health's "health care providers are extremely skilled" and that "any incident relating to an immunization is very rare."
The girl, her parents, and four-year-old sister have since moved to Prince George, so she can get a fresh start.
The father has filed a complaint with the B.C. College of Registered Nurses because he wants changes made.
"If I find out that [the nurse is] still giving needles to kids, I will be on the corner with a sandwich board," he said. "It's horrifying. I don't know if my daughter has HIV. We're angry at the health system."


Popular in the Community