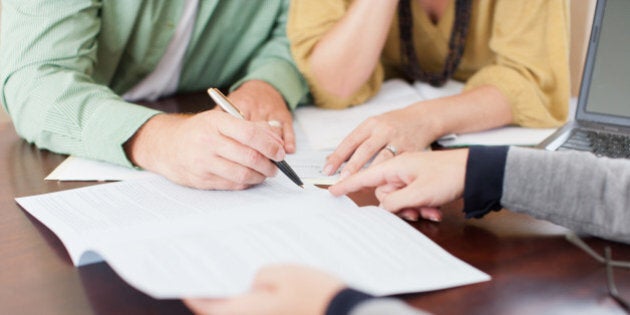 I'm a Grade 4 teacher writing for help. In September, my class learns about building community -- being good friends, bullying, and decision making. We talk about types of government and they inevitably prefer democracy whereupon we start a class council. We compare the rights and responsibilities of citizens to ours as students. Since democracies are characterized by the rule of law, we develop class rules, and write and sign a class contract.
I've loved this unit, but I worry I have misunderstood our democracy. I thought that the rule of law applied to everyone. So when the courts ruled that teachers have the right to bargain class size and composition, and that B.C. Public School Employers' Association (BCPSEA) has the responsibility to uphold our illegally stripped contract, I believed your government would follow the law -- but you didn't.
When my students ask me who has to follow the law, should I answer: 'Everyone except the government?' Previously, I taught that a contract was binding for both parties. You are teaching that a contract is something you can tear up when you don't like it. Why would anyone ever sign a contract with a clause that says the other party doesn't have to honour it?
I think that learning to read, analyze and form opinions is essential. It is empowering to become able to express your thoughts clearly. Mastering math skills and critical thinking is vital and learning to treat others with respect is a marker of being civilized. I am teaching my students to become capable, active citizens. Your government is contradicting those messages. Your disregard for the learning conditions of our students and your lack of respect for their teachers sends students the message that they're not important and that what they learn is not valued. You are wrong.
Public education is an investment in human capital. Our society benefits when students graduate having been given opportunities to thrive. Conversely, we pay the price when the system fails our students.
Budget cuts hurt everyone, but especially our most vulnerable students. The first cuts are support for students with special needs, ESL students, and learning assistance, school counsellors and psychologists, speech and language pathologists, and special programs like music and trades. These programs allow students to find their passion and are often the carrot that keeps our borderline students coming to school instead of dropping out.
Your cuts increase the likelihood that these children will require support later through welfare, mental health and addiction support, health care, and correctional facilities. I would rather invest my taxes in schools than prisons.
I'm sure that when you decided to have your son you had an idea about what motherhood would be like based on watching others. I'm equally sure that as he grew up you realized how much more complicated and important motherhood is. Likewise, most people have an idea about what being a teacher is, but when you become a teacher you realize how much more complicated and important teaching is.
Since you aren't a teacher, I'd like to share how your cuts are impacting my students. This year, your government funding afforded my neediest students three 40-minute periods a week of learning and ESL support. I tell parents their kids are struggling, but not enough to get support.
When three students arrived mid-year with no English skills, my other students lost two blocks of support because the newcomers' needs were greater. I work with them when the class is writing, but while I'm teaching, I pick which student could miss a lesson and "teach" ESL. They deserve to have a real ESL teacher, but we make do. Should I have to choose between my ESL students sitting with no comprehension, or my fluent students missing lessons because you cut specialist teacher funding?
Our counsellor services so many schools and students that my students with anxiety did not get seen. My student with autism receives an hour and 20 minutes of support each day, which I'm told is a lot.
It's difficult to teach computer literacy, because our school doesn't have a class set of computers and we often don't have Internet. Forget digital literacy -- the budget for new books has been cut so much that our schools are using the same textbooks I used as a student in the 1990s, and we often don't have one for each student. Most schools are losing librarians and closing library doors.
I could continue, but I'm really writing because I felt hard-pressed to meet the needs of my students, but next year will be harder. Students with autism, chronic health concerns, learning disabilities, and chronic behaviour concerns require additional support and time. These are special needs, not special wants -- meaning that if we don't meet those needs, those students don't succeed in school. They either quietly fail, or, more often, loudly disrupt the learning of others because we are failing them.
I don't want to fail my students. I want the time to build those relationships so I can address their social concerns and their learning. Please, follow Justice Susan Griffin's ruling and honour our contract. Fund specialist teachers to support my struggling learners. Limit the class sizes and allow for classes to be composed with special needs that can be reasonably met so all students can succeed.
Related blogs on The Huffington Post B.C.: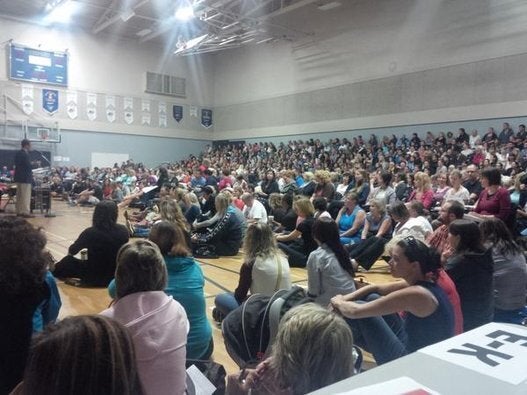 B.C. Teachers' Strike 2014
Popular in the Community