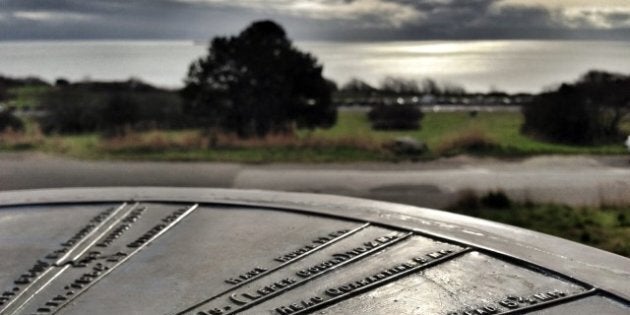 "British Columbia has a leper colony. Its existence is not widely known, for those who compose it are of a race whose affairs never reach the public ear." -- Dominion Medical Monthly: Ontario Medical Journal, December 1898.
At Victoria's historic Beacon Hill Park's south end stands a short concrete pillar, seemingly uninteresting from a distance. Intrigue, however, arises upon reading its weathered brass plaque.
Erected in 1950 at the cost of $537 to Victoria's fair residents, this "Mountain Indicator" has lines radiating from the centre, pointing to 38 different locations, showing distances. These featured locations include cities, islands, notable buildings, and mountains. As Beacon Hill Park History's site explains, "As some features disappeared over time, the marker became a historical record as well."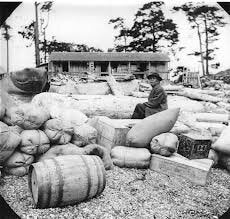 As "historical records" go, I was struck by a line that reads "Bentinck Island (Leper Colony) 10.2 mi."
According to the Leprosy Mission of Canada, "Today leprosy is rare in Canada and is brought in through immigration in small numbers. Tropical disease units of major hospitals usually treat such cases. Medical professionals describe the disease as only "mildly infectious" and up to 95% of the world's population is naturally immune. Leprosy is not a public health concern in Canada and is, thankfully, a part of Canada's past."
Today, Bentinck Island is where the military tests weapons.
But in that past spoken of by the Mission, before Bentinck Island's incarnation as a national defence site, it housed a leper colony. Located off Metchosin by Race Rocks, it had residents from 1924 until 1956, and closed shortly after.
Bentinck Island is only part of the story. Conditions were reportedly humane and to be expected of a quarantine.
That was the end of the leprosy era in B.C. There was a beginning, a disturbing and inhumane beginning.
For the first half of this era, from 1891 until 1924, the lazaretto, aka leper colony, was first located off Sidney Island, on a small island called D'Arcy. (There are two D'arcy Islands side by side. I'm speaking of the larger one.)
While Canada had a leper colony in the Maritimes at this time, the residents there were Caucasians. These lepers were Chinese immigrants.
Understating it drastically, let's just say relations between races were poor in 1890, strained for a whole lot of reasons, not the least of which being the loss of work for whites due to the cheap but diligent Chinese workforce invading the province. With Chinese-Canadians already considered second-class in those darker days of race relations, the Head Tax days, it's not a stretch to see how those in power would consider these five disease-carrying immigrants as barely human and hardly a civic obligation.
According to the Greater Victoria Public Library's site: "The B.C. provincial government passed anti-Chinese legislation, which was disallowed by the federal government. But the demand was strong to restrict Chinese immigration. The federal government was caught between two forces. Employers wanted the Chinese, but the coastal B.C. population was strongly against them. So while the federal government was reluctant to allow harsh anti-Chinese measures, they had no special reason to be concerned for their welfare. With the D'Arcy Island colony, there was no motivation to do anything at all."
But let's back up. How'd they get there?
Victoria was the landing port for most Asians looking to enter Canada. Every now and then someone would elude health inspectors. In early 1891, city officials became aware of five immigrant Chinese lepers being hidden away in Chinatown. They were quarantined immediately, and on April 22, provincial permission was received to begin quarantine on the selected site of D'Arcy Island.
Penelope Johnston explains further:

...Because of fears that the disease would spread to the "white population," officials in Victoria insisted that something be done to isolate the lepers. In May 1891, the unfortunate five were forcibly removed from Victoria and taken by steamer to D'Arcy Island, 25 kilometres away.

D'Arcy Island, part of the San Juan archipelago, is separated from Victoria by the Strait of Georgia. Its 180 hectares had been designated for "sanitary purposes" by the provincial government, which had prepared a longhouse containing six separate rooms; food and provisions for the lepers were provided by city council and Chinese merchants.

Dr. A.C. Smith, a leprosy expert who for 25 years had been superintendent of the Tracadie Leprosarium in New Brunswick, who was asked to come to Victoria to examine the lepers and report on the prevalence of the disease in British Columbia, summed up the situation:

"The five lepers in quarantine, unless they attempt to escape, will not require the consideration of the Sanitary Department for at least 12 months."

Every 3 months, a harbour steamer brought Victoria's municipal health officer and sanitary officer to anchor in a sheltered bay where the leper colony had been established. A landing boat would leave food and clothing on the beach. The medical officer gave the lepers a cursory look along with free opium - while an armed crew member stood guard in case anyone tried to escape by boat.
Of course, if escape attempts did happen, they were to no avail.
For a D'Arcy leper, quarantine was essentially a life sentence. Five started out there, more would join them in coming years, but they'd be few, with a some reports stating a total of 49 lepers passed through D'Arcy and Bentinck by its end.
Thirteen men died during the D'Arcy Island years, but some also were repatriated to China in 1907.
Obviously, between the disease, the isolation, and the four-times-a-year supplies run, the lepers' longevity was not a priority for the government.
All indications are that it was the lepers' Chinese ancestry that allowed the quarantine to be run so minimally, dare I say inhumanely, for so long.
But 122 years ago, that haven must have been desperately lonely, isolating, and even terrifying for those immigrant lepers just shuttled off and left to quietly live a life of struggle, or quietly die as they please.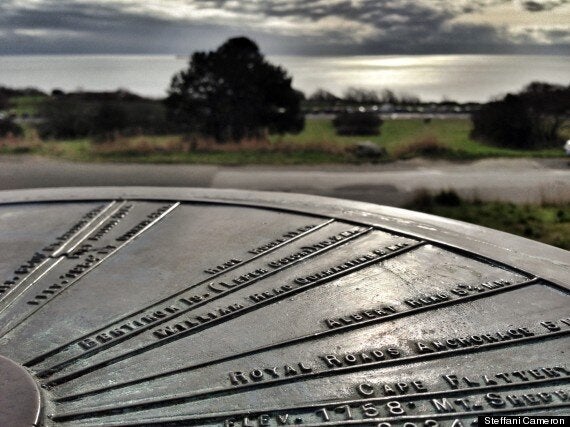 The plaque on Beacon Hill Park's Mountain Indicator as it stands today. (Courtesy Steffani Cameron)
In 2000, the leper colony era of D'Arcy Island ceased being a dirty little secret in Victoria's past when the mayor and council erected this commemorative plaque on D'Arcy. Since then, few remaining concrete ruins of this dark passage of Victorian history have been photographed and used in an Alberta art installation.
I find the legacy of D'Arcy and Bentinck are yet more reminders that this quaint, pretty town of Victoria was borne of colonial ambitions. The lepers of D'Arcy Island were hardly the first victims of those ambitions. Just ask the Songhees natives.
I find these historical accounts sad, even heartbreaking. I understand the desire to pretend it never happened, that we're a kinder, gentler world now, but I know better.
I grew up in the era of AIDS and I remember the height of the epidemic and science being at a loss to treat it, with many voices calling loudly to "put them on an island and let them fend for themselves." Quarantine the healthy and screw the infected. If the right disease comes along, I believe those same rallying cries will be heard again one day.
It's why I think it's important to remember these darker histories.
Since moving to Victoria, I've become increasingly fascinated with civic history. I look forward to learning more, particularly about early Chinese history in Victoria and the Songhees nation. There's something very intriguing about both these cultures juxtaposed against a proper Victorian British culture.
I'll continue sharing these histories as I learn of them.
Popular in the Community