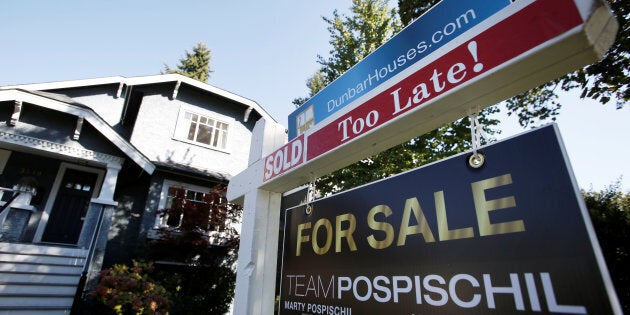 If Alberta is Canada's oil country, then British Columbia is ... real estate country?
New government data released this week shows that British Columbia has become more economically dependent on real estate transactions than Alberta is on oil.
According to Statistics Canada, mining, oil and gas accounted for 17 per cent of Alberta's economy in 2016, while real estate accounted for 18.4 per cent of British Columbia's economy.
The economic milestone was flagged by University of Calgary economist Trevor Tombe on Twitter.
Tombe says this is about prices. While real estate has been growing as a share of B.C.'s economy for years, oil is shrinking as a share of Alberta's economy, thanks to oil prices that today are about half what they were at the start of 2014.
"That sector is generating a lot less income," he told HuffPost Canada in an interview.
That falling share of oil income helps explain why Alberta's economy shrank by 3.7 per cent last year, while the national economy as a whole grew by 1.4 per cent and B.C.'s economy led the way with 3.5 per cent growth, according to StatsCan data.
So should Alberta be diversifying its economy? Tombe says it's not quite so simple.
Contrary to popular belief, "Alberta is among the most diversified provinces already when it comes to employment," he said. Where there's not enough diversification, he says, is in income. That's especially problematic for Alberta's government, as it relies heavily on oil revenue.
That concentration "exposes you to risk," he says. The government should seek out other sources of revenue, he suggests.
So what about British Columbia and its heated housing market?
The latest data from the Real Estate Board of Greater Vancouver suggests the city is bouncing back from the slump it experienced last year, after the foreign buyers' tax was introduced. Home sales were up 35.3 per cent in October, compared to the same month last year.
So has the housing market gone too far in B.C.? Tombe doesn't want to speculate on that.
"It's impossible to know whether you're in a bubble until after it pops," he said.
Popular in the Community