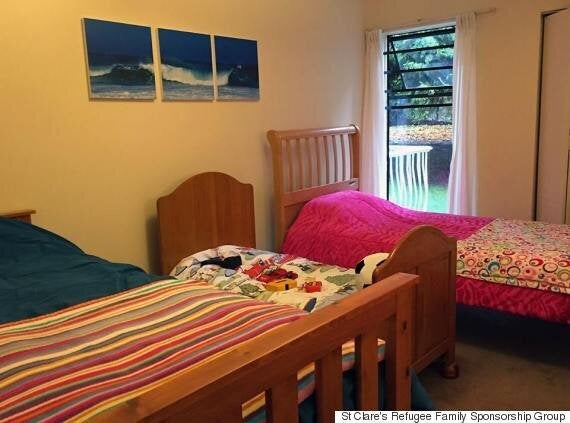 The beds have been made, dinnerware stored in cupboards, and a microsuede sofa slipped into place. They're all items donated by a Coquitlam, B.C. community to furnish an apartment that a refugee family will soon call home.
The suite has been ready for weeks, according to Darrell McLeod, chairman of the refugee sponsorship group at St. Clare of Assisi Parish in the Vancouver suburb. But the unit is currently empty because immigration officials haven't confirmed when exactly the family will arrive in Canada.
"We were expecting them within one week, because we were told once we sign the papers … they could be here in one week or three weeks — and it's been over that," McLeod told The Huffington Post Canada in an interview.
The family of five are refugees who are not being privately sponsored by the Coquitlam parish. Instead, their case is being processed through the blended visa-office referred program.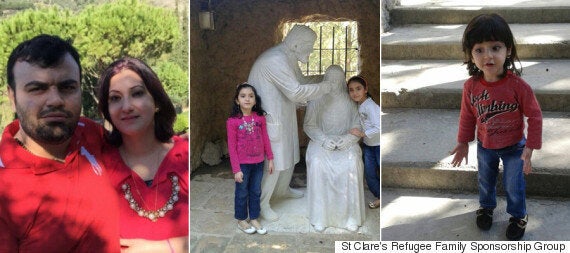 This young family will be supported by St. Clare's refugee family sponsorship group, which is withholding the refugees' names to protect their identity.
The approval process is different from private and government sponsorship. Refugees who qualify for the blended program are recommended directly by the United Nations Refugee Agency to Canada's visa offices — they're essentially pre-approved for resettlement.
One major difference for sponsors under this specific program is the government provides six months of financial support, and the group another six. The community is also responsible for up to a year of social and emotional support.
In contrast, under private sponsorship, a group or organization is responsible for providing a year of financial support.
"We're hoping they come in December, but maybe January. That's the biggest issue here. Timing," McLeod said. "You never know when something's going to happen."
Lost and found in translation
McLeod said it wasn't hard finding enough people to donate items to furnish the two-bedroom apartment — and the offers are still coming.
"We were overwhelmed when we were looking for furniture," McLeod said. "I still get notes from people saying, 'Do you need a dining room table, do you need this or that?'"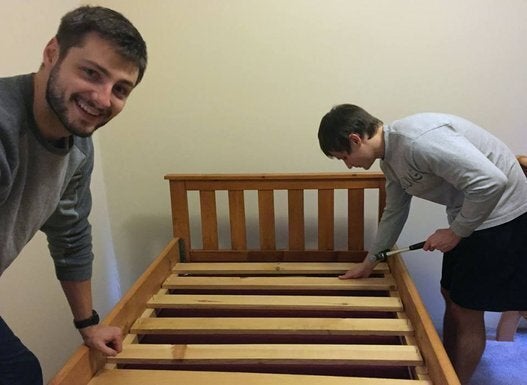 Coquitlam Donors Furnish Home For Refugee Family
Raising sufficient funds to financially support the family wasn't a problem either. After the group submitted the paperwork to co-sponsor the Iraq family, generous donations from the community allowed them to file a second application to privately sponsor a Syrian family.
One challenge McLeod said he's faced during the whole process is the language barrier since the sponsor group and families didn't speak the same tongue. A translator was brought on to help work on both applications. The second one took six weeks to complete, he said.
But another problem that has cropped up is communication. There's been no updated timeline for the family's arrival.
"They've been told to not contact the embassy," McLeod explained about the family's current situation in Lebanon, where they've been for a year. The three children, one two-year-old boy and two daughters aged 6 and 8, and their parents are living in a basement in a Beirut suburb, near friends and family who also fled.
The family left Syria in August 2014.
"And through the archdiocese here, we've asked if there's any hold-up and we've got no feedback at all. No response."
'Everybody's very excited'
It was during the Vancouver Olympics when McLeod heard a story about a community coming together to help sponsor refugees. "I thought it's a good thing to do," he said.
The idea stuck in his head.
Then in January, he was listening the radio when he heard a similar story about a community rallying to support refugees. He floated the idea around his parish and the enthusiasm led to official documents in May.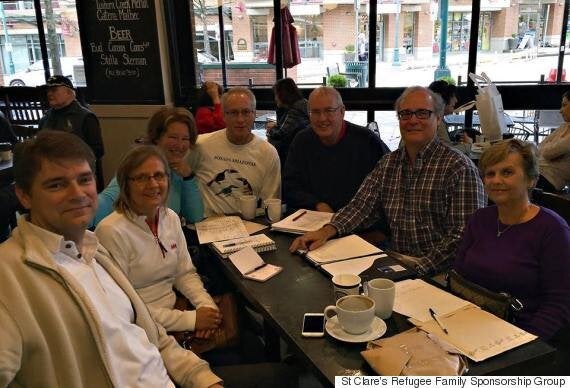 Darrell McLeod (second from right) sits with a group of volunteers with St. Clare's refugee family sponsorship group at a meeting in October.
"It's really good to know that we're so compassionate and that we want to help," McLeod said. "Everybody's very excited about it. Everyone's been really excited to make things happen."
Immigration Minister John McCallum told reporters in Calgary Wednesday that his department has three priorities as resettlement efforts ramp up: "Housing, housing, and housing."
McCallum said he hoped the gestures "will induce others to come forward with similar contributions" so refugees would be greeted "not just with a smile, but with a roof over their heads and all of the other things that they need to begin their lives in Canada."
The previous Conservative government pledged 3,000 Iraqi refugees would resettle in Canada by the end of the year. The current Liberal government has committed to take in 25,000 Syrian refugees by the end of February 2016.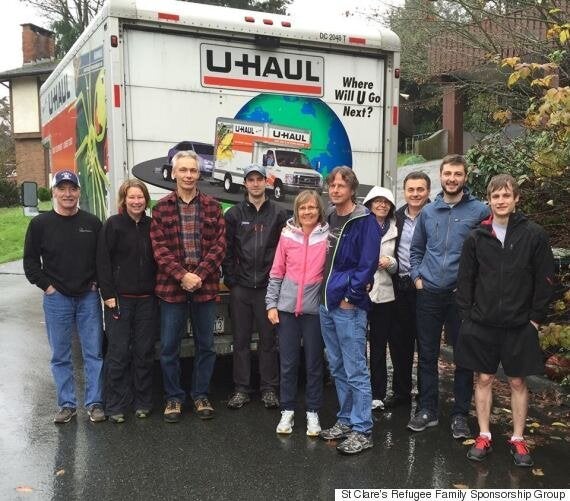 A group of volunteers stand in front of a moving truck in Coquitlam, B.C. (Photo courtesy of St. Clare's Refugee Family Sponsorship Group)
Back in Coquitlam, McLeod insists he and others are ready for both families to arrive.
"We have a whole pile of people waiting to help them," he said. "it's just a matter of them arriving at the airport."
He spoke enthusiastically about how Canada is a great place to live and acknowledged that some refugees may find it hard to leave their homes — but they may not have a choice because of war.
"But we have a choice. We can welcome them, make room for them," he said.
Learn more about St. Clare of Assisi Parish's refugee sponsorship project here.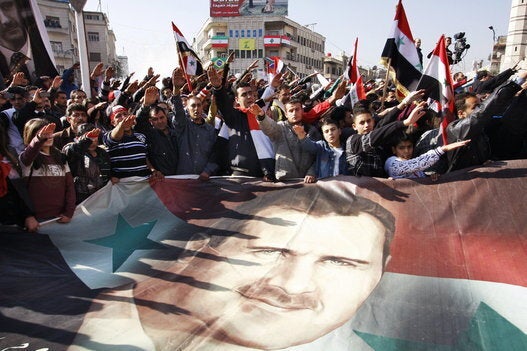 Canada's Response To Syria Refugee Crisis Since 2011