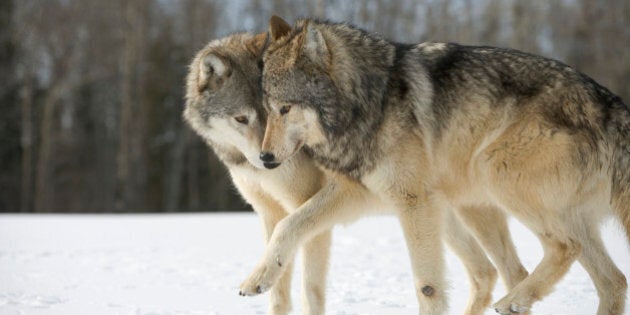 As British Columbians prepare for the holidays, the B.C. government has quietly opened public consultation for a proposed year-round open season on wolves in the Peace region, with no restriction on the number of wolves killed. The province's alleged "scientific" rationale: "Verbal reports from many stakeholders... suggest that the wolf population in the Northeast appears to be very high."
In what appears to be an additional Christmas present for trophy hunters from the ministry of Forestry, Lands and Natural Resource Operations, the province has also proposed tripling the allowable "harvest" of grizzly bears in a remote region of the Peace.
Although many wolf populations worldwide are now under conservation-minded management, those in B.C. are largely managed to reflect political and economic interests. In general, provincial policies are narrowly directed towards treating all large predators as a "resource" to kill.
This is the latest version of an anachronistic provincial wildlife management policy that is increasingly out of step with public opinion and clearly driven by the trophy hunting lobby. The ministry indicates approximately 275 wolves in the Peace have been killed each year from 2000 to 2010 and asserts that this regional population could sustain double the hunting pressure. More than 1,000 wolves are killed province-wide each year for trophy, competitive, commercial and recreational purposes.
Proposing a year-round open season on wolves primarily based upon anecdotal evidence from special interests who possess a self-serving intolerance of large carnivores, such as trophy hunters, is the antithesis of science-based wildlife management.
Killing wolves will not improve the recovery of caribou or other ungulates. For example, ostensibly to protect caribou, the B.C. government has been engaging in wolf-sterilization experiments and wolf-killing programs for more than a decade. These initiatives have not resulted in any measurable benefits for caribou (as stated in the B.C. government's own Wolf Management Plan).
Similarly, Alberta's wolf cull, as reported in the Canadian Journal of Zoology in 2014, failed to achieve any improvement in boreal woodland caribou adult female survival, or any improvement in calf survival, and as such had no long-term effect on population dynamics.
With regard to the proposed increase in grizzly bear harvest, the province estimated a total of "exactly" 459 grizzlies for the area in question and used their population estimate as the basis for the proposal. However, in an interview with CBC's Radio West, which first broke the story, Dr. Chris Darimont, science director for Raincoast Conservation Foundation and Hakai-Raincoast professor at the University of Victoria explained, "The province's population estimates are only best guesses, and suggest a degree of accuracy that simply does not exist."
In a 2013 peer-reviewed paper in the scientific journal PLOS ONE, six biologists from Raincoast, UVic and Simon Fraser University identified that the number of grizzly bears killed in B.C. exceeded government targets in half the areas where the province permitted hunting of the species.
In an article for The Ecologist about the PLOS ONE paper, science journalist Anne Taylor wrote, "There is considerable uncertainty about grizzly bear population growth rates and unreported human kills, as well as how hunting affects other aspects of grizzly bear biology such as genetics, social interactions and evolutionary processes. It is also uncertain exactly how long different populations take to recover from population declines, the effects of changes to food availability and cumulative effects of other threats to grizzlies, logging and development for example."
The B.C. government is failing to take all of these uncertainties into account when setting hunting limits. Kyle Artelle, Raincoast wildlife scientist and lead author on the paper, told The Ecologist, "The problem in B.C. grizzly bear management is that the uncertainty is simply ignored. Although the government maintains their targets are conservative, a simple comparison between their own limits and their own records of kill rates show that is clearly not the case."
Chris Darimont, a co-author of the PLOS ONE study, agrees. "Ignoring uncertainty -- in dimensions such as true population size -- is like playing Russian roulette," he says. "As the history of wildlife management has shown repeatedly, the consequences of not accounting for the unknowns are grave."
The soft and questionable science of B.C.'s management of wolves and bears is fraught with problems that are unacknowledged by decision makers.
Not only do these proposed amendments to hunting policy ignore the principles of science and ethics, but also fail the B.C. public. British Columbians deserve a far more open and transparent consultation process than a relatively brief comment period suspiciously timed to commence during the busiest holiday season and conclude on New Year's Eve.
A version of this article previously ran in the Kelowna Daily Courier.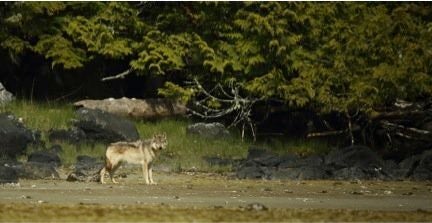 Filming Wild Wolves In B.C.
Popular in the Community