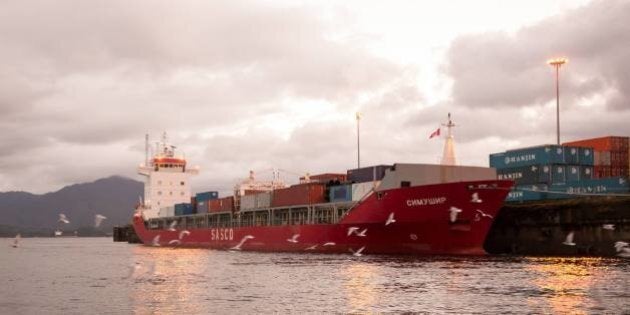 When disaster almost strikes but doesn't, a question always lingers: Was the close brush a reminder that accidents will happen, or proof that we can deal with them when they do?
So it went with the Simushir, the Russian container ship that lost power off British Columbia's coast last weekend and drifted into the political shoals of the province's ongoing tanker debates.
The 72-hour Simushir drama followed all the conventions of nautical misadventure, including bad weather, eery coincidence, and roller-coaster plot twists.
First, the captain suffered a "cardiac event" just as his ship lost power. Then 100 km/h winds started blowing the Simushir directly into the rugged Haida Gwaii archipelago. Leaders of the Haida Nation, who had a meeting on maritime safety planned for the following morning, awoke to discover a ship loaded with 400 tonnes of bunker fuel was listing 24 kilometres off their western shore.
The nearest coast guard vessel big enough to deal with this kind of emergency was 20 hours away in Prince Rupert. The Gordon Reid arrived early Friday evening and managed to tow the Simushir some 45 kilometers away from shore before snapping all three of its tow lines. Once again, the Russian ship was adrift in heaving seas, being blown back towards the coast.
It was Saturday afternoon before an American tug, the Barbara Foss, finally cruised in to save the day. Usually stationed in Washington, the Foss just happened to be in the neighbourhood, and her crew dragged the Simushir to safety while the storm subsided. On Sunday night, the stricken vessel reached Prince Rupert and was smoothly docked for repairs.
So: wake-up call, or see-we-got-this? With Northern Gateway and other energy-transport projects massed on the horizon, the question is inescapable.
The most concise burst of optimism came from B.C. Liberal MLA John Yap, who tweeted "#Ecofearmongers can stand down." Soon afterwards, Fisheries and Oceans Minister Gail Shea implied the same thing in a less tone-deaf statement of her own; after thanking everyone involved for their efforts, Shea concluded that this incident's happy outcome proved it was "possible to prepare for the unanticipated." Under fire during Question Period in parliament, Shea repeated that "luck had nothing to do with it."
If relying on the fortuitous appearance of American super tugs was indeed the government's idea of preparing for marine emergencies, Shea's statement might have been nominally accurate. But in fact, as Enbridge Northern Gateway spokesman Ivan Giesbrecht was quick to point out, the plan to bring over 220 oil tankers a year past Haida Gwaii on their way in and out of Kitimat calls for the construction of a new fleet of our very own "super tugs."
"These super tugs can respond immediately to an emergency because they will carry spill response and firefighting equipment," Giesbrecht told The Vancouver Sun. What's more, he insisted, under the terms of Northern Gateway's marine safety plan, oil tankers would not be allowed to navigate B.C.'s coast in stormy conditions.
What Giesbrecht didn't mention was that Northern Gateway's tugs won't tread past Haida Gwaii and into the open Pacific where the Simushir foundered, an area expressly designated "very low risk" under Northern Gateway's risk analysis. In the no-problem waters beyond Hecate Strait, all oil tankers would be on their own. Meanwhile, it remains to be seen how 225 tankers a year are supposed to avoid inclement weather on a coast that rarely sees 225 days of fair weather in any given solar cycle.
None of this takes into account the 300 oil tankers that Kinder Morgan's proposal would add to B.C.'s southern waters, plus the hundreds of liquified natural gas tankers that B.C.'s provincial government hopes will soon ply our coast from top to bottom. Should even some of these proposals become reality, the number of tankers traversing B.C.'s coastline would increase by an order of magnitude. Will the same be true of our emergency-response tugs?
"It's a joke to think they could ramp up the amount of tankers through our territory and convince us that there's world class systems in place to respond," said the Council of the Haida Nation's president, Peter Lantin, following the Simushir's close call. Caught between relief and exasperation, issued from ground zero of the oil tanker controversy, Lantin's comment was as diplomatic as it gets from the "wake-up call" community.
The Simushir's storm passed quickly. But winter is just getting started.
Blogger's Note: An earlier version of this story incorrectly stated that the Barbara Foss is more powerful than any other tug in Canada's Pacific Fleet. In fact, there were three Canadian tugs more powerful than Foss stationed in Prince Rupert at the time of this incident.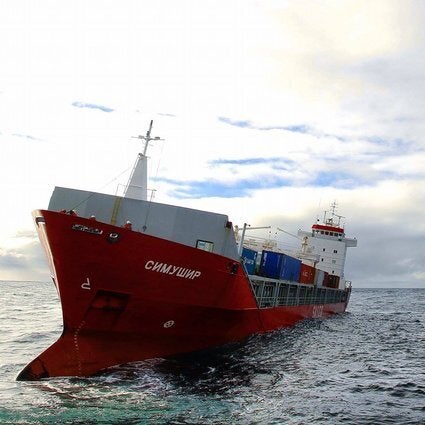 Ship Adrift Off B.C.'s Haida Gwaii