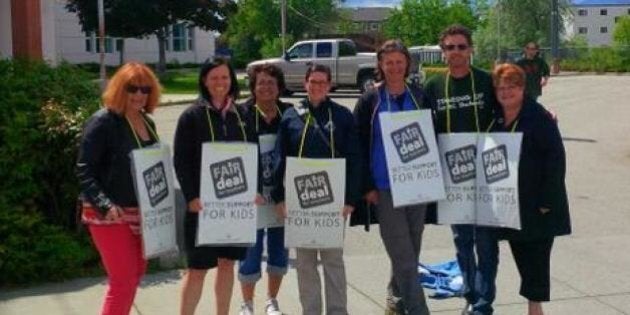 I wanted to write a post that allowed me to reminisce and give more detail about why students are important to me. It is in response to the thread on Twitter #ThisIsMyStrikePay that is lifting the spirits of all teachers in British Columbia and showing the public why we do what we do. It is about these moments that touch our hearts.
First of all, I am thankful for having students that truly care. I went through cancer almost five years ago and I was an emotional mess. As a result, I am not able to have children of my own, so my students have become my kids. I honestly don't think I would have made it through that difficult time, if it hadn't been for my students.
A few students kept inviting me to their soccer and hockey games. At the time, all I wanted to do was feel sorry for myself, but I went anyways. I would have felt too bad turning down their offers. After a while of this, I started to feel OK. I still go to all their games and sit with their mom. This is my strike pay.
These same kids came back on the year anniversary of my surgery date. They knew it would be a difficult day for me, so they came from high school to make sure I was OK. To have most of my old class do this was probably the most touching moment of my career. This is my strike pay.
To have a student tell me years later that being in my class saved him because it was the first year he was able to sleep since his parents split up. All I did was make time to talk to him. This is my strike pay.
To have a parent come to me when her child was in trouble, because even though her daughter was years out of my class, she knew we kept in touch. She asked for my help and her daughter has since turned things around. This is my strike pay.
To have the power to talk a student out of quitting school. He didn't think he could catch up, but I helped to get him passing two of his courses and helped him sign up for summer school for another. This is my strike pay.
To have a former student tell me she is applying to be valedictorian and ask for advice on her speech; then getting to see her speech before anyone. This is my strike pay.
To have a student be the first person there in the morning and the last one to leave every day. To have them ask every day, "You picked me for your class, right?," "You wanted me." While this broke my heart, at the same time it was so amazing to see what caring could do for someone's confidence. This is my strike pay.
To the student who would overthrow the ball in baseball (but not make it obvious) so our autistic student could get on base. This is my strike pay.
To receive so many kind words, letters, cards from students and families. This year, I have students that write me compliments every single day in their planner. "I love you Miss Ling. I love being in your class. Your smile is my sunshine." This is my strike pay.
To be able to develop relationships with families because I have taught so many sibling groups. To have those families tell me when things happen; I had one former student tell me his brother was in the hospital because "I know you will go." To have this student tell me later how much that meant to him that I came every day. This is my strike pay.
To have students say they are my kids and even give me Mother's Day gifts because they think of me as important, like a mom. This is usually a really hard day for me and my heart was touched that they did this. This is my strike pay.
To the girl who found me crying in the classroom after receiving a phone call where they made it sound like my cancer was back. She then went and got half our class so they could hug me and cheer me up. This is my strike pay.
I have so many special or funny moments that I can look back on when times are hard, like they are right now. To me, teaching is about building relationships. When students know you care, they will go out of their way to do their best for you.
To my students, I will always remember you. You are all special to me. You are why I do this job. You are my strike pay.
Related blogs on The Huffington Post B.C.: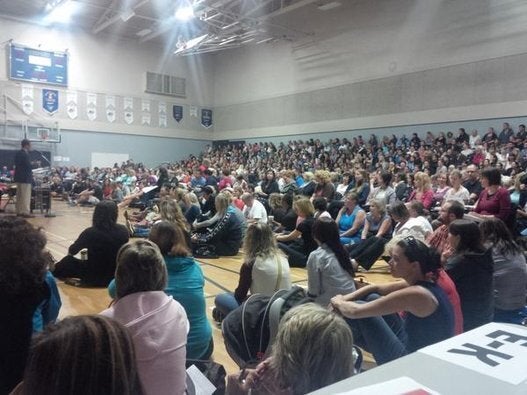 B.C. Teachers' Strike 2014
Popular in the Community