Thanks to The Baby Box Co. – the same company that worked with the Alberta government to launch its program – all Ontario residents will be eligible to receive a box, free of charge, starting in August 2016. In its first year, the program will distribute 145,000 boxes to expectant parents, making Ontario's baby box program the largest in the world!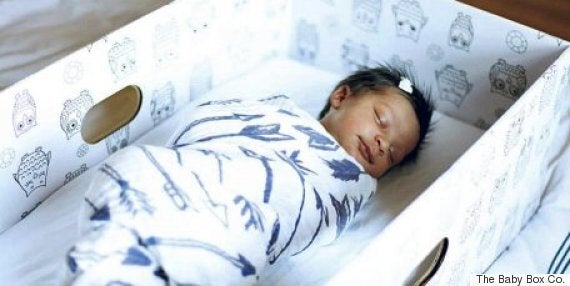 "The Ontario program is a very impactful collaboration," Jennifer Clary, the CEO of The Baby Box Co., told HuffPost Canada Parents. "We are working with insights from the government, community centres, as well as hospitals and medical professionals to ensure that we're meeting the needs of the entire community."
Currently, the contents of the box are still being finalized, but parents can expect to receive a safe-certified mattress, diapers and a variety of childcare products. Clary also revealed that Ontario boxes will be customized for the community and will include some products from Canadian vendors.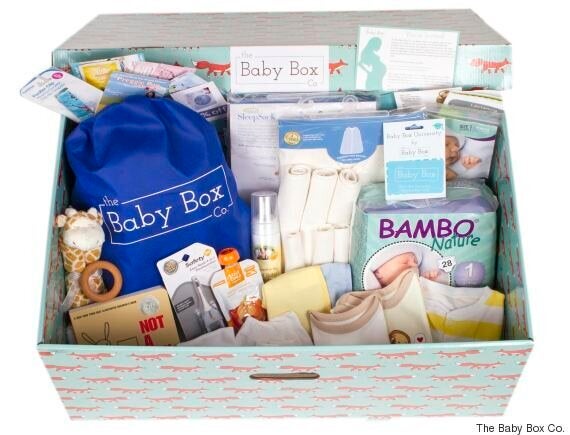 Expectant parents can start inquiring about Ontario baby boxes at their health care provider or community centre in July 2016. All Ontario residents who receive prenatal care and review the Ontario education syllabus created by their health care provider on Baby Box University are eligible to receive a box.
The Ontario education syllabus is a way for hospitals and health care providers to educate new parents on endemic problems in the community, such as Sudden Infant Death Syndrome (SIDS).
If parents give birth before August, they may still be eligible to receive a baby box, but must inquire through their health care provider like all other expectant parents.
Watch the video above to hear more about the Ontario baby box program.
The baby box tradition began in Finland in 1938 as a way to lower infant mortality rates. It was also a way to educate new mothers and help ensure all babies got an equal start in life.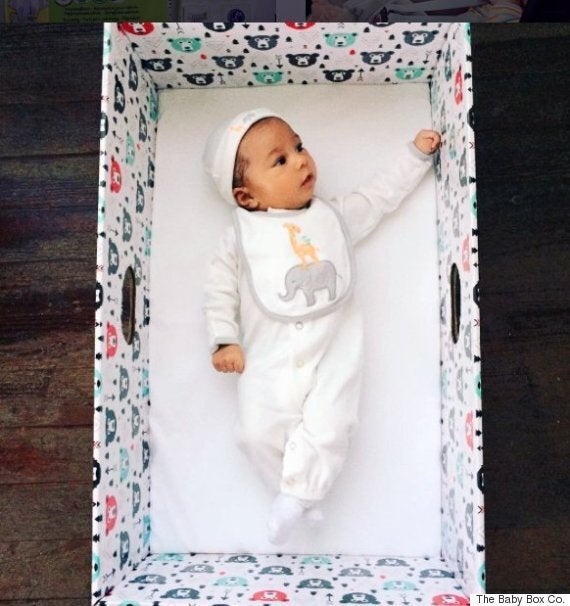 While the box itself is considered a care package for new parents – containing everything from onesies and bottles to diapers and toys – Clary stresses that the box, and the Ontario program, is so much more.
"The box is safe-certified and compliant with all the Health Canada codes, which is wonderful, but we really believe that it's also about supporting parents with education and community assistance," Clary said.
"'Everybody needs this support because this is the most exciting, but still the most overwhelming journey that you will ever have.'"
"This isn't just about giving a box over. It's how it's facilitated," Chief Education Officer Jennifer Weber, of The Baby Box Co., said. "I think that's a very important part of it. It's the education, being able to push our programs and our services out into the community to connect sooner rather than later with moms and families."
Moving forward, The Baby Box Co. plans to expand its program to other provinces. By the end of this year, the company hopes to officially launch in Alberta, where they currently have a pilot program, as well as Manitoba and Saskatchewan.
"Our goal is to have launched programs in every Canadian province by Q2 of 2017 and we are currently on track to do so," Clary said.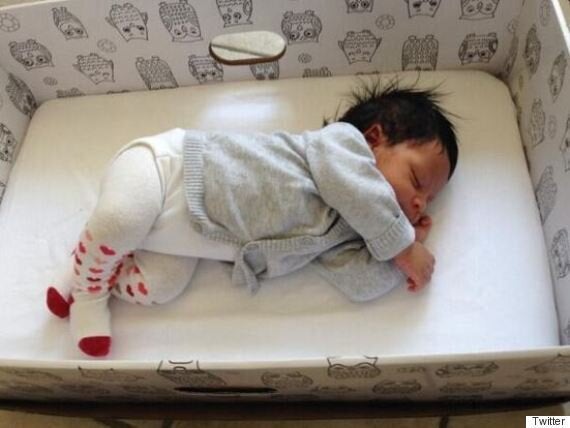 Additionally, the CEO emphasized that the baby box program is about helping all expectant parents, not just those in need.
"I'm a big believer in universal distribution, so we don't target any family and say, 'You're in need of an intervention' or 'You need this support,'" she said. "Our company motto is that we really try to say, 'Everybody needs this support because this is the most exciting, but still the most overwhelming journey that you will ever have.'"
The Ontario baby box program is different from the initiative launched by non-profit organization Baby Box Canada, which is distributing free boxes of sample baby products to Ontario residents starting next week.
Unlike the Ontario program, Baby Box Canada's boxes will not serve as a safe sleeping space for infants. In an email to HuffPost Canada Parents, a spokesperson for the non-profit confirmed, "We're launching beta-testing in Ontario this month. Our box is NOT to be used as a bed/crib for a child."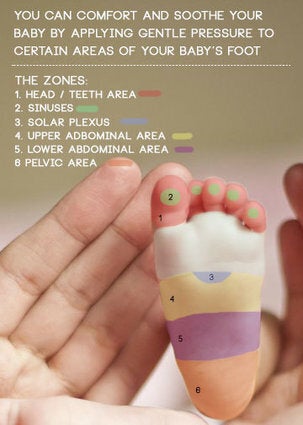 23 Life Hacks For New Parents
Popular in the Community