 Beware of sharing baby photos on Facebook. No pants. No diapers. No service.
That's what happened to Melanie Gillis, a professional fine art photographer who specializes in family, maternity and baby portraiture.
Melanie explains, "I have a Facebook album where I showcase my clients' photos. Prior to Mother's Day, I logged in to my account to find a warning that Facebook had removed one of my photos, and that if I continued to post such material, I would be suspended." The child in the photo is only one-and-a-half.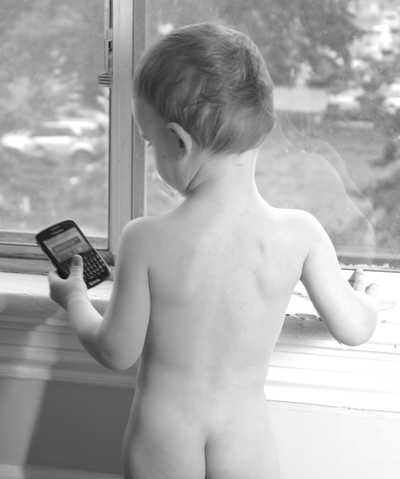 The first "offensive" photo removed by Facebook.
Fearing permanent suspension, Melanie reviewed her album to ensure there were no other baby bums or privates showing. Not good enough. "Over Mother's Day weekend, I posted a new album to celebrate the holiday and show my work. I received lots of appreciative Likes and posts from my Facebook community."
A few days later, Melanie received another warning -- this time, due to the photo of a nude 10-day-old baby whose private parts were not even showing.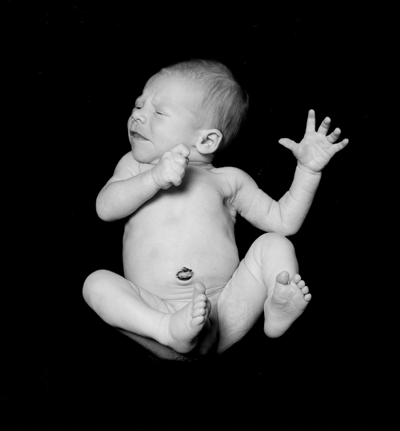 The photo that got Melanie suspended from Facebook.
Facebook suspended Melanie for 24 hours, warning her that if she posts any more photos of this nature, she could face permanent suspension.
"I haven't done anything wrong and I should be allowed to share my work. I'm also a local business relying heavily on social networks and word of mouth. Now I'm afraid to post a picture."
So who really determines the fate of Melanie's photos? Clearly not the artist. Not the community. Not even the parents themselves. But even with all of its fans, this problem is bigger than Facebook.
We're governed more and more by top-down decision making driven by the fear of prudes on the one side and perverts on the other. Should fascists and pederasts really be deciding what we consider socially acceptable? They say you can't be too careful. Really? Tell that to Melanie. You got a few people afraid of hammers and another few who may abuse them as a weapon. Shall we remove hammers all together?
After she regained access, Melanie posted to her status and explained what had happened. If you would like to see the thread of posts that followed, as well as the Mother's Day album, you can check out her page on Facebook, or check out her website.
Popular in the Community