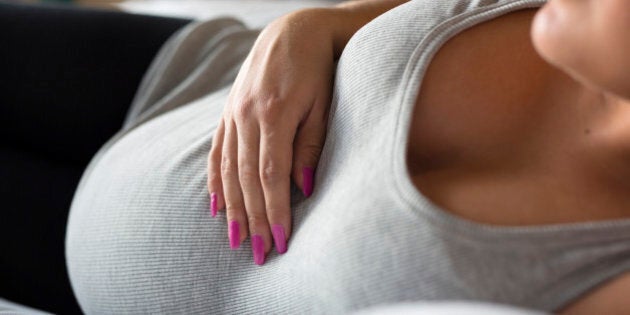 Taking to the skies for travel is a stressful endeavor as is. But flying for two as an expectant mom can really be a game-changer that could add much unwanted stress to your flight. But it doesn't have to be that way! With a little bit of preparation and knowing your body, you can cut down on that pressure to ensure that your time in the air will go as smoothly as possible with minimal bumps. Whether you're on a red eye flight or a quick hour-long jaunt, here are four tips to help you and your tiny passenger along the way.
While most airlines do not prohibit heavily pregnant women from flying, it's the safest bet for you to prepare and look into details about that before you take flight. For instance, some airlines will allow you to fly up to your 36th week, but only with a doctor's note. Others will not allow you to fly after your 38th week at all! Every airline is different, so look into their regulations well beforehand. And as mentioned, do see your doctor to make sure your body is in good shape to fly — especially if it's one that's long-distance — and look into whether you need additional insurance to account for your own passenger.
The high pressures of the cabin inside can be the worst for even the most physically fit. Being in such a small space with a pressurized cabin and adequate air circulation can cause swelling in your joints, dizziness, and shortness of breath among other things that can range from slightly annoying to almost unbearable. And when you're pregnant, these symptoms can become magnified. Take the time to go to your doctor and see if your body is up for the challenge (or if it's okay for you travel by air at all), and once your flight takes off, take the time to stretch out your body in the aisles and rehydrate with water to reduce bloating. Don't forget to use the restroom whenever you need to, so consider requesting an aisle seat for the convenience.
Pack A Travel Kit For Your Pregnancy-Related Items
This advice may sound pretty obvious, but this is the part where you absolutely can't rush packing. Just like you would with a regular travel bag, keep your most handy belongings near you and not in your carry-on or your checked luggage! This includes things like any prenatal pills and vitamins you might be taking, extra underwear, healthy snacks, compression socks or stockings…anything that makes your long flight as a pregnant lady feel comfortable and a bit more relaxed should be right with you in a small bag. It might seem annoying to keep a handy bag hanging about your already limited seat and airspace, but this is a situation where a little does go a long way.
Typing "travelling while pregnant" into Google doesn't exactly produce the most happy sounding results, and the barrage of information of what to do, what not to do, what not to eat, and what to avoid during your trip in general can be more than just a bit overwhelming. Don't let it affect the mood of your entire travel experience with worry and much unneeded stress! Take your time to follow our suggested guide — do your research, listen to your body, and pack to be prepared — and you'll find that flying while pregnant, like most flights are, safe and just a tad slightly annoying.