Baby walkers — which have been banned in Canada since 2004 — are still injuring thousands of children in the U.S. each year, according to a new study.
Over 230,000 babies under the age of 15 months were treated for injuries from using baby walkers in U.S. emergency rooms from 1990 to 2014, researchers noted in the study published in the journal Pediatrics. Most of those were head and neck injuries, and three-quarters of the children were injured by falling down the stairs.
Eight children died from using baby walkers between 2004 and 2008, the study said, calling on officials to ban their manufacture and sale. There have been tougher safety standards on baby walkers in the U.S. since 2010, which researchers noted did correspond with a decrease in injuries, but thousands of babies are still injured each year.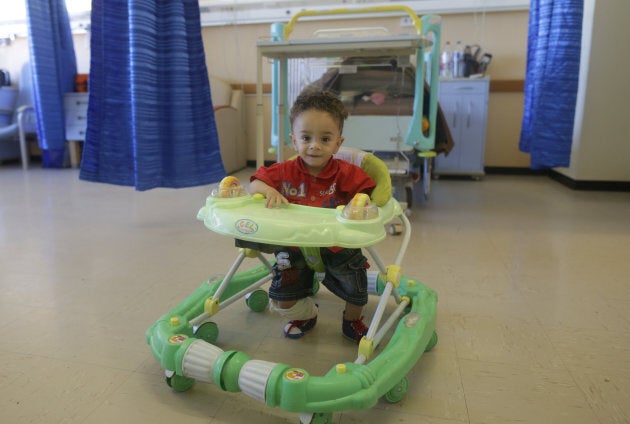 "Infant walkers can give parents a false sense of security. Because children in infant walkers can travel at speeds up to 1 m/second, adults have little time to react to dangerous situations," the authors wrote.
"Despite the decline in injuries, infant walkers remain an important and preventable source of injury among young children, which supports the position of the (American Academy of Pediatrics) to call for a ban on their manufacture and sale in the United States."
What are baby walkers?
Infant or baby walkers are designed for babies aged approximately five months to 15 months who have not yet developed the skills to walk independently, the authors noted in the study.
Health Canada defines them as those "that are mounted on wheels or on any other device permitting movement of the walker and that have an enclosed area supporting the baby in a sitting or standing position so that their feet touch the floor, thereby enabling the horizontal movement of the walker."
Baby walkers are banned in Canada
A 2002 report from the Canadian Paediatric Surveillance Program found that 15 hospitals treated 200 injuries per year in the early 1990s, and 100 per year in the late 1990s. Of those, 8.5 per cent were serious enough to be admitted to the hospital.
Health Canada previously noted there were 1,935 baby walker injuries in babies aged five to 14 months between 1990 and 2002.