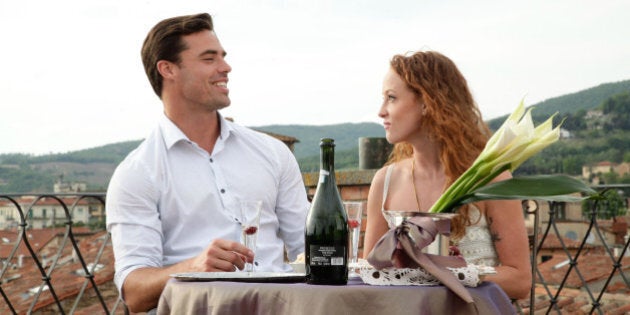 *** WARNING: Contains spoilers. Do not read on unless you've seen "The Bachelor Canada" Season 2, Episode 6. Unless you like spoilers, then go right ahead! ***
Kissing a local at an Italian bar? Ahhh, the things we do for "love" while under the Tuscan sun. Except, this time it wasn't Diane Lane making a peasant shirt faux-pas, it was "Bachelor Canada" contestant Lisa repeatedly smooching with somebody she "met" while not being filmed. Or he kissed her instead. Sure.
"Tim" whisked the ladies away to Tuscany to stay at the Casa Buitoni, and we were shocked by the excessive use of product placement, only because it was not Casa Pizza Pizza. We're also led to believe Lisa's off-camera incident occurred seemingly upon landing, because that's all the women seem to have on their minds. Forget one-on-one date envy or bickering ... what about the RIGHT REASONS?
Generic "Bachelor" contestant Sachelle (who is vying for the title of Miss Bland Canada) decides to become a puritanical spokesperson for the show, and all reality clichés, by scolding Lisa in front of the others.
"She's two-faced, she's not taking this seriously," said Sachelle. "I'd like to see Lisa go. There are some people who are not here for the right reasons."
As Lisa gets defensive and insists she's going to right her wrong, Trisha is selected for the first one-on-one date of the episode. Of course, this Lisa controversy is far from over.
Before he meets up with Trisha, Tim wanders around Tuscany as if shooting a Moore's commercial, and he couldn't look more bored. He says he's "looking for [a] deep, serious connection," but can't even make eye contact with the beauty queen. He looks so disinterested in her, and the fluffy "couples and puppies" conversation, that he's holding her hand with all of the limp strength of a boyfriend seven hours into an outlet mall shopping trip.
Unable to even fake it for the cameras, he half-heartedly tells Trisha he likes how silly he can be around her, and also admits to he's nervous the final woman standing will reject his proposal. Lame. The Edmonton girl buys into his confession and assuages his hapless worries, only to be rewarded with a lovely piece of jewelry ... and no rose. Yet, for a woman who admitted to being previously engaged, it's hard to believe she would equate a private Tuscan dinner and dance under the moon as being enough to merit "falling in love," especially since Tim seemed to be treating his date, and their kisses, like a chore.
Then, finally, we're back to Lisa. The fiery redhead was obviously pegged to be this season's villain from the beginning (she spilled her drink on Jenny's dress at the opening cocktail party! She wears fur! She made rude comments about Natalie, then hugged her!), but nothing she says about the others is different from their own cattiness.
Yet, she still feels the need to defend herself.
"They're catty, they're unsure of themselves," said Lisa, to camera. "They're the epitome of why I don't like females, simple."
Luckily for Lisa, she wins a three-on-one date with clingy Kaylynn and presumed frontrunner, April Brockman. After a nonsense painting contest that was really an excuse to see Tim sans-shirt (disappointing), Lisa "wins" again, and gets some time with the Bachelor on her own. Here, she confesses to her illicit smooch, but insists she was on the receiving end. Tim barely raises an overly-groomed eyebrow at this until later, when Sachelle opts to use her one-on-one date to gossip about Lisa's makeout shenanigans.
Poor Sachelle, she probably thought this would earn her more camera time, but it made her even less memorable to the audience. But, Tim caught her red flag about Lisa. Soon, it's the rose ceremony. Trisha inexplicably receives the first rose, and in seconds, it's down to Kaylynn and Lisa for the final flower. Instead of eliminating them both (because Tim should fear for his personal safety if left alone with Kaylynn), the rebellious Bachelor pulls Lisa aside, gets her to reaffirm her "right reasons" for being on the show, and keeps her around instead of Kaylynn.
Now, before you harp on Tim for this possibly producer-influenced call, he definitely made the right move. He and Kaylynn hadn't had a real connection since their Grouse Grind date weeks ago, and given how quick she can break into hysterical tears, it's a surprise she even made it past the show's emotional and psychological testing.
Why should it matter that Lisa wants to be the show's instigator? She's good TV! Try to imagine a show with 25 April Brockmans, instead. I dare you. Nobody wants to watch "Bachelor Bland-ada," even though Tim's not giving us much of an choice.
"The Bachelor Canada" Season 2 airs on Tuesdays at 8 p.m. ET on City.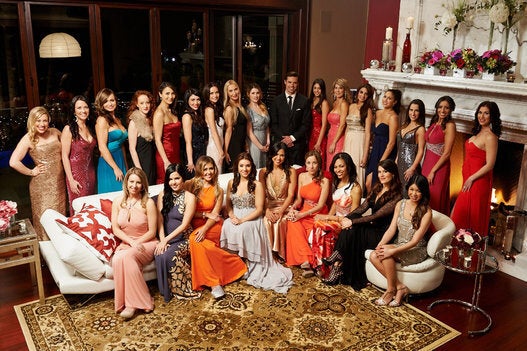 'Bachelor Canada' Season 2 Bachelorettes
Popular in the Community