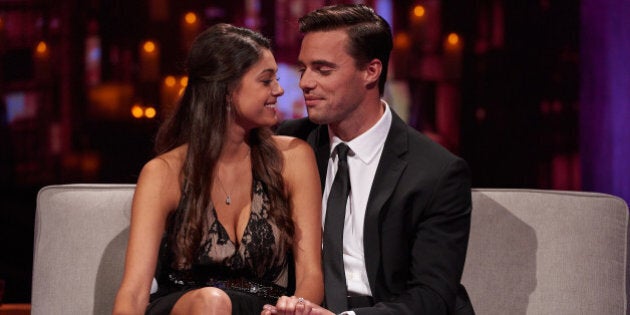 Warmels proposed by the Tahitian ocean on the "Bachelor Canada" Season 2 finale, and Brockman did not hesitate with a big "Yes!" Throughout Season 2 of "Bachelor Canada," April and Tim displayed an easy chemistry despite some rocky moments, and now, almost six months after they shot the finale, they can finally be open and public with their love.
HuffPost Canada TV spoke with the couple in Toronto, where they sat lovingly on the couch. Warmels wouldn't take his eyes off her.
HuffPost Canada TV: So how are you guys feeling?
Tim Warmels: It's such a relief.
How hard was it to keep this secret from friends and family?
April Brockman: Our closest friends and family knew, which was great. Everyone else, it was a little bit difficult, because you want to tell them. Some of them, though, you don't really want to tell them -- they're sharing in the excitement and you don't want to ruin it for them.
What's it like to fall in love under such intense scrutiny?
Tim: There's a lot of pressure to it. To make sure you get away from the pressure is the biggest thing, to make sure this is really what you want, that it's real. There were times -- that really didn't get put out there -- that I was in a very seriously stressed-out place. There were physical manifestations of stress. My only saving grace after that happened was I knew I was giving it my all.
What about the house full of competing women? Surely that must've been tough.
April: It wasn't a competition for me. The other girls being there didn't faze me. It was a big slumber party half the time.
Tim: I was literally laughing at how Canadian it was. Everyone really liked each other!
April: Yeah, we all got along really well and we still stay in contact. It wasn't a competition. I was there to date him and see if there was a connection. I was very realistic about the whole thing. I totally thought I'd send myself home, because what are the chances you're going to fall in love on a TV show?
Tim: One of our very first conversations was about her view on that, how she didn't see it as a competition. If I had a connection with her, but also had a stronger connection with someone else, she would want me to be with that person. When you love someone, or you like them, you wish them well and want them to be as happy as they can be. When she said that to me, I thought, "Man, it is so rare for someone to have that outlook!"
What was the hardest part of this whole thing?
April: For me, it was having those intimate moments and conversations on camera. I wasn't exposing my past to just Tim ... which is obviously hard in a new relationship anyway ... but it's also to the crew, the producers, the mic guys, the lighting guys, as well as the whole nation! That was hard for me to have everything exposed. I knew what we were getting ourselves into, but I didn't totally know what to expect. I thought I was a very open person prior to this, but I clam right up! [Laughs]
Tim: By the end, I think the most comfortable thing to do on camera was kiss.
Tell me about the wedding plans!
April: It's been almost six months of secrecy, so we couldn't plan any details. We couldn't pick out any venue, I couldn't dress shop -- I want to bring everybody! -- so there was nothing I could do. Now the planning starts. We would like to get married in the fall, but then, of course, we want so many people to be a part of it. We hope for the fall, but we'll see. We also want to enjoy engagement for a while.
Tim: We want to go to Starbuck's. [Laughs] We want to go out for some dinners.
Reality show audiences are tough. What do you have to say to all the naysayers out there who want you two to fail?
Tim: It's really tough. Sometimes those come from truly well-thought out, opinionated places, and sometimes they're people who want to do you harm. It's unfortunate that it exists, but we literally have to force ourselves not to look at it. It does affect you, no matter how strong you are as a person. Somebody said, "Your fiancee looks like a man." I was like, in what universe does my drop-dead gorgeous fiancee look like a man?
April: It's sad, though. I wasn't really aware of it throughout the whole process. When it was down to me and Trish, that's when I realized -- because it's 50/50, people either love you or hate you at that point. We do have so much love and support behind us, and it's truly like a force. If we can focus on that, the other stuff doesn't faze us. In the moment, it does, but it's going to exist no matter what. As much hate as there is, we get that much love -- probably more.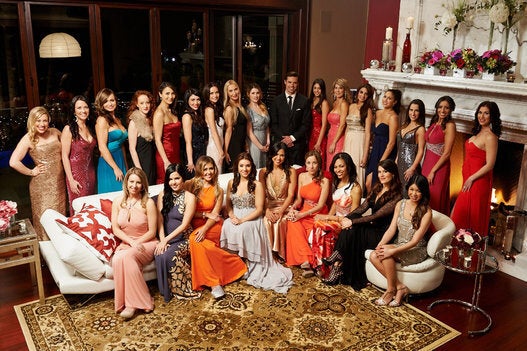 'Bachelor Canada' Season 2 Bachelorettes
Popular in the Community