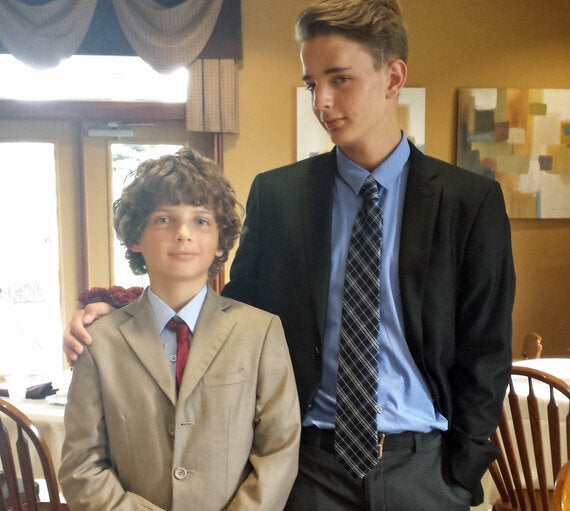 My sons as a family event this summer, with clothes from our local thrift shop. Check out the younger one's $15 Italian suit! Photo/Debbie Wolfe
The two teenage boys eyed one another with a knowing wink. They had spent two weeks proving their manhood on an outdoor survival canoe trip in northern Ontario. Now back at camp, they were saying their goodbyes.
The guys exchanged powerful back thumps, followed by a series of intricate hand slaps. What they did next would have mystified most onlookers:
"Value Village," said my son Derrick, with a cheeky grin. "Value Village," confirmed his buddy, with a sly nod of the head.
The best-dressed kid in the woods
The boys were referring to the thrift shop where my fourteen-year-old son buys most of his outfits. He'd shared his secret at trip's end, after winning the award for the paddler with the 'Longest Shelf Life.'
Two weeks into a muddy, sweaty odyssey with no clean clothes or showers, Derrick apparently looked great longer than anyone else. Even in the wild, he was ridiculously well put together.
With this award, the secret which embarrassed my kid throughout his adolescence has officially become a source of pride and even coolness. He's rarely shared his shopping habits with friends before, but people often comment on his wardrobe.
Thrift shopping for school
At school, Derrick sports several new outfits every month of the year. He's never without a designer label. At a time of life where success in the classroom can be undeniably connected to feeling comfortable in one's own skin, he has found his look.
Having the freedom to try buying new things for $3.99 -- knowing that he doesn't have to wear them forever -- has been part of that experimentation.
With classes starting next week, Derrick's heading for Value Village for that all important back-to-school shopping trip. Even at an age where he's wearing men's clothing, I know I can hand him $50 and be done with it. That's a great feeling all around.
The deeper reason for thrift shopping
People shop at thrift stores for many reasons. I hail from Britain, where second-hand clothing was not a source of shame but a way of life. Here in Canada, our family has a limited budget for clothing, preferring to pay for canoe trips and soccer programs.
But the best reason for thrift shopping has less to do with how we look -- and everything to do with the lives we touch.
I've always felt the painful irony of dressing my boys in school clothing made by other people's children.
One of those reasons is the infamous Rana Plaza garment factory collapse in 2013. More than 1,100 people were working in the building, churning out fast fashion destined for places like Canada. Although cracks were spotted in the foundation days earlier, the workers were forced to report for duty. The whole, hulking structure came down on top of them.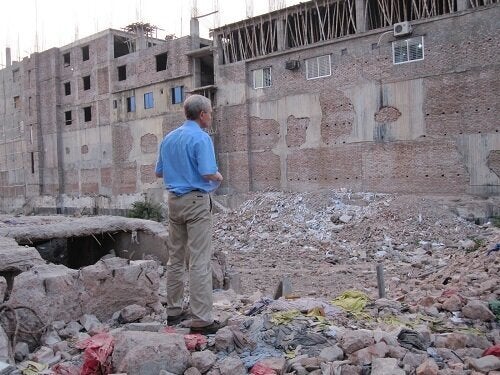 The aftermath of Rana Plaza, a year later. Photo/World Vision
Two years ago, I had a chance to visit Bangladesh on a World Vision trip. I walked through the rubble where Rana Plaza had stood. It would have been overwhelming at the best of times. But I'd just spent the week meeting with Bangladeshi kids who do dangerous work just to stay alive. Their parents also work in hazardous jobs -- not to pay for music lessons, but for tonight's meal.
I've always felt the painful irony of dressing my boys in school clothing made by other people's children. The children hunched over the machines will never wear the clothes they're sewing for back-to-school. For many, their school careers are over.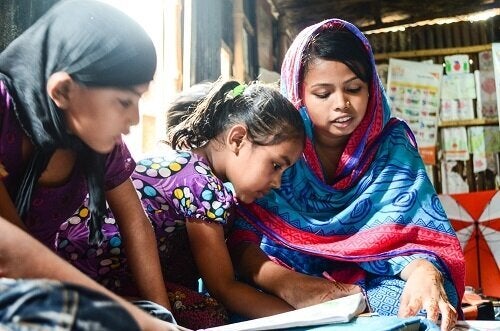 Bithi (right) used to love attending World Vision's drop-in learning centre for child workers. Now, she works 12-hour days sewing pockets on designer jeans. Photo/World Vision
Reasons against thrift shopping
In writing about this topic before, I've had many thoughtful responses from readers. "Isn't it worse to stop buying the clothing children are making?" some have commented. "It might make you feel good, but you're robbing children of the pay they need just to stay alive."
It's absolutely true. As my colleague Doug Blackburn pointed out in a blog this spring, economies such as Bangladesh's rely on the garment industry. "Despite low wages and insufficient regulation," he wrote, "the garment industry in Bangladesh has been the key contributor to a growing economy that has helped millions of families get their first foothold in the long climb out of extreme poverty.
Second-hand: one strategy among the many
That's why thrift shopping is just one strategy in a bigger bundle. It's best when combined with other measures, like emailing the clothing companies you support and explaining your concerns about abusive workplace practices, like child labour. Many companies treat their own employees fairly, but can't or won't vouch for the contracted companies in their supply chains.
You hold a lot of power as a consumer, and the companies know it. Hearing that you're edging toward thrift shopping is a powerful motivator for them to change.
If working conditions for parents were improved and pay increased, moms and dads would have more power to provide for their children. Kids with the same potential that Canadian children have would have the chance to remain in school instead of sweating it out at sewing machines.
I've read recently that conscious shopping is boring, tiresome and just not cool. A few of my readers have shared that they're sick of hearing about it. I respect their opinions: it takes work and time to shop ethically, and I've often struggled myself.
But consider this: my kid has just won an award for being the most fashionable teenager. His summer wardrobe cost me all of $40, and we had no arguments about what he chose.
My husband and I went out for sushi instead. How's that for cool?
Interested in trying to shop consciously? World Vision's Conscious Consumer Challenge e-mails you a new, small challenge every few days. Join thousands of Canadians who've taken the challenge!
Follow HuffPost Canada Blogs on Facebook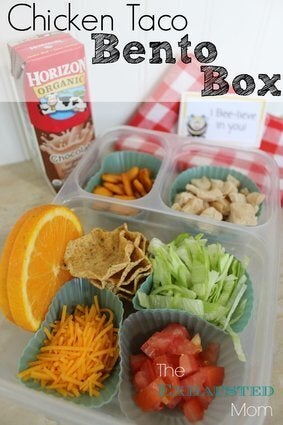 Back-To-School Lunch Hacks For The Frugal Parent