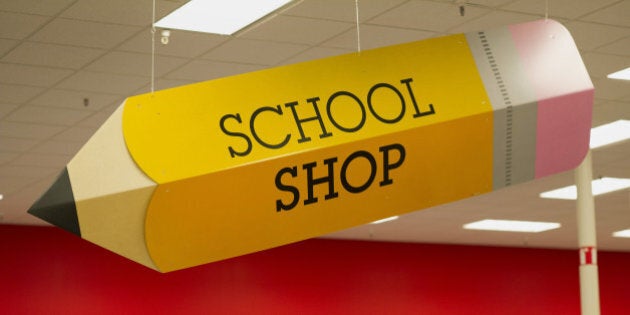 The majority of Canadian parents describe back-to-school shopping as a "chore" or even a "nightmare" (70 per cent), according to a recent survey by Ebates.ca. Parents say their top stressor this time of year is the hassle and expense of back-to-school shopping (32 per cent), whereas kids are more likely to describe back-to-school shopping as "a blast" (59 per cent). The kids are more concerned about homework (34 per cent) and having to wake up early (33 per cent).
While going back to school can be overwhelming for both parents and kids, it doesn't have to be that way. Following these simple tips will take the stress out of back-to-school shopping -- even if you are down to the final days.
First, take inventory of what you already have. You may have products that went untouched last school season. Have a family scavenger hunt asking the kids to search for last year's school supplies. You will be surprised at how many calculators, highlighters and notebooks you dig up, especially if you offer a reward such as an extra few dollars toward the shopping budget for every useful item your child finds.
Make a list of what you need now versus later. Perhaps there are items that your child needs for the first week of school, but there are also items that can wait until later in the fall. Note the items that can wait as you may be able to take advantage of back-to-school clearance pricing.
Scope out the scene online. Many online retailers offer impressive savings and free shipping, plus you can compare prices easily online. According to the Ebates.ca survey, parents who are shopping online appear to enjoy back-to-school shopping more than those who don't shop online. Almost 40 per cent of parents who online shop describe back-to-school shopping as a "blast" whereas only a quarter of those who only shop in brick and mortar stores feel this way.
Use apps. If you have a smart phone, put it to use. There are many mobile apps available from leading retailers to help you find the best deals. At Ebates.ca we recently launched an app giving members even greater access to cash back, online coupons and free shipping from hundreds of Canadian-based retailers.
Give the kids a budget to work with. Start the financial lessons early and educate your kids on setting and sticking to a budget. Let them know how much they have to spend and get them to browse websites, adding what they want to the shopping cart so they can see the total tally up and know when they've reached their budget.
While shopping at this time of year can squeeze parents' wallets, there are ways to shop smarter and make the experience more positive, while introducing a little family fun.
The Ebates Canada survey was conducted online in July and August, 2015 with a random, nationally representative sample of 1,000 Canadian parents of school-aged children and 916 interviews with their school-aged children. A sample of this size is accurate to within +/-3 percentage points for parents and +/- 3.5 percentage points for children, 19 times out of 20.
By Adrienne Down Coulson, General Manager of Ebates.ca