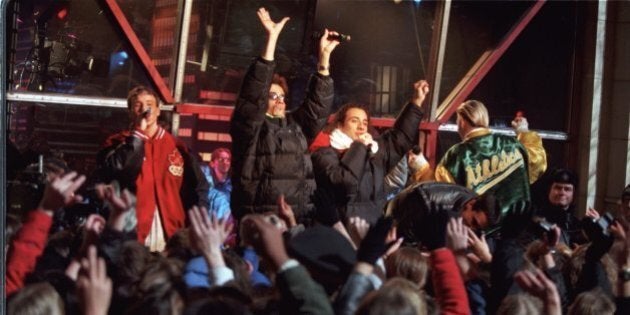 It was 1995 when a radio programmer at Montreal's Mix 96 (now Virgin Radio 96) is said to have heard the Backstreet Boys' "We've Got It Goin' On" in Europe and decided to give the catchy tune a whirl on his station.
Bolstered by Montreal radio listeners reception to "Get Down" the following year, these sparks would eventually set off the band's North American explosion –– a nineties phenomenon which 20 years later has seen the quintet remain the biggest-selling boy band in history.
"It was really groundbreaking for us," reflects AJ McLean. "We used to come back to the U.S. and call it 'No Fan Land' because we would go from being on tour in Europe for thousands of people to coming home to no one. But we had been focusing a lot on France, which is where it started to leak back to the French-speaking provinces of Canada, then slowly it made its way to Toronto and filtered down into the U.S.
"Detroit, New York and Chicago were some of the first U.S. cities to play us on the radio and I know it leaked down from their friends upstate in Canada. So Canada holds a really special place for us because it was a huge asset in infiltrating the Backstreet Boys into the US."
"Canada has been amazing to us," adds Kevin Richardson. "It really was the first place we broke in North America."
That rise is part of the journey chronicled in the group's new documentary "Backstreet Boys: Show 'Em What You're Made Of."
From their early days –– plucked from Florida auditions by now-imprisoned boy band impresario Lou Pearlman –– to slowly building a following through high school tours and spontaneous a capella outbursts, the film charts the ups and downs of their rollercoaster ride to fame.
"I remember the overwhelming reaction we got when we started playing 'Get Down,'" recalls the Montreal radio station's music director Madhvi Shah. "The phones wouldn't stop ringing –– our female audience was in love."
By the time BSB made their first trip to our shores, playing for a crowd of 62,000 at Montreal's 1996 International Balloon Festival, the wheels of pop pandemonium were well in motion.
"Our crucial turning point was doing MuchMusic on Mother's Day," says AJ. "We surprised all our moms by flying them out. The TV station was in the middle of downtown Toronto and 15-to-20,000 fans showed up –– they were in the streets, surrounding the building and there was pictures, autographs, screaming, crying. It was such an overwhelming feeling of, 'Wow. This is actually happening.'
"Not that we never dreamed it would, but you don't expect it until you see it and that was a moment in Backstreet history I don't think any of us will ever forget."
With their popularity "raining down" onto the US – aided by 1997 pop anthem 'Quit Playing Games (With My Heart) – before long the guys were household names, breaking records, embarking on $4-million, around-the-world-in-100-hours promo trips and being shadowed by Backstreet bedlam everywhere they went.
Despite the time that has passed, in Canada their fanbase remains relentlessly loyal.
Since selling out a record five nights at Montreal's Molson Centre (now known as The Bell Centre) on their late nineties Backstreet's Back run, the BSB boom has continued with the group adding a second Canadian leg to their In A World Like This Tour last spring and selling out "Backstreet Boys: Show 'Em What You're Made Of" preview screenings within the hour.
"Women have grown up with the Backstreet Boys –– they're the soundtrack of their youth," says Virgin Radio program director Mark Bergman. "Not a day goes by where we don't get a request for old-school BSB."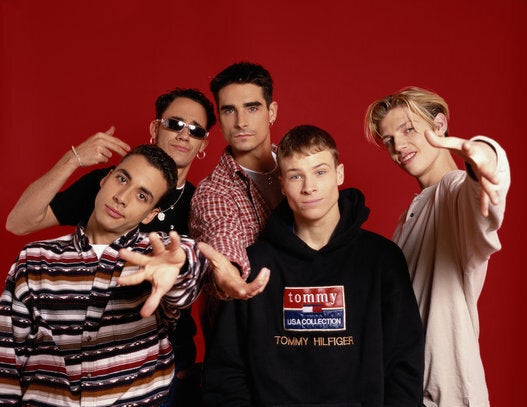 Backstreet Boys Photos
Documentary director Stephen Kijak adds that the screams of Canadian fans are unlike anything he's ever heard. The award-winning film-maker – who directed The Rolling Stones' documentary Stones in Exile – travelled with the group to Toronto to film their 'In A World Like This' show.
"That was the first time I'd seen the fan base up-close and it was amazing. The sheer volume of the screams is something which, if you haven't experienced it before, is pretty impressive."
For Nick Carter, the local fan base has been incredibly supportive, not only of the Backstreet Boys, but of his solo projects and his most recent run as part of Nick and Knight, a duo formed with New Kids on the Block's Jordan Knight.
"The fans there are incredible –– always have been, always will be," he says. "A lot of the concert footage you see in the film was shot in Toronto and we picked that location because the filmmakers asked us where the best crowds would be and we said 'Canada!'"
While staying connected with fans who could have easily outgrown them by now is a continuous challenge, the group has weathered far greater obstacles in their 22 years together.
From Nick and AJ's battles with drugs and alcohol to Kevin's 2006 departure, their individual and collective hurdles could have easily spelled the end of BSB.
Their latest setback reveals itself during emotional documentary footage of Brian's session with a vocal therapist for vocal tension dysphonia –– a tightening of the muscles around the vocal chords, which has increasingly affected his singing.
"Sometime it comes out… sometimes it doesn't," he heavy-heartedly tells the cameras, after hitting the high notes while belting out Michael English's "Heaven."
"My voice is my life. I take it for granted because it's just something that's given ... and for me it's not a given right now. It comes and goes. I try really hard to be optimistic about it, but I'm faced with it everyday."
Initially raised while the group were recording 2005's "Never Gone" CD, the issue was somewhat swept under the rug for years, finally surfacing during an explosive boardroom argument seen in the documentary.
"The band weren't talking about it much as a group," says Stephen. "Over the course of filming, the main times they brought it up was while we were in the room. We facilitated a lot of the discussion. When I heard he was working with a vocal therapist the immediate question was, 'Can we go with you?' He could have said 'No,' but he let us sit in that room during a very private and intimate moment."
"It's really rough situation," adds AJ. "Our voices are our livelihood, so if anything happens it changes everything.
"I feel horrible for him, but everyone has to work on themselves and Brian is definitely working on it. Hats off to him for having the courage to be open about it."
While Brian's situation is something fans have long awaited answers to, Stephen says the documentary isn't just for the group's avid followers.
He believes non-fans –– like he once was –– will get a fascinating look into the effects of becoming a celebrity as well as insight into a level of work ethic which is often bypassed in today's age of instant fame.
He compares that work ethic to that of his previous subjects –– The Rolling Stones.
"I find with all really successful acts, there's this real intense work ethic and it's so incredibly-driving.
"Yeah, Lou [Pearlman] put them together and they were puppeted around for awhile, but once they cut that cord they were extremely self-determined."
With the documentary out in select theatres, Video-on-Demand and iTunes on Jan. 30, the band members are now preparing to wrap up their 20th anniversary tour in Asia, South America, Australia and New Zealand and will then focus on solo endeavours before heading back into the studio together.
All five members are expected to release solo records in 2015, with AJ's including a celebrity duet and a track about his two-year-old daughter Ava.
Whether it's solo or group projects that bring them back to Canada, they're anxious to return and hope the documentary will give Canadian fans their BSB fix in the meantime.
"All through Canada we've got great memories, from playing the SkyDome in Toronto and Molson Centre in Montreal, to shutting down the street for MuchMusic," says Kevin.
Adds AJ: "Vancouver, Montreal and Toronto are my top three. I love Edmonton as well – for the shopping!
"We've also worked with a bunch of Canadians over the years –– Shania Twain is my personal favourite. We got to reunite with her at one of our after-parties in Las Vegas on the most recent tour. She was at the show and didn't tell anybody, then surprised us and could not stop praising the show and saying how great we sounded. She still looks absolutely fantastic and is such a sweet soul –– hopefully we get to do something with her again down the road."
*For local screening info, click here. An additional, one-off Vancouver screening will take place on February 4th at the Rio Theatre, with more cities to be announced.
Popular in the Community