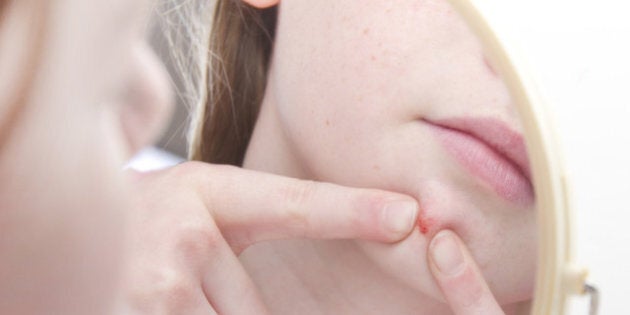 We're all guilty of it. We fall into a beauty routine and use the same products day after day -- or even year after year. Sometimes, we don't even recognize that the product or routine may not be doing what it promised and may be harming our skin.
Holly Sherrard, education manager at Dermalogica shared 10 of the most common skin habits that are harming our skin. She has warned us that unless we cut these habits out now, we may never achieve that lasting, beautiful glow we dream about.
Believe us when we say we're guilty of many of these bad habits, but will be promptly switching up our routine. Because change is good, right?
Check out ten bad beauty habits you should stop doing now: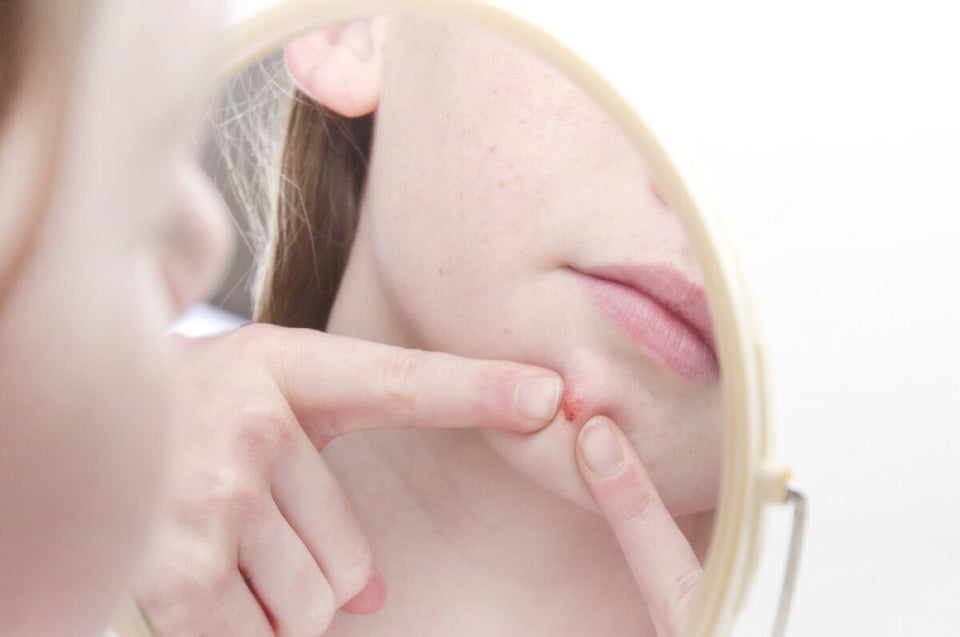 Picking pimples: "AKA 'Just one more squeeze and it should be gone. What?! Why do I look like I have a grape on my face?' Seek professional advice for blemishes, skin therapists can use a high-frequency machine to kill bacteria and dry out the lesion. They can also recommend products that contain anti-inflammatories, anti-bacterial and healing agents. Popping a pimple just makes the scar worse or could spread the breakout," says Sherrard.
Going to bed with dirty skin: "Or, 'Hello pillow, it's me, dirty face.' It's a necessity to wash daylong dirt from the skin. It heals and repairs itself at night. Whether you wear makeup or not, pollution, dust, skin cells and oil all accumulate on the surface of the skin during the day. To make cleansing easier, find a product that can be gently massaged into the skin and wiped off (with or without water)."
Being a sun worshipper: "Most people love a bronzed look to the skin, however it is the number one way to encourage leathery looking skin. Try using mineral powders to accomplish a bronzed glow, and keep in mind bad skin habit number four…."
Going outside without SPF: "Daylight (not just sun tanning) is the number one cause of aging on the skin, and SPF15 or above is the perfect addition to a skincare routine to help prevent aging. Look for a moisturizer or primer with tint and SPF added to give you a multi-tasking product. In this case, more is better -- layer sun protection ingredients to maximize protection."
Being an exfoliation junkie: "Or: 'My exfoliant feels like it stings my skin -- it must be working well.' An exfoliating cleanser, a toner with salicylic acid, a moisturizer with retinol. What's the limit? Some feel more is better, however this is not always the case with exfoliation. Ensure products work synergistically together and when self-selecting skin care products, avoid exfoliating ingredients in every skin care step. If the skin turns red, it's probably too strong for you and you need professional advice."
Using soap to cleanse the skin: "You tell yourself, 'I'll just grab a bar of soap, my mom has been using it for years.' Soap is alkaline, which removes oil and dirt effectively, however it also strips the protective barrier from the surface of the skin. Look for soap-free, acid-balanced cleansers (ranging in a pH of 4.5 - 6) that are designed specifically for your skin condition and type: a creamy cleanser for skin that is lacking in oil, or an oil-absorbing, clay-based cleanser for oilier skins."
Choosing a one-size-fits-all product: "Or how about: 'I'll just use my hydrating shampoo for my face, it must do the same thing.' Body moisturizer and wash is meant for the body. The tissue on our body is thicker than the tissue on the face, be sure to use face-specific products to treat the delicate skin."
Using a heavy hand when caring for the skin: "Think Joan Crawford in Mommy Dearest. The more you rub the skin the more likely it is to cause redness. Excess redness can lead to permanent dilated capillaries and blotchy skin. When exfoliating, use only the weight of the hand and avoid aggressively pressing products into the skin. The same goes for applying product -- a lighter touch is better."
Self-diagnosing: "Many surveys claim women can self-select products, but in actuality they choose the wrong ingredients to treat troublesome conditions. Seek professional advice when choosing skin care products to ensure the ingredients are doing what you want them to do."
Boiling-hot showers: "Many people love the feeling of a hot tub or a nice hot shower to ease muscle aches and pains, however, the warmer the water the more stimulating it can be on the skin -- especially the face. If you choose to cleanse, exfoliate and masque in the shower (it saves on time), turn down the temperature to avoid causing unneeded redness and inflammation."