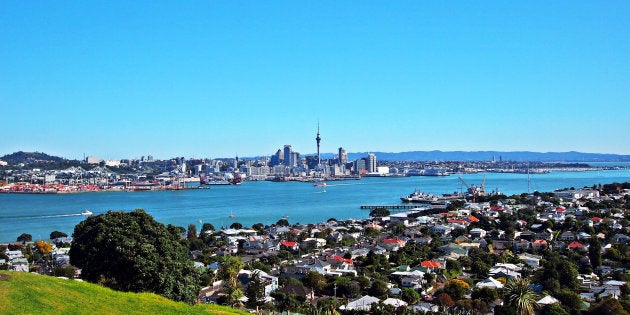 Small though it may be, New Zealand is something of a trailblazer. It's credited with being the first sovereign country in the world to give all women the vote (back in 1893) and the first country to move to an eight-hour work day.
Like Canada, New Zealand has seen house prices soar in recent years, with the average price of a detached home in Auckland not long ago exceeding the psychologically important NZ$1-million mark (about C$864,000). And like Canada, the country has seen an explosion of interest from foreign buyers.
The head of British Columbia's Green Party, Andrew Weaver, this week reiterated his call for the province to follow New Zealand's lead.
"We know what the problem is. We know the source of the problem," Weaver said, as quoted by the CBC. "There's been a lot of offshore money flowing into Metro Vancouver ... what that has done is driven up speculation."
Little impact
A lot of evidence suggests that non-resident buyers have only ever been a secondary factor in driving up house prices in Canada in recent years. And experts HuffPost Canada talked to generally agreed that a ban would have little overall impact on the market.
A foreign buyer ban "would create an initial knee-jerk reaction with a drop in sales," TD Bank chief economist Beata Caranci wrote in an email to HuffPost. But "because we're in a strong demand market, sales would subsequently level off and recover."
So, no help of the affordability front then.
Meanwhile, the foreign buyers' taxes implemented in and around Toronto and Vancouver "appear to have done most of the leg work" in reducing foreign demand, said Stephen Brown, senior Canada economist at Capital Economics in London. "A complete ban would only remove those last few foreign buyers."
The share of homes sold to non-resident buyers has plummeted in the Toronto and Vancouver areas since the foreign buyers' taxes were implemented there. In Greater Toronto, foreign buyers accounted for 2.1 per cent of all sales earlier this year, down from 5.9 per cent just before the foreign buyers' tax was introduced in the spring of 2017.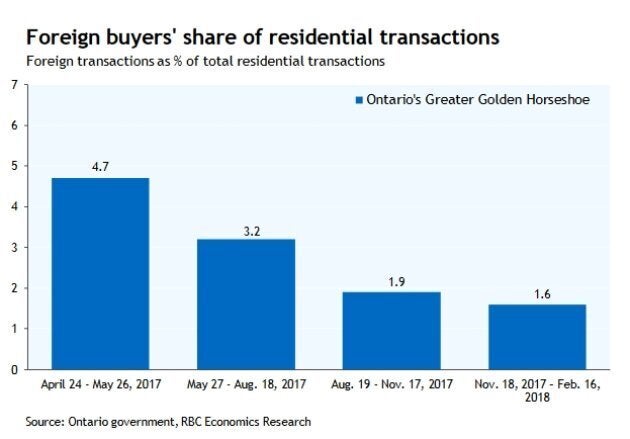 The new taxes have pushed some foreign buyers to other markets, including Montreal, which has reported a rise in sales to non-residents recently, and to Ottawa, which now has a higher share of foreign buyers than Toronto.
But foreign buyers, at least in Canada, don't seem to be the crux of the affordability problem. In a recent study, Canada Mortgage and Housing Corp. estimated that three-quarters of the run-up in Vancouver's house prices from 2010 to 2016 can be attributed to super-low mortgage rates, rising incomes and a rapidly-growing population.
Market psychology is playing a big part
Just as importantly, the CMHC noted that "sustained price growth can lead to excessive optimism among market participants. Home price growth is being taken for granted by homebuyers and home sellers."
Canadians' "optimistic long-term expectations" for house prices are distorting the market and making it riskier, the CMHC said in the report issued in June.
In other words, we Canadians — rushed home-buyers and sellers with dollar signs in their eyes — are more responsible for the affordability crisis we have found ourselves in than any foreign buyers.
Longer housing market downturns
And in the longer run, Canadian homeowners might regret pushing non-residents out of the housing market altogether.
"While foreign buyers are unwelcome in most peoples' eyes at the moment, in the event of an economic downturn and a slump in the loonie they could prove to be a useful source of funds to prevent house prices falling too far," Capital Economics' Brown wrote in an email to HuffPost Canada. That "could have detrimental effects on consumer spending and the banks."
A foreign buyer ban "can lead to more extended weak markets once they occur," TD Bank's Caranci suggested. She noted that, in bad times, the government could roll back the ban, but it would face a "credibility" problem — foreign buyers would suspect they would be locked out again if the market improved.
So things could get messy — and unpredictable. All in all, it may simply be better to focus on other ways to address affordability, such as boosting spending on affordable housing, or allowing higher-density housing to be built in low-density neighbourhoods. The closer we look at foreign buyers in Canada, the less convincing the argument that they are the problem.
Also On HuffPost: