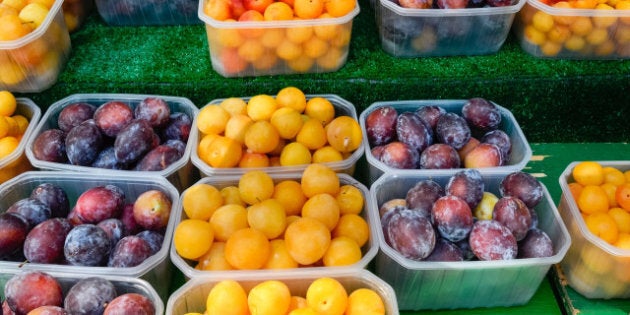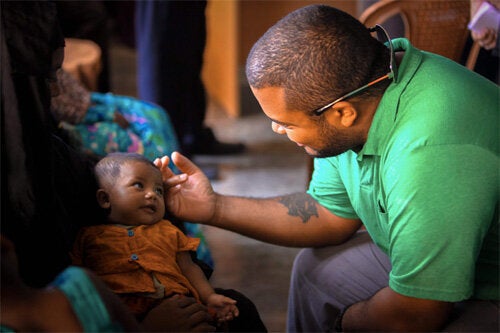 A couple of weeks ago I went to Bangladesh for the first time. Save the Children invited my wife Leslie and I to visit their work with partners in the rural areas around Sylhet as well as in the very urban centre of Dhaka.
Before leaving for Bangladesh I wrote here that it was time to end global hunger that we actually know what steps we need to take, what solutions will work and that really what is needed most is global will.
I was thrilled to have the opportunity to visit Bangladesh not just because I had long wanted the opportunity to enjoy Bangla culture and food but also because many experts point to Bangladesh as a poor country that is succeeding in meeting development objectives. Bangladesh is on track to meet the Millennium Development Goals (MDGs).
The MDGs are a United Nations framework for development that has helped guide the priorities of governments both developed and poor, the non-governmental (NGO) sector and civil society as a whole. There are key health MDGs related to the dramatic reduction of preventable newborn and child death as well as maternal death. Bangladesh is on track to meet those MDGs by the 2015 deadline. How are they doing it?
When Save the Children initially approached me about going on this trip they suggested Bangladesh because they felt their decades of experience in the country would help demonstrate to Canadians how aid does work when there is country commitment to address the issues, and when the government is willing to work with both their own people as well local and international NGOs to develop sustainable approaches that work. Sustainability is something that is very important to me, whether that is sustainable food production or sustainable solutions to combat poverty and disease.
Leslie and I were looking forward to seeing programs that are making real change for the Bangladesh people. Our first visit was to a birthing centre and clinic in the rural area outside Sylhet run by the MaMoni Project and supported by Save the Children. What particularly impressed me was that the government is also involved in this project.
It seems that this clinic was offline for many years and is now up and running with the support of local MaMoni and Save The Children staff as well as government assigned medical and paramedic staff. This clinic helps to support many childbirths and pre/post natal care for mothers in the community here. Clinic workers provide breastfeeding and basic nutrition education and support to mothers. It was amazing to see so many healthy happy babies and mothers visiting the clinic. This is a project to demonstrate to the government the need and the public demand for the health services the clinic provides with the end goal that the government will continue to fund the clinic once the project is over. That is how you build a sustainable health system.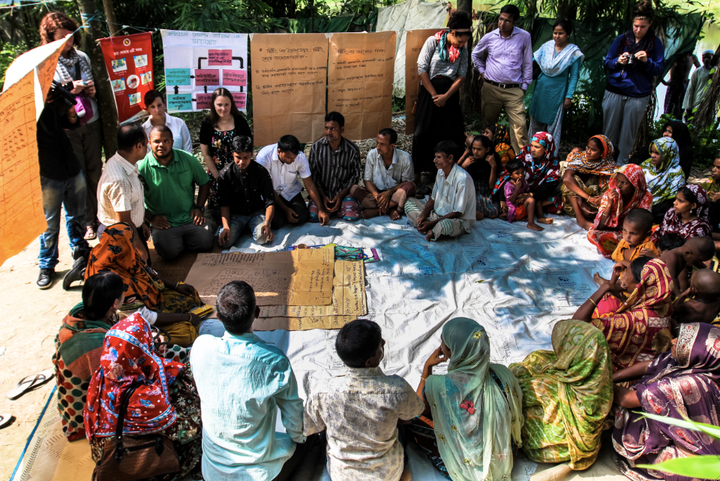 Our next stop in rural Sylhet was a community where MaMoni workers train community members and leaders on the principles of basic nutrition for babies. Breastfeeding rates in Bangladesh have always been fairly good but Bangladesh has and continues to have problems with under-nutrition and stunting (a specific medical condition that leaves children smaller, weaker and with development and learning delays due to poor nutrition). Save the Children and their partners are strong advocates for exclusive breastfeeding for infants until six months and breastfeeding for at least two years with complimentary feeding from the family menu to improve the nutrition outcomes for babies.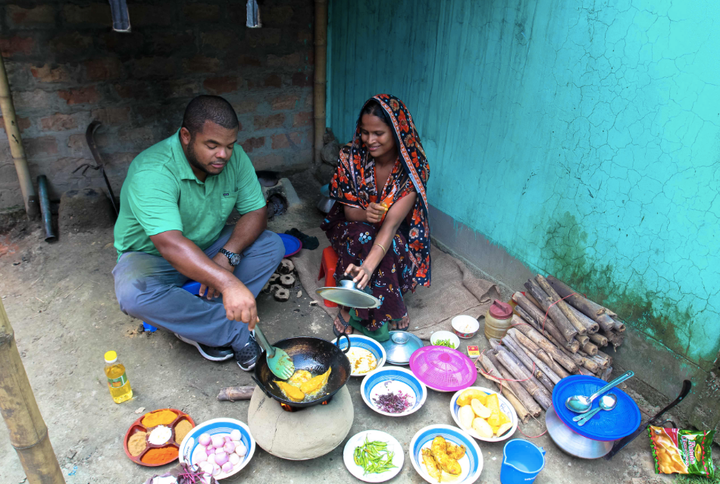 When we arrived in the community, Save the Children put me to work cooking with a local mom. She seasoned the fish with salt and tumeric before frying it in vegetable oil. The cooking setup was an iron pot being held up with a clay/ dung rack. The fire was stoked by a compressed packet of dung and rice that is made specifically for building these fires for cooking. Apparently, a few families will get together and cook for each other - taking turns. All the while many people were standing around giving directions. Everything here is a community effort. They say it takes a village to raise a child and this village wasis certainly proof of that statement.
I have always believed that grassroots involvement is key to making a lasting change no matter the issue or area so I was really pleased when our group was brought to meet a Community Action Group. Trained health care providers like doctors and nurses, much less nutritionists, are few and far between in rural Bangladesh. This is why Save the Children and the MaMoni Project work with government trainers to train community volunteers to lead health and nutrition education workshops with the Community Action Groups. These groups are supported by the project until they can continue the education work on their own.
Our next stop was at a community that is now running their Community Action Group independently. We drove out to a rural village to see what happens when programming reaches the most remote parts of the county. The impact is significant in terms of childhood nutrition and development. The focus of the visit this morning was to see an 11 month old being fed from 'the family meal' - meaning that the children are not being cooked 'kids' food but the same food that the rest of the family eats. The little boy devoured everything and before long he was picking through his plate looking for his favourite bit, the egg. In this region the concern has moved beyond basic needs to making sure that the families understand the importance of animal based proteins in the diet of the one to three-year-old as it impacts brain, muscle and skeletal development. The little boy was incredibly independent and strong willed. It brought us all a lot of joy to see him enjoying his family meal.
The only way for us to end global hunger is for governments, non-governmental organizations, business and the community work together to implement solutions we know will work. I left Bangladesh knowing that I want to help bring about an end to global hunger. So my family and I are going to take a few simple steps. We are going to keep learning about the issue. We are going to call on the Canadian government to do all it can to be a leader in the fight. Finally, this month our family will help raise money for Save the Children's nutrition programming by participating in TheExtraPlate.ca campaign.