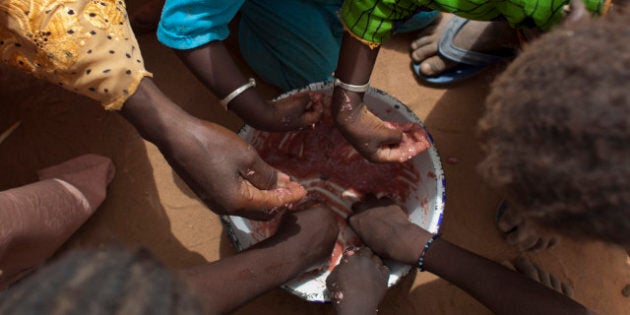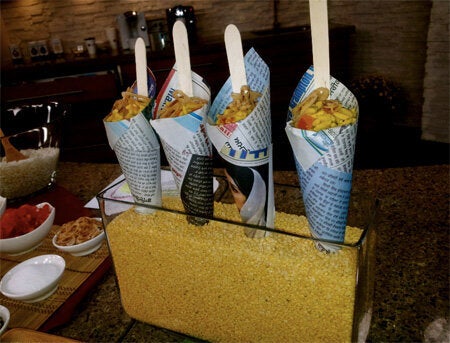 Last month I visited Bangladesh with Save The Children. Although we were there to visit nutrition programming, I did have a chance to also check out the local cuisine.
Against the advice of our local guide in Bangladesh I tried this dish from a street food vendor. He warned me of the spice level (clearly he doesn't know my passion for heat) and of the possibility of stomach issues from not being acclimatized to the local public health standards. I saw a lineup and some happy customers so I dove in.
The dish is called Jhalmuri -- pronounced Chahl Mooree. It is Indian Puffed Rice and is a fun, very quick and very flavourful snack food. This dish is a great snack for football season and to spice things up for the chilly weather we are experiencing now in Canada.
This recipe is my best attempt at trying to duplicate what I had on the streets of Dhaka. It's bang on.
Ingredients

1/3 C Yellow lentils, cooked and pureed to a hummus consistency

1 tsp Mustard oil

1 Tbsp Mustard powder

1 Tbsp Curry powder

1 Shallot finely sliced

2 Thai green chilies, finely chopped

1 Tomato, finely diced

3 C Puffed rice

Salt & pepper to taste

Directions

In a high-sided bowl, stir lentil puree, mustard oil, mustard powder and curry powder until well combined. Stir in shallot, chilies, and tomato until combined.

Add puffed rice and stir until all of the rice is coated with the lentil mixture. The mixture should not be clumped together, otherwise add more puffed rice and combine.

Serve topped with crispy fried shallots.

Crispy Fried Shallots:

2 Shallots, sliced thin

1/2 C All-purpose flour

Salt & Pepper to taste

Vegetable oil, for frying

Thinly slice shallots and dredge in the flour, shaking off the excess before frying in the vegetable oil that has been heated to 325F. Fry until golden and crispy, drain on a dish lined with paper towels, and season with salt and pepper.