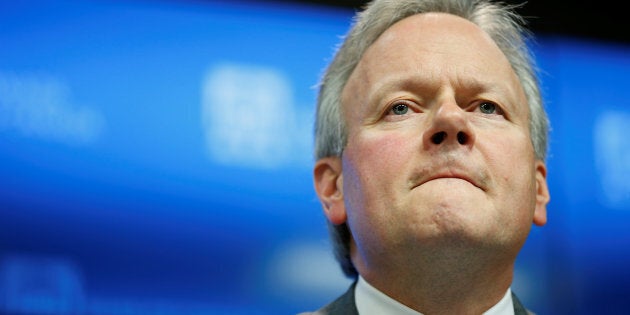 Things are going to be a little harder for borrowers in Canada going forward.
The Bank of Canada hiked its key lending rate to 1.25 per cent on Wednesday morning, from 1 per cent, raising it to its highest level since 2009, when then-bank governor Mark Carney dropped interest rates to historic lows to cope with the global financial crisis.
Today's move confirms what many experts and analysts had been saying recently: That the era of super-low interest rates, that started with Carney's move in 2009, is slowly coming to an end.
Watch: What happens when there's an interest rate hike?
Prior to the rate announcement, the markets had priced in a 90-per-cent chance of a rate hike.
"Recent data have been strong, inflation is close to target, and the economy is operating roughly at capacity," the bank said in justifying the hike.
"However, uncertainty surrounding the future of the North American Free Trade Agreement (NAFTA) is clouding the economic outlook."
"People currently in fixed rate mortgages remain unaffected until that mortgage comes up for renewal in the future," said James Laird, co-founder of Ratehub.ca, in a statement.
"Those with variable rate mortgages, HELOCs and personal lines of credit can expect their interest rate to rise by a quarter point next month. It's this group that will feel the immediate impact of the rate hike."
Laird said that this rate hike was already priced into the cost of fixed-rate mortgages. Several of the major banks raised their mortgage rates last week, saying their own costs are rising.
UPDATE 4:05 PM ET: Canada's major banks will be raising their prime lending rates on Thursday, following the Bank of Canada's rate decision Wednesday, the Canadian Press reports.
Royal Bank of Canada was first out of the gate, raising its prime lending rate to 3.45 per cent, a move that will immediately impact holders of variable rate mortgages, HELOCs and personal lines of credit.
That was followed by Bank of Montreal, CIBC, Scotiabank, TD Canada Trust and Desjardins, the Canadian Press reported.
Original story follows below.
Housing and consumption will slow
The bank said in its announcement that it expects the economy to slow down this year from the blistering pace it recorded in 2017. It expects consumers — already saddled with record-high debt loads — to pull back on spending, and it expects residential investment to slow as the housing market cools.
But business investment and exports will pick up the slack in 2018, the bank forecast.
The bank did confirm what the experts had been saying, and suggested that this won't be the last rate hike this year. But it did sound a cautious note, suggesting rates may not rise quite as quickly as the markets expect.
"While the economic outlook is expected to warrant higher interest rates over time, some continued monetary policy accommodation will likely be needed to keep the economy operating close to potential and inflation on target," the bank said.