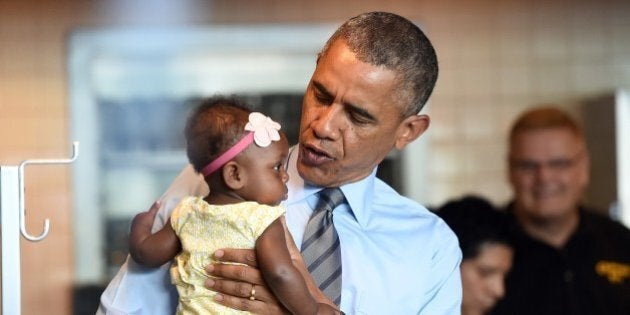 On Friday, Obama signed the BABIES Act, which requires all public federal buildings, such as courthouses and post offices, to include baby changing stations in both women and men's washrooms. According to the new legislation, these change tables must be added within the next two years.
"Government needs to do more to ensure that public buildings are family-friendly," Cicilline said in a statement on his website. "No mom or dad should ever have to worry about finding a safe, sanitary place to change their baby. The BABIES Act is a common-sense proposal that makes government buildings more welcoming for families and helps promote good public health."
The new legislation is significant as an increasing number of men in the U.S. are choosing to be stay-at-home dads, making the need for change tables in men's washrooms even more apparent. Not only that, but it's a simple fact that dads change diapers, too.
Babble writer Wendy Wisner also points out the positive influence these change tables will have on men: "Imagine young boys and men seeing changing stations right there every time they enter a public restroom. Wouldn't it be nice if it become ingrained boy's minds from early ages that changing babies is just something men do, no big deal?"
The lack of change tables in men's washrooms has always been an issue in the U.S. However, last year, Ashton Kutcher brought the topic to the forefront when he vented his frustrations on Facebook, just five months after his daughter, Wyatt Isabelle, was born.
His post quickly caught the attention of dads everywhere who could relate to the situation.
Soon after, the 38-year-old started a petition on Change.org to encourage more stores to provide change tables in men's washrooms. "If Target and Costco take this step, I know that other companies will follow suit and recognize that we should be supporting all parents equally," he wrote.
Kutcher, who is a dad to two-year-old Wyatt and is expecting one on the way, also told his website, A+, that he hopes dads will be given the same rights as moms.
"I would like my daughter to experience a world where gender doesn't dictate one's responsibility or limit one's opportunity," Kutcher said. "Having changing tables in men's rooms is just a tiny step in the process of rectifying legacy gender discrimination. Men who are aware of this bias want to participate equally in the child care process, and our society should support that. It's time to get our hands dirty."
Similarly, in Canada, women have also petitioned to make change tables mandatory in all public restrooms for both men and women. According to the Toronto Sun, only family washrooms in new establishments require change tables. However, older establishments constructed before 2015 do not.
Last year, Mississauga mom Elizabeth Porto started a campaign to change this in Ontario, saying: "Babies have a human right to dignity, too."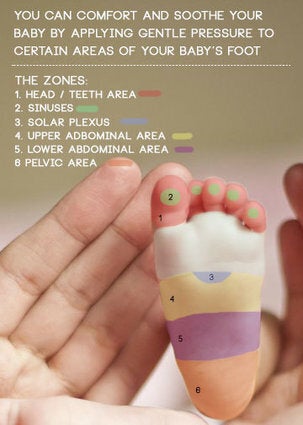 23 Life Hacks For New Parents