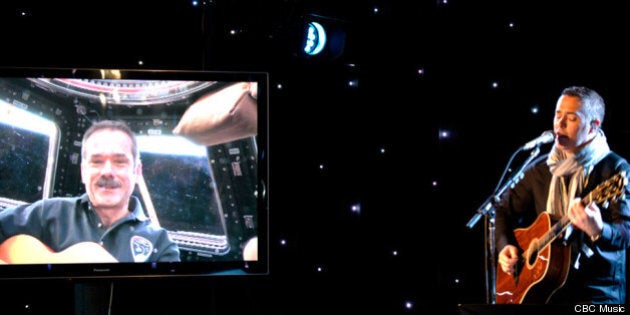 It is hard to imagine a band better suited to a collaboration with an astronaut than the Barenaked Ladies.
Famously (and unabashedly) nerdy in their interests -- "I'm a space geek!" proclaims frontman Ed Robertson -- the Ladies' millions of fans often identify themselves that way, too. There's a reason, aside from the the Canadian band's knack for penning unforgettably catchy songs, that they were chosen to write and record the theme for that geekiest of TV shows, 'The Big Bang Theory.'
Perhaps that's why Cmdr. Chris Hadfield -- who recently announced his retirement from the Canadian Space Agency -- chose to get in touch with Robertson while he was floating around on the International Space Station earlier this year. He wanted to co-write and record a song, to create the first ever earth-space musical collaboration. Robertson loved the idea, but didn't quite realize how big a deal it would eventually become.
"When Chris asked me to write that song with him," Robertson explains, "I didn't think anyone would ever hear it... I thought it was just for him." But, with all of the media attention surrounding Hadfield's social-media-friendly approach to his role on the ISS, the idea didn't stay quiet for long. "It sort of took on a new life."
Funny how things work out. The collaboration with Cmdr. Hadfield was, for the Barenaked Ladies, like "one of too many spinning plates" as they tried to finish work on their just-released record Grinning Streak. "I schlepped myself down to that studio thinking: "Oh fuck, I've got so much to do!" recalls Robertson.
"And then we go into this studio and there's an excited high school choir there; the choir master's written this great vocal arrangement. Chris is on the screen, on the ISS, and everyone around is just staring in wide-eyed wonder. And all of a sudden it sort of washed over me, and I went: 'This is fucking awesome! What's happening right now is amazing!' It's one of those moments where you have to stop yourself and go: 'I'm just so fucking lucky to be here right now.'"
Interview continues after slideshow
A YouTube sensation immediately upon its release, and buoyed by strong viral action across Facebook and the Twitterverse, The song ("I.S.S.") seemed to strike a chord with listeners well beyond the Ladies' established fanbase. Tyler Stewart, drummer for the band, figures this is all about Hadfield's work to connect with people while on the Space Station. "Because he was so immediate. Because they've been going up to space stations for years. Yeah, 'whatever', you know. Until something blows up nobody cares. But he reignited this worldwide obsession with space, and with wonder."
Robertson concurs, reminding us that "Chris has just been so 'engaged.' I think he really earned people's trust and respect, too, the way he put himself out there to inform people, but also [to] entertain them and inspire them. He took his time up there to communicate with people. It's just so cool that there's a folk singer in space! It's not 'robot man' up there, it's a folk singer."
Still, there can be no denying the popularity of the song itself. "I.S.S." has taken on a life well beyond those YouTube hits.
"I was so blown away by the outpouring of positive reactions," smiles Robertson. "And still people email me: 'Oh, my sister-in-law's cousin's a schoolteacher in Kanata and here's the 800 students from grade three to six singing [it]...' Somebody translated it to Cree, and here's them performing it." "There's a jazz combo," adds Stewart. "There's a university band. There's a string quartet playing it."
Above and beyond their pride in the final product, Robertson and Stewart seem genuinely awed to have worked with Hadfield. "I bet you people would say Chris Hadfield and Neil Armstrong are the astronauts they can name," suggests Robertson. "But it's 'cause [Hadfield] brought this approachability to [the ISS] and this kind of rootsy folksiness to it. You know, I said to his brother, Dave: 'He's so proficient and professional and accomplished and he's so impressive, and yet he seems like the guy who winterises your boat at the marina.'
And Dave said: 'He's that guy too, he just winterized my boat!'"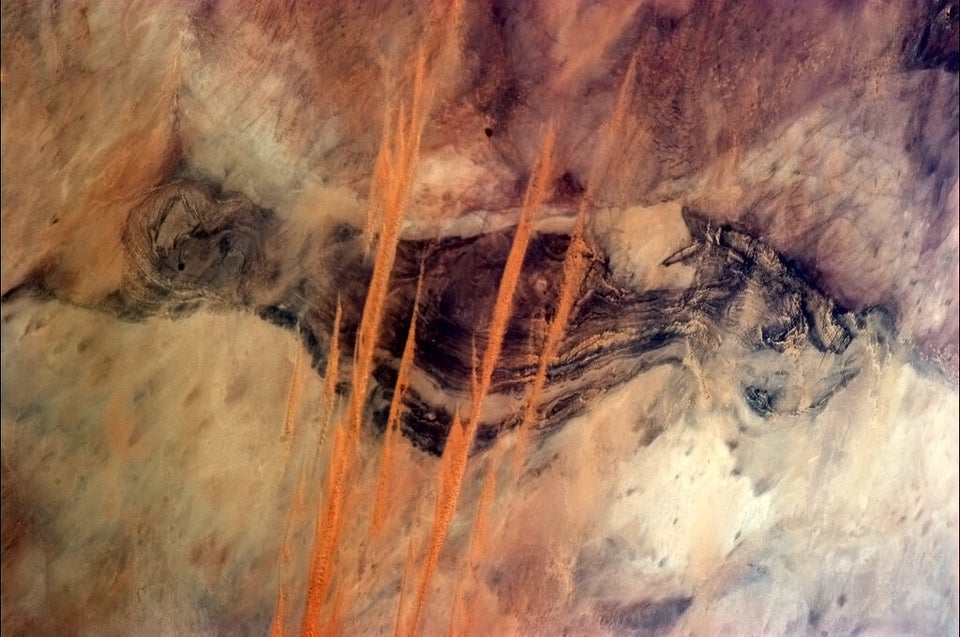 Chris Hadfield's Best Photos From Space