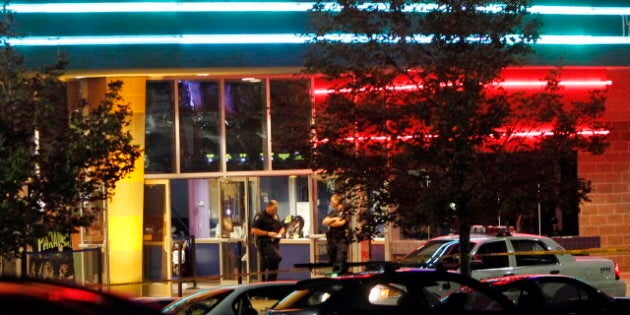 "Oh God, I don't know what to do."
It was a tweet sent out by a woman named Caitlin in the aftermath of a mass shooting at a "Batman" movie premiere in Aurora, Colorado, that has killed 12 people overnight Friday. She was looking for a friend named Alex.
Multiple Twitter users purporting to be in the theatre were sending chilling accounts of their narrow escape that also left 50 injured. Below, we've created a slideshow that shows some of timelines.
SEE TWEETS FROM THE SCENE AND OUR LIVE BLOG BY SCROLLING BELOW
The shooting happened during the movie screening. A man reportedly was wearing a gas mask and armour and the incident happened about 20 minutes into the movie, according to one patron. Reports say that some sort of gas was used, followed by shooting as patrons were fleeing the theatre.
For many who were attending, their Twitter timelines show how they were getting ready to see "Batman: The Dark Knight Rises" on the day of its premiere.
Zach Eastman sent out this tweet: "Everyone dressing up as Batman, im going dressed as Bruce Wayne.. Albeit a short stubby unsexy Bruce Wayne #CouldntFindBatmanMaskInTime"
Later, Eastman sent a message indicating he was fine: "There was a shooting in our auditorium. I am safe," followed later by "a bit shaken up at the moment. not gonna lie, that was extremely terrifying.
Twitter user Brianna Dozier (@B_Dozier) tweeted out of the theatre "never ran out sooo damnfast ! "
She added later "this whole situation is not a joke , everyone should be praying for those who didn't make it out of the theater safe tonight !"