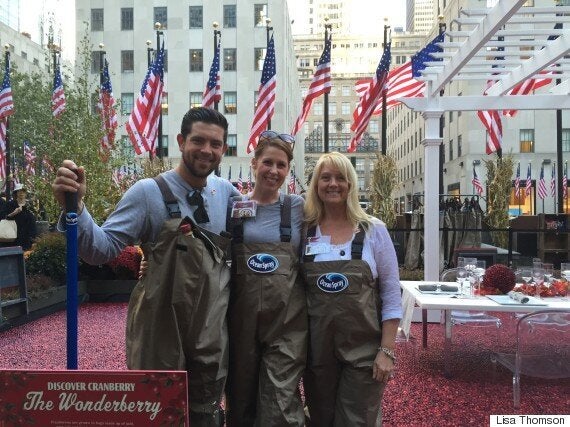 Clinton May, a third-generation cranberry farmer from B.C., stands with his wife, Lauren and his mother, Sherry, in New York City. (Photo: Lisa Thomson)
Generations of B.C. cranberry farmers brought their passion to New York City this week — standing calf-deep in a temporary bog in the middle of The Big Apple.
Clinton May, who was raised on a cranberry farm in Richmond, was in New York with his wife Laura, as well as his mother and father, to celebrate Ocean Spray's 85th anniversary. The agricultural co-operative has over 700 growers in the U.S., Chile and Canada.
The May family spent Tuesday and Wednesday standing amid 900 kilograms (2,000 pounds) of fresh cranberries at the famous Rockefeller Center as part of an annual event sets to celebrate Thanksgiving in the U.S. This year, celebrity chef Curtis Stone hosted a lunch in the middle of the bog.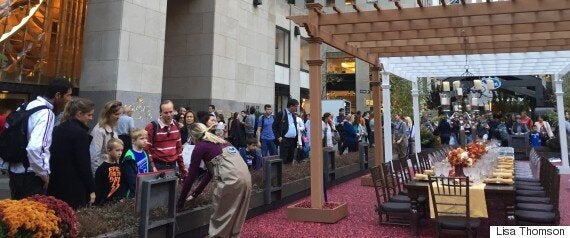 Originally dairy farmers, the May family has been growing cranberries in B.C.'s Lower Mainland since 1973.
"There's nothing better, at least in my mind, than to grow up and have your children grown up following and pioneering the land right after you having done the same, I love it," said May, who has three young children.
His dad, Glen, whose own father started the farm in Richmond, said the rewards of a family business are "unbelievable."
"We all meet at the house before we go to work. So they're all there at 6 o'clock in the morning. Some mornings on the weekend it's a little later so Clinton brings his kids over, so the grandchildren are over enjoying that moment with us, and then off we go and out to the field to work together," said Glen.
According to the B.C. Cranberry Marketing Commission, the province's harvest makes up 12 per cent of the North American crop. In 2012, B.C. farmers grew over 94 million pounds of cranberries.