It was a historic, completely unexpected comeback.
After trailing in the polls for more than a year, often with a deficit of more than 15 points, the B.C. Liberals under Christy Clark managed to win re-election last night. And they did so easily, with 44.4 per cent of the vote against 39.5 per cent for the NDP (a wider margin than the one that elected Gordon Campbell in 2009) and 50 seats, more than the 45 seats her party occupied when the legislature was dissolved and the campaign got under way.
Put simply, the polls got it spectacularly wrong.
There was no evidence of an impending swing, no reason to consider the NDP's vote soft, and no suggestion that there was any reason to doubt that some of Canada's most experienced pollsters were judging the race incorrectly mere hours before votes began to be cast.
What this will mean for the polling industry going forward remains to be seen. What the results of the election mean for B.C.'s political leaders is somewhat clearer.
Story continues under gallery.
Christy Clark did more than save her government last night – she saved her job as party leader. Though she did lose in her own riding by a margin of 785 votes, she has undoubtedly earned herself a ticket back to the legislature. A Liberal MLA will likely step down to give her a seat. But had the B.C. Liberals been defeated last night the out-going premier would have been toast. Instead, she has pulled off a completely surprising victory, and has undoubtedly silenced the critics who were preparing to oust her from the party leadership immediately after the election. If the margin had been closer, they might have still had a case.
With the B.C. Liberals remaining in power in British Columbia, Alison Redford and Stephen Harper can breathe a sigh of relief. Though Clark will have a stronger hand to play on pipeline negotiations, the odds that they will go ahead have risen considerably (they would not have under the NDP). That will make Clark a major player on the national scene.
We may have heard the last from Adrian Dix, however. Though he was re-elected in his own riding, there is little chance he can survive this crushing defeat. The election was his to lose, and his too-safe campaign appears to have lost it. With a successful tenure in power, the relatively young and bilingual Dix could have hoped for a future in federal politics. That seems all but impossible now, and the New Democrats will need to find a new leader to figure out what went wrong. If he does somehow manage to hold on as party leader, he will have a long four years ahead of him on the opposition benches.
The end of the road has come for John Cummins, leader of the B.C. Conservatives. They did not perform nearly as well as they had hoped, with Cummins himself garnering barely more than 10 per cent of the vote in his own riding.
The Greens, however, had a successful night. Though party leader Jane Sterk did not win her bid for election to the Legislative Assembly, the party was able to get Andrew Weaver elected as their first MLA. He has given the party a beachhead in B.C. politics that can be widened in 2017, and he will probably become the party's next leader. Along with the Liberals, the Greens emerged from last night's vote as one of the winners.
But perhaps a focus on how the polls got the election wrong – something that will inevitably be discussed for weeks, maybe years – is misplaced. Christy Clark managed an astounding comeback, trailing by as many as 20 points before the campaign began. She has extended the life of the B.C. Liberal government to at least 16 years, winning a mandate of her own and a fourth consecutive one for her party. Even if the polls had predicted a Liberal victory, it would have been a noteworthy achievement.
British Columbia is at a crossroads, as the government tries to slay the deficit, potentially take part in a national energy strategy, and develop its own natural gas resources for export overseas. Christy Clark has been given another chance by B.C.'s voters to help shape the province's future. She has proven herself to be a great campaigner. Can she be a great premier?
Éric Grenier taps The Pulse of federal and regional politics for Huffington Post Canada readers twice weekly, mostly Tuesdays and Fridays. Grenier is the author of ThreeHundredEight.com, covering Canadian politics, polls, and electoral projections.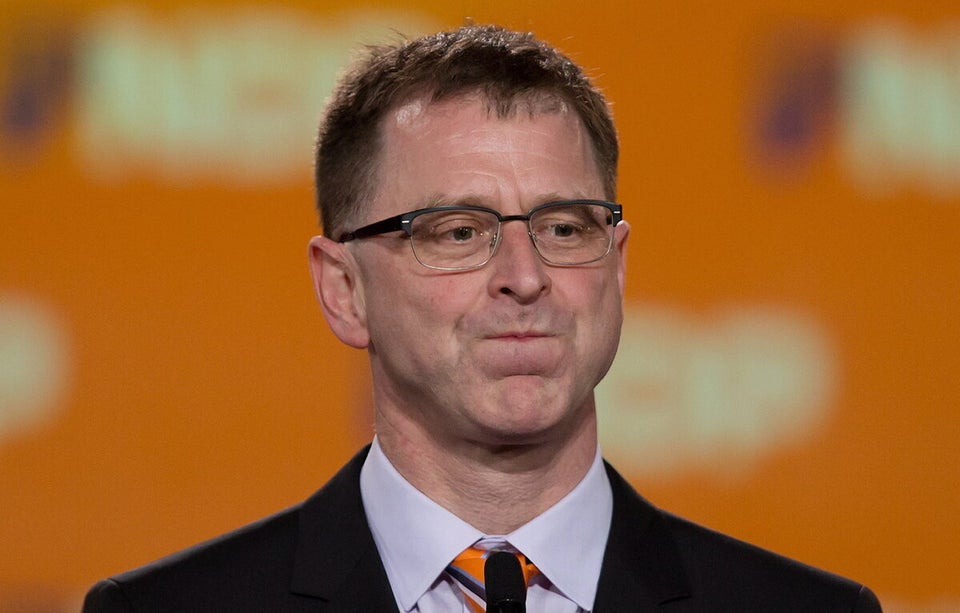 BC Election Night Photos