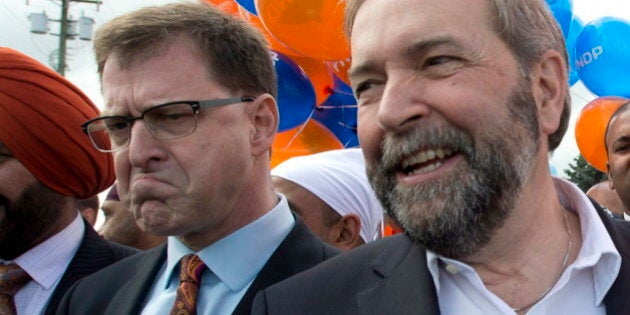 "I have three priorities for the spring session," he said. "The first is to get Adrian Dix and the NDP elected in B.C., the second is to get Adrian Dix and the NDP elected in B.C., and the third is to get Adrian Dix and his party elected in B.C."
But Dix did not get elected. And, in the end, it wasn't all that close.
Many people will be left scratching their heads, including the federal NDP leader, who once hoped this election could be a precursor to 2015.
"We're going to work together because all the lessons learned here in British Columbia are going to translate into a victory for the first national NDP government in 2015," he said.
"(Dix) is going to be really able to show what we are capable of in terms of public administration," Mulcair told HuffPost Canada at his party's convention in Montreal.
And, as pointed out by The Toronto Star's Chantal Hébert, it must also sting that Jack Layton's former chief strategist Brian Topp — a man who finished second to Mulcair in the last federal NDP leadership race — served as Dix's campaign manager.
"It makes matters worse for the New Democrats that the masterminds in charge of the B.C. campaign were the same people who had earned bragging rights by bringing the party to the major role of official opposition in the House of Commons in the last federal election," she wrote.
Either way you slice it, it's a safe bet Mulcair isn't pleased with Dix's collapse.
But he was right about one thing — there may be hard lessons to learn here that may serve federal New Democrats well in 2015.
Dix did eventually hit back, though, with a radio spot in the dying days of the campaign in which B.C. Liberals were accused of mishandling the Harmonized Sales Tax, breaking public trust over the BC Rail sale and showing dishonestly about the province's deficits and debts.
It appears the ad may have been too little, too late.
Former NDP strategist Bill Tielman wrote in 24 Hours Vancouver that Clark's team ran "the most right-wing, Republican-style campaign Canada has ever seen" in order to win.
"The BC Liberals were relentlessly nasty, using wealthy allies to air slurs against BC NDP Leader Adrian Dix, while spending voters' own money to promote the party with a collection of demonstrably false claims about B.C.'s budget, job creation and debt," he wrote. "And yet, it worked."
With federal Tories also known for their penchant for attack ads, it will be interesting to see if Mulcair and company will swing faster and harder in 2015.
With files from The Canadian Press