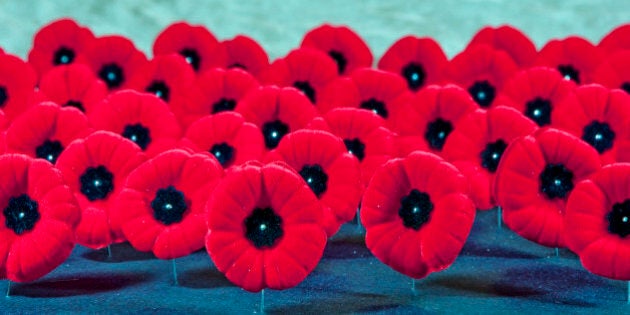 During the prolonged labour dispute between the B.C. Liberal government and our union, we teachers had our flagging spirits boosted when we received a message from a Canadian soldier.
Here is part of what he said to us:
When I enlisted, and from time to time thereafter, I remember reading the Canadian Charter of Rights and Freedoms so that I would gain a sense of the values and rules I would be fighting, and even dying, to protect. Some of those values are under assault today, and while I may be on the other side of our great nation, and while you have my gratitude and highest regard for the efforts you have made so far, I have one seemingly impossible request to make -- for those minds of tomorrow: Hold the line.
I am thinking of that message a lot these days. I think about it when I hear people say that it is important to show respect for all soldiers, past and present, that it's important to honour their sacrifices.
I hope that our respect goes beyond pinning the poppy on our lapels.
I hope our respect goes beyond standing at attention at the cenotaph.
I hope our respect extends to standing in line at a polling booth.
Our leaders speak about our democracy whenever they tell us about the reason they need to send our soldiers, our brothers and sisters, our fathers and mothers, our sons and daughters, into battle. They tell us that it's our democratic values that are under attack, that they need to be defended.
But perhaps sending our soldiers into battle is just one way to defend our democracy. Perhaps another way is by exercising our right to vote.
Right at this very moment, millions of people dream of having the right to vote. Thousands are in prison or being tortured for daring to demand the franchise, the right to participate in the governing of their countries. The fight for the franchise is often a prolonged struggle, as we can see with the Arab Spring -- that seemed to hold so much promise, but has yet to deliver fully the democracy it promised.
The holy grail of so many is what we already have.
Perhaps it will help us to consider taking a different look at the way we show respect for our soldiers if we remember how long and difficult the fight for the franchise was in this country. Full democracy for all Canadian citizens was a fight only recently won, many Canadians winning the right to vote only seven decades ago.
Four days after Remembrance Day, there will be an election for local governments throughout our province. Traditionally the turnout for these elections has been low with only around 30 per cent of eligible voters casting a ballot. The successful candidates will be those who win 50 percent of those votes. They will then spend their mandate representing 100 per cent of the citizens within their cities and towns after having won the approval of only a fraction of the electorate.
With the funerals of Cpl. Nathan Cirillo and Patrice Vincent still fresh in our memories, is it possible to consider that one of the most powerful ways to respect what they stood for would be to participate in the democracy they dedicated their lives to defend?
The soldier who wrote to teachers urged us to hold the line in the defence of public education in B.C. I am suggesting that the new "line" we need to hold is the one I will be in when I vote.
It's the one I will be in when I vote in the federal election in 2015 and it's the one I will be in when I vote in the provincial election in 2017.
I will continue to hold the line in the defence of our democracy.