In the middle of a dry, hot, B.C. summer, a Vancouver helicopter pilot is giving us all a shot of winter with a very cool video. Literally cool.
Bradley Friesen took two hockey players up to the mountains behind Vancouver, near the Stave River Valley, in October.
At 1,070 metres (3,500 feet) up, they arrived at a lake covered in a perfect sheet of black ice. (Watch above.)
Naturally, Brent Draney, a former NHL draft pick, and Derek Popke, an NHL skills coach who runs the Vancouver Hockey School, went for a skate.
"They both said it was the best ice they ever skated. They said it was also the fastest, easiest ice to skate. I remember Brent saying he had never skated so fast in his life," Friesen told HuffPost B.C. in an email.
"This type of (frozen lake) condition usually presents itself once every 10 years or so," he added. "It was incredible to watch them tear it up, and know two days later is was all gone."
Friesen often takes hockey players, explorers, and even figure skaters on ice capades to remote areas in B.C.'s wilderness to uncover stunning hidden lakes.
(Note: A can of Molson Canadian beer appears in the Stave River Valley video, but Friesen said he wasn't sponsored by the company, and included the product as a thank you.)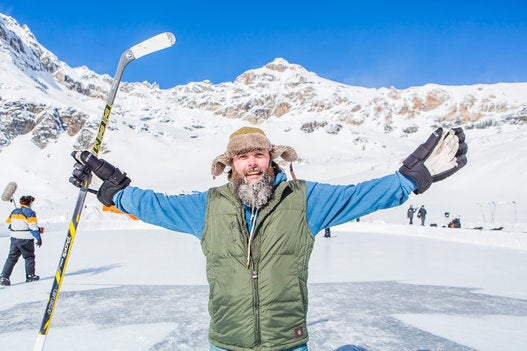 B.C. Mountaintop Hockey Game