For decades, Alberta's identity was completely intertwined with its oil industry.
The same thing could happen to B.C. and its real estate market, if the latest economic data from Statistics Canada is anything to go by.
A Thursday report showing gross domestic product (GDP) by industry in all provinces and territories provides one of the surest signs of how economies are faring across the Great White North.
It won't surprise many to see Alberta is suffering amid low oil prices.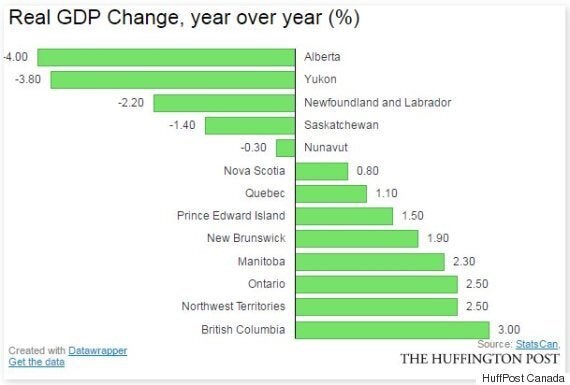 What is fascinating, however, is when you compare Alberta's dependence on oil against B.C.'s reliance on real estate.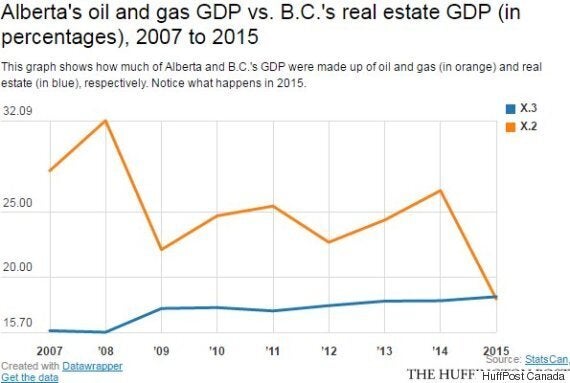 The graph above shows that B.C. actually became more dependent on real estate than Alberta was on oil and gas in 2015.
And while real estate in Vancouver is booming, much of that could be a reflection of how much oil prices dropped year over year.
Oil and gas went from representing over 26 per cent of Alberta's GDP in 2014, to around 18 per cent in 2015.
By contrast, real estate has grown as a portion of B.C.'s GDP almost every year since 2007. It went from over 15 per cent at that time to just over 18 per cent last year.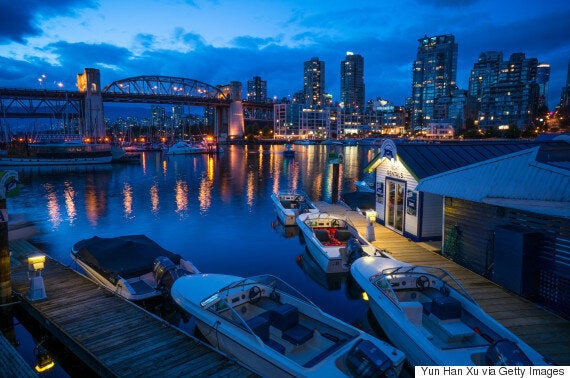 But just because real estate makes up such a strong segment of B.C.'s economy doesn't mean the sector is completely driven by buying and selling.
In fact, as University of Calgary economist Trevor Tombe noted on Twitter, much of the market leans on a concept known as "imputed rent" — an estimate of how much it would cost to rent out a property inhabited by its owners.
Meanwhile, in central Canada, Ontario's GDP grew by 2.5 per cent year over year.
Maclean's reporter Jason Kirby noted that real estate (along with finance) essentially saved the province's economy even as manufacturing contracted.
And Alberta isn't the only province whose economy fell amid a drop in oil prices.
Yukon's GDP fell by 3.8 per cent — only 0.2 percentage points less than Alberta's did. StatsCan blamed the decrease on goods-producing industries falling by 21 per cent. It also noted the shutdown of a mine that produces lead, nickel, zinc and copper.
Meanwhile, Saskatchewan's GDP dropped by 1.4 per cent.
Construction there decreased by 19 per cent. This was blamed, in part, on lower oil prices, which "led to a significant drop in oil and gas engineering construction."