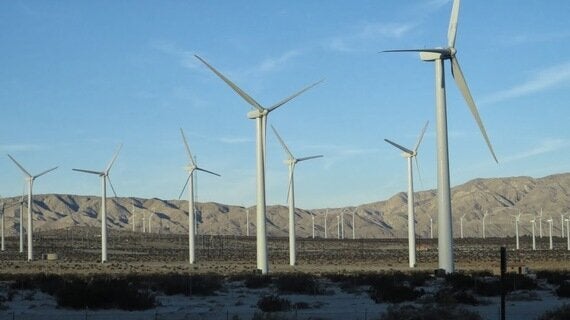 Wind power generation in Southern California (photo: Jens Wieting)
The challenge the world is facing is simple to describe.
Either a majority of nations will join the emerging climate champion club in force, or too many naysayers will remain on the sidelines and ruin the planet for all of us -- because there is no chance to beat the heat without a concerted effort. Sometimes a small group of bystanders is enough to let a house burn down.
The UN climate summit in Lima started with a lot of hope because of the recent U.S.-China agreement on climate with new commitments from the two largest carbon polluters for the coming decade of 2020 to 2030, exactly what the UN needs to build momentum for an international breakthrough at the important Paris summit next year. Although few other nations showed leadership in Peru, at the end of the Lima meeting, 196 nations, rich and poor, agreed to voluntarily put forward plans to reduce their emissions. The next step is for all countries to submit their action plan for the post-2020 phase to the UN by March 2015.
Unfortunately this is no legally binding step, and in light of Canada's track record as an obstructionist in the negotiations, the rest of the world has essentially given up on the Harper government making a timely, meaningful contribution.
Our province of British Columbia, however, together with a group of progressive US states and Canadian provinces, is being viewed differently by a number of observers because of the provincial carbon tax and other good steps into the right direction. But just how different is our province when it comes to real progress in hard numbers? Not that different, actually. Here are a few facts to assess our performance:
In 2012, Canada had reduced emissions by five per cent compared to 2005. Because of the expansion in the tar sands, however, Canada is now on track to exceed its 2020 target by 20 per cent.
In 2012, B.C. had reduced its emissions by 4.5 per cent compared to 2007. But the provincial emissions would increase by over 50 per cent if three LNG terminals were being built by 2020, a goal repeated by Premier Clark the same week the climate summit was held in Lima.
Prime Minister Harper made headlines the same week by stating that regulation of the oil and gas sector as promised by his government since 2007 would be "crazy" in light of the oil price drop.
Meanwhile B.C.'s environment minister Mary Polak claimed in Lima that "solutions like clean LNG" can contribute to global climate action, despite clear evidence which shows that shale gas production is as bad for the climate as coal due to massive leakage of the potent greenhouse gas methane.
Both Canada's and B.C.'s performances look dismal compared to the European Union, which has almost achieved its 2020 target to reduce emissions by 20 per cent ahead, compared to 1990 (not 2007!). B.C.'s current emissions are over 10 per cent higher when compared to 1990 (instead of 2007).
It is true that B.C.'s carbon tax is an important accomplishment within North America. But in the big picture we have so far failed to join forces with those countries that are reducing emissions significantly.
Climate change is already underway, approaching dangerous tipping points; and the remaining carbon pollution budget is now so small that most of the world's oil, coal, and gas need to remain in the ground if the world wants a fighting chance to stabilize the climate.
2014 is on track to become the warmest year on the planet since temperature recordings begun. Globally, sea levels have risen by 20 centimetres since 1900 and are now contributing to flood threats along the B.C. coast.
It's not too late for B.C. to become a true climate champion. With the Canadian government completely missing in action, we need our provincial government to represent British Columbians internationally and commit to a new emissions reduction target for the post 2020 period by March 2015, as requested by the UN.
B.C. should follow the true climate leaders in the European Union and adopt a target of 40 per cent emissions reduction by 2030 compared to 1990 (equivalent to approximately 50 per cent reduction compared to 2007). This would be a coherent follow-up to our current 2020 target and require a similar effort like the goal the U.S. just announced as part of their U.S.-China agreement.
The most important step towards this goal is for the province to introduce a mandatory assessment of the greenhouse gas emissions of new major fossil fuel infrastructure. Projects which will increase our emissions instead of reduce them, like the proposed LNG terminals, cannot go ahead if they make it impossible to meet our climate goals.
This would be the right thing to do both for our climate and for our economy. The business case for shale gas looks worse by the day, while the prospect for renewable energy looks better and better. In the past weeks, the sinking oil price has already led to increased caution in the energy business and slowed down investments in tar sands and LNG projects. Tens of thousands of jobs are at risk because the price for fossil fuels always has been and will remain volatile.
At the same time investment in renewables looks more and more attractive, with cost comparison graphs showing the price development for solar energy now looking like a falling guillotine cutting through the fossil fuel lines.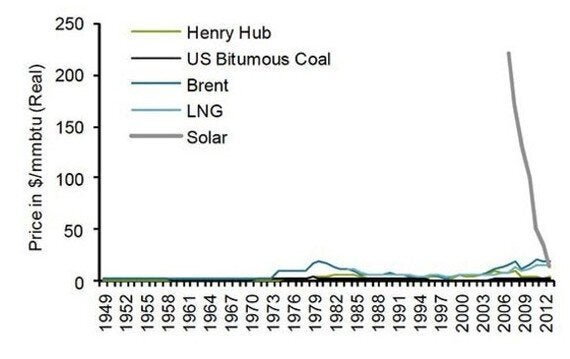 A recent milestone report released by Clean Energy Canada showed that the total number of jobs in the clean energy field is for the first time higher than the number of jobs of people working in the tarsands, despite lack of meaningful government support for clean energy.
Expanding oil and gas production is isolating us internationally, speeding up global warming and threatening lives. Investing in fossil fuel creates fewer, riskier and dirtier jobs with no future. Support for clean energy creates more jobs with a long-term prospect and without polluting the environment and damaging our climate. It is time for British Columbia to step out of Canada's carbon shadow and into the sun.