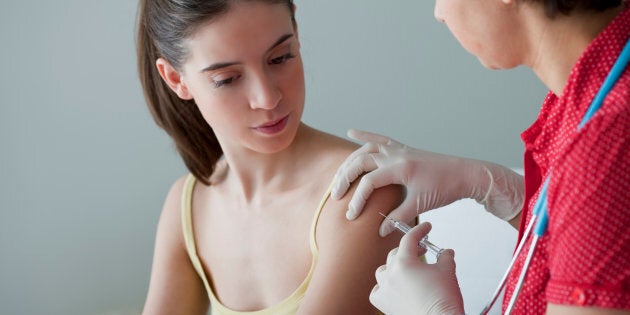 One of the biggest concerns around introducing the HPV vaccine was that it would embolden teenagers to be more promiscuous, or to have riskier sex. But new Canadian research backs up findings from other countries proving that isn't that case.
In fact, the UBC study found that teenage girls who received the vaccine were also less likely to have sex, and those who did have sex were more likely to use condoms or hormonal birth control.
"We've always known that this vaccine was safe, effective, and helpful," the study's lead author, Dr. Gina Ogilvie, told HuffPost Canada. "Now parents have even more information to confirm it."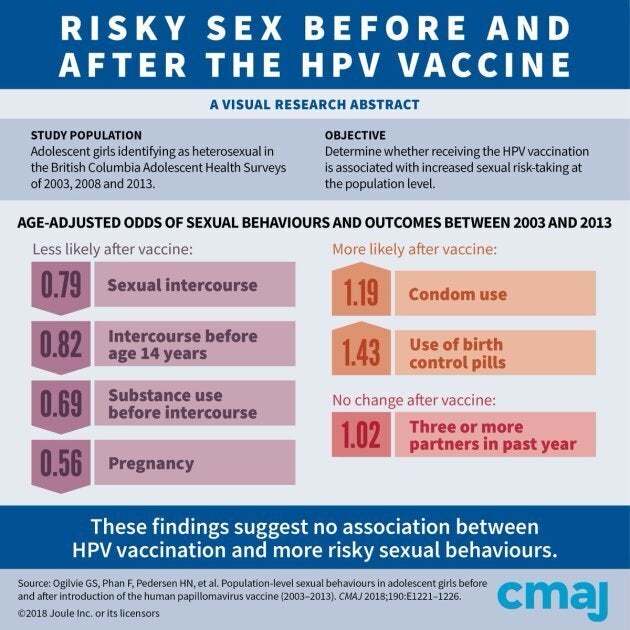 HPV in Canada
HPV, or human papillomavirus, is the most commonly diagnosed sexually transmitted infection in the world — almost 75 per cent of people have been infected at some point in their life time. In most cases it goes away on its own, but in some cases it can lead to cervical cancer, or in rarer cases, to other reproductive tract cancers.
All Canadian provinces and territories offer publicly funded HPV vaccine programs in schools, most of them starting about a decade ago. HPV vaccination rates range throughout the country, with a low of about 40 per cent in the Northwest Territories and about 91 per cent in Newfoundland.
The study
Ogilvie, a medical professor at UBC and Canada Research Chair in Global Control of HPV related diseases, was part of a team that examined data from the B.C. Adolescent Health Survey, an anonymous questionnaire about teen sexual behaviour conducted every five years. The researchers looked at the sexual behaviour of nearly 300,000 heterosexual teenage girls before and after the the introduction of the HPV vaccine in B.C. schools, examining survey data from 2003, 2008, and 2013.
The study found that the number of teenage girls in grades 7 to 12 who reported having sexual intercourse dropped from 21.3 per cent in 2003 to 18.3 per cent in 2013. The number who had sex before age 14 also dropped, from 14.3 per cent in 2003 in 10.2 per cent in 2003.
There were also significant decreases in the number who reported substance use before sex and in the number of reported pregnancies. Use of condoms, on the other hand, was up, as was use of other forms of contraception.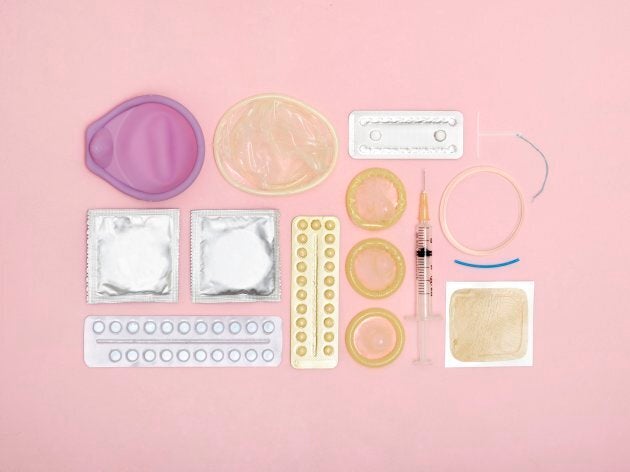 Although the study did not directly correlate the results of their findings to specific causes, Ogilvie says information and education are a significant part of sexual health.
The study's findings demonstrate that "giving kids information does not encourage poorer sexual health choices, but in fact empowers youth," she says.
While the sample size is small, the research is "fully consistent" with similar research elsewhere in the world, she says. European studies, including many from Scandinavia, have come to similar conclusions, she says.So have small clinic-based studies in the U.S.
Sex educators call the results unsurprising
Andrew Townsend, teen programming coordinator at Planned Parenthood Toronto, says the findings aren't particularly surprising.
"I already encounter tons more youth who are aware of what HPV is, and who know more about STI transmission," he says. "And if they already know more about that, it's often easier for them to talk about other sexual health-related things as well."
On teenhealthsource.com, an information site run by Planned Parenthood, conversations that start out about sexually transmitted infections, "often spirals into a conversation about bodies, or about birth control, about relationships, about consent," says Townsend. "Opening that door and giving space and resources for youth to learn about about things like HPV... allows them to ask questions that help inform other parts of their sexual health life."
Ogilvie says she's encouraged by the study's findings. She plans to release more studies examining the sexual behaviour of queer and lesbian girls who have had the HPV vaccine, and another about the sexual behaviour of boys.
The World Health Organization has prioritized the eradication of cervical cancer, and she says information that might encourage people to get vaccinated against HPV is another step towards that goal.
Townsend, too, says the study's findings about safe sax are promising.
"Teenagers are very smart," he says. "When they get opportunities to learn about sexual health, they're able to take that information and apply it to their lives."