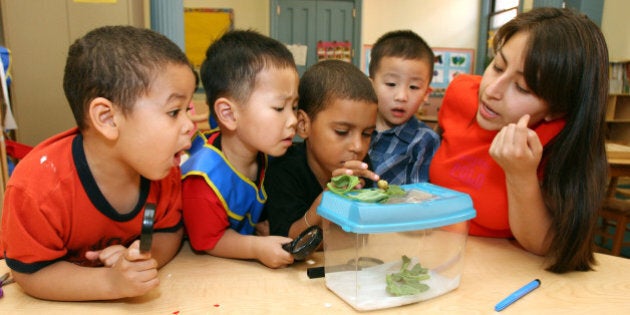 Teachers are not lazy and greedy for money. A kindergarten student actually said this to me the other day: teachers are lazy and greedy for money and that's why teachers are going on strike. She is five years old, and probably parroting what others have said to her outside of school. Because of this, I feel like I need to clarify what is really happening.
Teachers deserve to be treated with respect. Many of us work hard, straight through our recess and lunch, and well past the bell. I'm frequently exhausted to the point where I fall asleep right after dinner. Many of us take work home, slaving over preparing for the next day's lesson (due to insufficient prep time), marking, and writing report cards.
We spend our already low wages to help supplement what the government doesn't. Toys, books, resources, rewards, extra art supplies, sometimes stationery, etc. are all purchased with our already insufficient wages (which don't meet with the current cost of living). When a teacher moves out of the class, you'd likely see a bare room with worn out furniture, and if you're lucky, some basic school supplies and possibly some math manipulatives, but don't count on it. Where are the books, toys, posters, etc? Nowhere to be found.
This is a much larger issue than inadequate pay for teachers. The kids of B.C. are at risk of being ineffectively educated as a result of poor learning conditions. The court has ruled in favour of the teachers and stated that the government has been negotiating unfairly in stripping our right to discuss class composition, class size etc. The government is still ignoring the court. With overcrowded classes, a rising number of designated kids, and a lack of funding for support and resources, the government is setting up public school teachers to burn out and to work ineffectively.
In terms of the lack of funding, the government's Band-Aid solution is the Learning Improvement Fund, which looks great in the public realm, but when the entire fund is divided by all the schools, the amount of money received and the positive effect is small. The public education system is well-funded? I think not.
Curiously, the province claims it has no more money to invest in public education, yet government officials have received substantial wage increases. Private schools have also received a general increase in government funding, whereas public schools funding is cut especially when taking into account the rising costs of things today. Perhaps it's not a matter of a lack of money; it's a matter of the government choosing not to invest money into public education.
Additionally, apparently negotiating fairly in the government's mind is to further reduce our already low current wages by 10 per cent and locking us out of the school any time before 8:15 a.m., after 3:45 p.m., and during recess and lunch.
I told my students that I can no longer help them at recess and lunch because the government won't let me. They asked why the government was being so mean, and one boy even went as far to say that he thought that the government was a big bully. I couldn't have said it better myself.
Children have a voice too, but the government isn't listening to them. We, as teachers, are trying our best to advocate for the children, but right now, it feels like the government isn't listening to us either. We need the help of as many parents and B.C. citizens as possible to take a stand against Christy Clark and her government. Please don't be a bystander as the government bullies public education to the point where it won't exist anymore.
The children of today are our future. They will shape our society. How we educate them greatly affects how they will lead and run the future world. The lack of funding we are receiving from the government is horrific, short-sighted, and detrimental to B.C.
This is a pivotal moment in B.C. history, where you could sit, do nothing, and let the government destroy public education in B.C., or you could help to save it. We desperately need better learning conditions for your kids to grow up in. Can you imagine a future B.C. where private schools are your child's only option for learning in?
Please write to your MLA, talk to others, and help demystify the idea of teachers being lazy and greedy.
More blogs on the B.C. teachers' strike: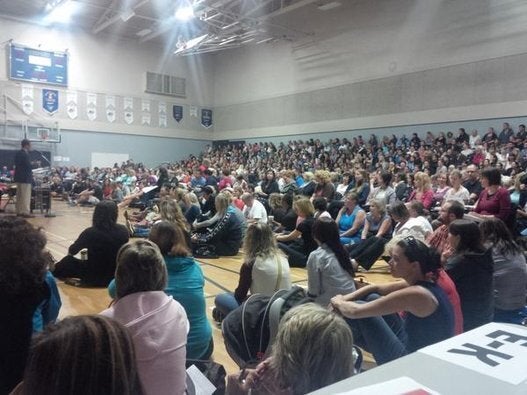 B.C. Teachers' Strike 2014