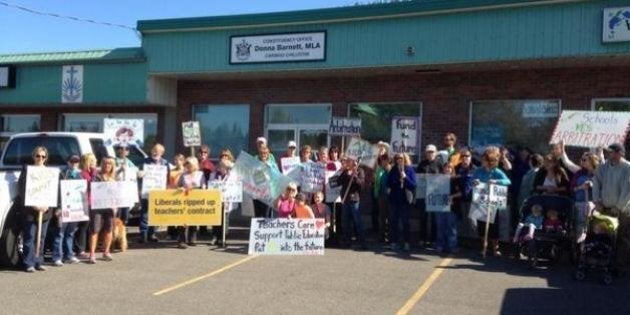 A grassroots campaign is underway to boycott B.C. businesses aligned with a coalition that has waded into the legal aspects of the current provincial teachers' dispute.
In 2012, a B.C. Supreme Court judge ruled the provincial government violated teachers' rights in 2002 when it declared they could no longer negotiate the size of classes or the number of support staff in classrooms. She ordered the government to pay $2 million in damages for breaching the Charter of Rights.
The business coalition applied to make legal arguments at the October hearing because it claims the court's damages award is a "threat to taxpayers" and will force higher taxes, service cuts or deficit spending, reported The Globe and Mail.
The group wants to provide a "business/taxpayer perspective," it said in an online update on its website Monday. "To be clear, the Coalition is not taking on teachers, or getting into the teachers strike."
However, teachers and their supporters have started a campaign to boycott the businesses that belong to the coalition — including White Spot restaurants, Boston Pizza, and Rona — if they don't act against the intervener plan.
"By participating as an intervener in the current BC Supreme Court case your coalition is choosing to support a Government that believes it is above the Canadian Constitution and a Government whose style of bargaining goes against the deepest of our Canadian sensibilities.

Both of these are grave affronts to Canadian democracy.

Therefore, if you choose to continue to participate as an intervener we will never again support the businesses in your coalition. Instead we will do everything in our power to convince our friends and family to support businesses that cherish Canadian democracy."
"These are complex and difficult issues that are far beyond our scope," it stated.
The B.C. family restaurant chain said it's not a direct member of the Coalition of BC Business, but is part of Restaurants Canada — which is affiliated with the coalition.
However, many Facebook commenters were not satisfied with the statement.
'Disassociate your corporation'
"This is not complicated," wrote Kelly Hiebert. "Disassociate your corporation from the Coalition or lose the business of 40,000 teachers, their families and an overwhelming number of their supporters."
"Maybe you can find the strength to withdraw from this coalition or to get Restaurants Canada to withdraw from the coalition. Until then my friends and family have withdrawn their patronage," wrote Leo Cheng.
Other businesses linked with the coalition have taken action. After receiving inquiries, the Western Convenience Stores Association, which is a member, asked the coalition to withdraw its intervener status.
"It was our understanding in approving the Coalition's request to apply to intervene in the case that the application would not represent a position on the dispute. I have since received several messages that reflect a very different understanding," wrote association president Andrew Klukas.
Poco Building Supplies posted a Facebook statement that it was surprised to be included under the coalition's umbrella, and was working to be removed from the list.
"Many of our customers, friends and — in certain cases, family members, are directly impacted by this ongoing dispute," said the Port Coquitlam home improvement store. "We are confident that this can be achieved without the intervention of the BC Coalition of Businesses."
According to The Allies for BC Public Education, the member organizations of the Coalition of BC Businesses are:

Building Supply Industry Association of BC
BC Hotel Association
Alliance of Beverage Licensees (ABLE) establishments (bars, pubs etc)
BC Chamber of Commerce
Building Owners and Managers Association of British Columbia
Canadian Home Builders Association of British Columbia
Restaurants Canada
Independent Contractors and Businesses Association
Insurance Brokers Association of B.C.
New Car Dealers Association of BC
go2hr (Tourism and HR organizations)
With files from The Canadian Press
CORRECTION: A previous version of this story incorrectly listed London Drugs as part of the Council of BC Businesses. As well, the Retail Council of Canada is no longer a member of the council.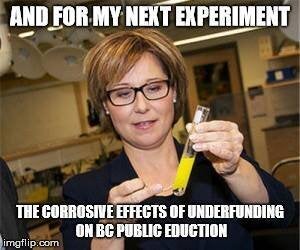 B.C. Teachers' Strike 2014 Memes