A mama bear who was separated from her cubs by the Ironman triathlon in Whistler reacted naturally when she charged at people in the area, sending them scrambling, said B.C. Conservation.
Athletes competing in the 226-kilometre race came across the bear family on the Valley Trail around 4 p.m. on Sunday.
The mother was on one side of the road, while her three babies were stuck on the other, trapped by competitors passing through.
Panicked, the mother started bluff charging some people in the area, B.C. Conservation Officer Tim Schumacher told HuffPost B.C. in an interview.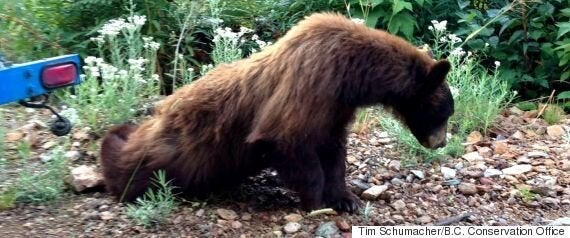 A mama bear panicked after she got separated from her cubs.
"If people are really close or if she feels more panicked, she'll charge then veer off or hit the ground away from the person," he said, explaining the defensive manoeuvre.
"You never want to get between a mama and her cubs," Schumacher said. "It could've been a dangerous thing."
Two conservation officers quickly arrived, and tranquilized all four bears so they could be moved away from racers and relocated south of Whistler. Schumacher said the family, including the year-old cubs, are doing well.
No one was injured in the incident.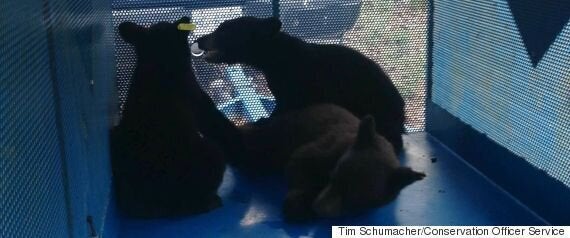 The three baby bears after being picked up by B.C. conservation.
The conservation team increased its presence at this year's event, after the animals were spotted at previous races, he added.
The department has been working with Ironman Canada to try and mitigate conflict between humans and wildlife. Since Whistler is built so close to green space, it's not uncommon that bears are in the area looking for food, said Shumacher.
HuffPost B.C. has reached out to Ironman organizers for comment.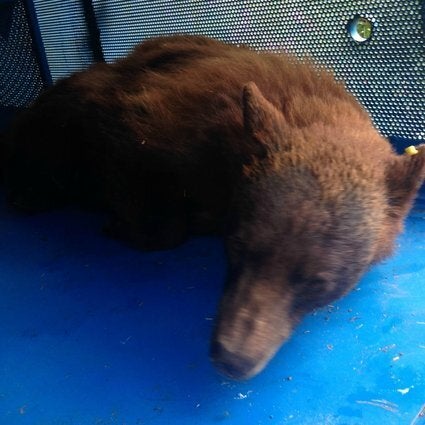 Bear Family Interrupts Ironman Whistler Triathlon



Popular in the Community