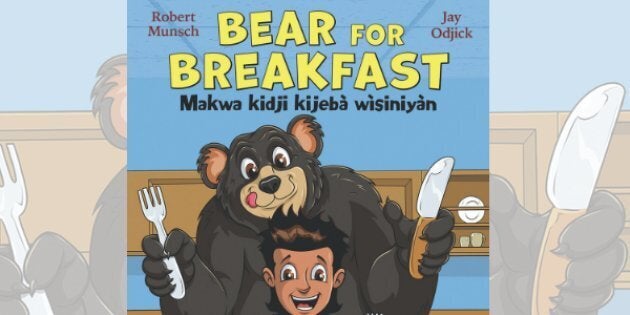 Jay Odjick is a hard man to reach. When the graphic artist is at home at the Kitigan Zibi Anishinabeg First Nation reserve, just outside of Maniwaki, Que., he often can't get cell service.
"In my mom's house, you have to stand in a certain corner like 'The Blair Witch Project'," he tells HuffPost Canada cheerfully once he's back near better-functioning cell towers. He's glad to be in touch now, talking about a project he's clearly passionate about: his new children's book with Robert Munsch, which will be published in both English and French — with Algonquin translation in both languages.
Bear for Breakfast came out of a real-life conversation that Munsch, the legendary children's author, had years ago in an Indigenous community in La Loche, Sask. A first-grader named Donovan told him that he liked to eat bear. The main character in the book, also named Donovan, goes on an adventure in search of bear like his grandfather used to eat — and, as you might have guessed, things don't exactly go as planned.
This isn't the pair's first collaboration. Blackflies, set in a northern Alberta reserve, was also written by Munsch and illustrated by Odjick, and came out in 2017. Odjick says he was thrilled to work on the book, which made several bestsellers lists.
"I don't know if there had ever been a bestseller set on a reserve with a cast of all First Nations characters," Odjik says. "It's important for kids to see themselves reflected in their content. It can be a big deal for a kid to pick up a children's book and see someone who looks like them."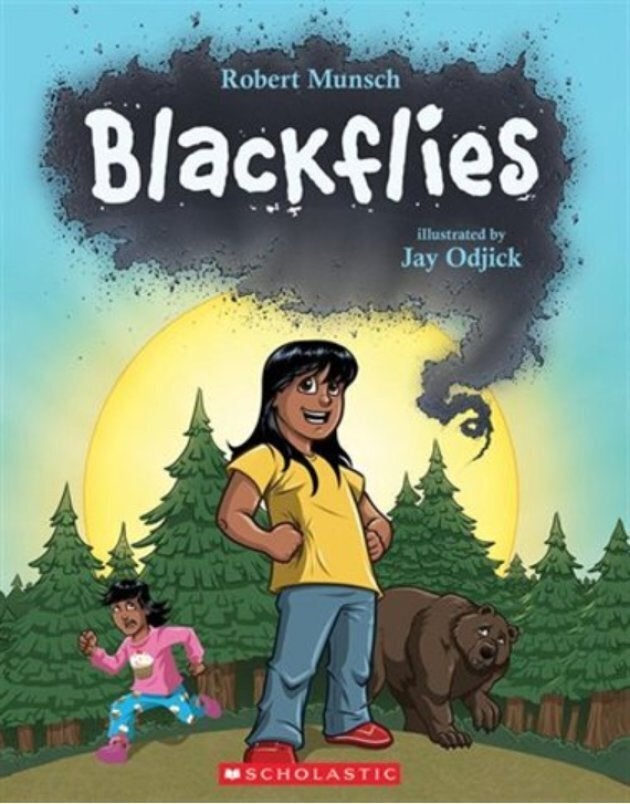 Preserving Algonquin, which was his father's first language, has long been a goal of Odjik's. The TV series based on his graphic novel Kagagi: The Raven, about an Indigenous superhero, is produced in both English and Algonquin, and scripts in both languages are available on his website. And for quite a while, he shared illustrations of Algonquin words along with their English translation on Twitter.
"I can't speak for other First Nations communities, but I know from my own, we're losing our language speakers at an incredibly rapid rate," he says. An old Algonquin man once thanked him for producing Kagagi, and said the show — which is primarily made for kids — is the only opportunity he has to hear his mother tongue spoken out loud anymore.
But when he was working on Blackflies, Odjick says it didn't even occur to him to get the book translated into Algonquin or any other Indigenous language. After its publication, both he and Munsch waved their royalty fees for any Indigenous community who wanted to republish the book in their own language. But even without paying the creators, there are still lots of costs involved in translating and printing the books.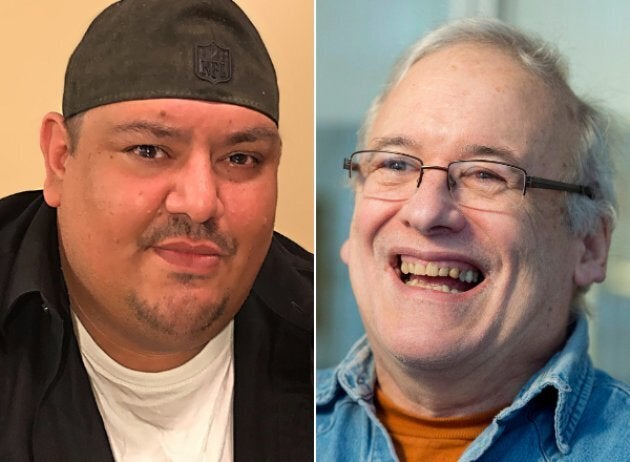 When he approached Scholastic about publishing Bear for Breakfast in an Indigenous language, Odjick says he was completely prepared to hear a no. He was shocked when they agreed. Because Odjick already had the processes in place from Kagagi, it was simple enough to get the text translated into Algonquin, even though the community where the book takes place isn't an Algonquin one.
"In my perfect world, we would see multiple editions of these books, in multiple First Nation languages," he says. "But I think we've got to get there."
The book will be available first in English-only and then French-only versions, and then in bilingual versions that include both the English and Algonquin text, and the French and Algonquin text.
"To be able to walk into literally any bookstore in this country and see a book on the shelf in Algonquin is mind-blowing to me," Odjick says.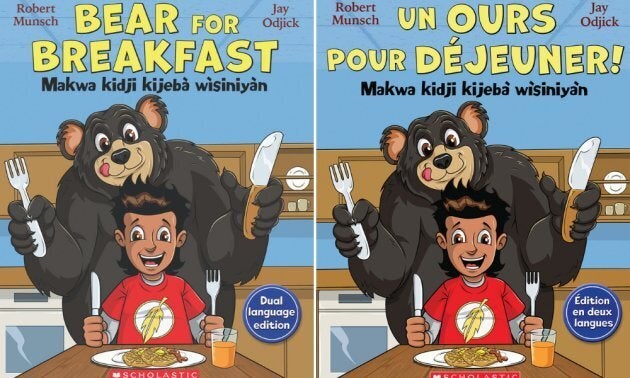 That such a big press took the project on, and that the book has the reach of an author like Robert Munsch — who Odjick says is one of the best and most successful children's book authors of our time — is part of what feels so groundbreaking about Bear for Breakfast.
"This is not going to be a small press. There's a very real chance that we could see a national bestseller in a First Nations language," he says. "And if you're a smaller publisher looking to boost your sales, you might be looking at that going, hey, we could do this too. Let's do it in Cree, let's do it in Mohawk."
He can't wait for Bear for Breakfast to hit stores in February, and says the book is "the best work of his career." The story is fun — he says "the bear is a hoot" — but more than anything, it's meaningful for a lot of Indigenous people.
"You can know in your heart that you're supporting something that is gonna make a very real difference for a lot of people in this country," he says.
"I don't want to get too sappy on you, but it's kind of like the movie 'Field of Dreams' — we're just building it. Hopefully people come."
Popular in the Community