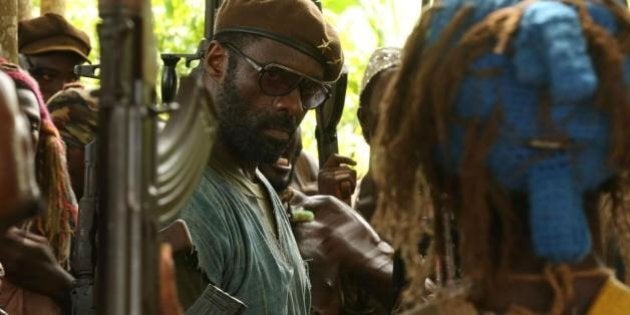 It is a testament to Beasts of No Nation's brilliance that no film has ever left me feeling so conflicted. Truth is, I'm more of a TV person; I like the week-to-week detachment, the opportunity to not deal with Carrie Mathison's near death experiences or whether or not Olivia and Fitz are done for good this time.
But Cary Joji Fukunaga's adaptation of Uzodinma Iweala's novel gripped me from the beginning like its "Imagination TV" motif (just watch it) or perhaps more apt: Like a mother determined to hold onto her child while soldiers rip her away. It is a gritty, hand-clutches-mouth foray into the underbelly of war in an unnamed African country, the atrocities of which are only further amplified by its perspective from a child soldier. It is emotional and anger-inducing; the sort of film Participant Media (one of a number of backers) is known for: Films that incite people to action, hopefully to make the world a better place.
And yet, it is also grossly inaccurate in the most clever of ways. By making no nominal references to said African country where the people speak Twi (a Ghanaian dialect) and whose conflict bears the markers of complex and multi-layered upheavals in Liberia, Sierra Leone, and the Democratic Republic of Congo, Beasts of No Nation effectively immunizes itself from the backlash of the few countries that would adequately critique its portrayal. In a film that makes such a poignant case about valuing the perspectives of those seldom considered (children in general and children caught in the midst of conflict in particular), it appears to fail at achieving just that -- for Africans.
That it is fictional is not the problem. I revel in fiction on a daily basis. I enjoy and prefer it, but only when I know it is indeed fiction. The misfortune here is that, due to its exclusive distribution via Netflix, the vast majority who view the film (or even press around the film) are not sensitized to the nuances in African culture, history and conflicts. Do a search for 'Beasts of No Nation' and you will get headlines on how "Idris Elba almost died on location in Africa" and "A Brutal tale of Child Soldiers in Africa" (New York Times), interspersed with even less educated references to breakout star Abraham Attah's nationality as "Ghanese" (later corrected by Business Insider). On the other hand Netflix is not, as yet, available in any West African country. So, what does this mean for an Africa that already struggles to show the world that it is made up of myriad of cultures and histories, much of which has been dictated by the reverberations of colonialism? One culture becomes all cultures, feeding into already problematic portrayals of African culture and history, globally.
Conversely, much as I want to shout from the rooftops and educate the world that despite Fukunaga's linguistic and location choices, the nation in question is not Ghana, I am forced to question myself as to why that matters. Could that point to the equally problematic issue of Africans using distinction as a means of shutting our eyes to conflicts in neighbouring countries? The wars of Sierra Leone and Liberia were ignited by different things, but West African histories (again, largely due to our colonial past) are similar enough such that the tribalism and classist divides underlying both could have fuelled similar conflicts elsewhere, including Ghana. Even scarier is the lingering fear that ongoing latent and obvious abuses of political power and corruption that exist in many countries, means we are always at risk of falling into such conflicts, often leaving the most vulnerable particularly hurt.
Like many who watch Beasts of No Nation -- African like myself or otherwise -- two questions that rise above the dust of any conflicting feelings remain: 1. How does this still happen in the world? (In DRC, Afghanistan, Colombian FARC guerillas and Yemeni rebel forces, to name a few) and 2. What can I do in whatever way, big or small, to make it stop?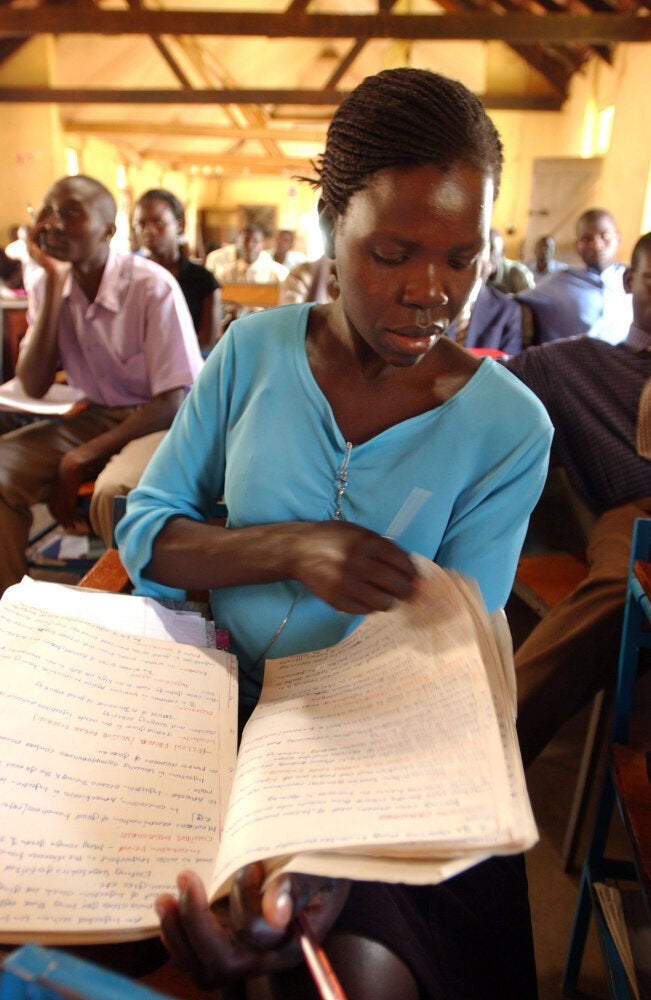 7 Ways To Help Child Soldiers