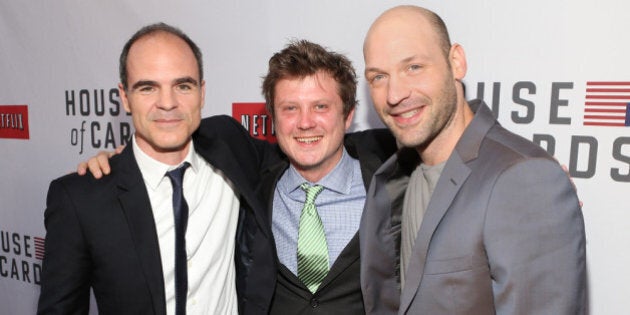 Ace showrunner Beau Willimon is proving to be quite the Hollywood wild card. Despite being plucked by Hollywood from relative obscurity (thanks to his first project, hit film, "The Ides Of March"), the former Hillary Clinton staffer never folded despite the ups and downs as a struggling playwright and screenwriter. The St. Louis, Missouri vet's patience finally paid off when he was dealt a royal flush when Netflix chose his hypnotic "House Of Cards" to become the Internet's first major series rollout.
After myriad Primetime Emmy and Golden Globe Award nominations for his premiere season, Willimon, 38, will be releasing the entire second season of the dysfunctional and much-anticipated "House of Cards" on Valentine's Day, of all days. "It's a deep season," he tells HuffPost Canada TV. (For those in a coma for the past year, "House of Cards" is a reboot of the BBC's original 1990 series, which was adapted from the novels of Michael Dobbs -- Margaret Thatcher's former chief of staff.)
As for a preview, Willimon isn't talking. Firmly, he says, "I really want the fans to be surprised and not expect anything, not even an innocent tease. I want every episode to be discovered -- not anticipated. Drama should tell the story -- not an interview." OK, then. But if you watch the Season 2 trailer, you can tell that House Majority Whip Francis Underwood has succeeded in becoming America's Vice President. "One heartbeat away from the presidency and not a single vote cast in my name," Underwood says, breaking the fourth wall once again. "Democracy is so overrated." But trouble this way comes when his mistress, reporter Zoe Barnes (Kate Mara) is this close to discovering the truth about Rep. Peter Russo's murder.
HuffPost Canada TV caught up with the "It" showrunner to chat about the web TV's future, why "House Of Cards" isn't a soap opera, and what it's like working with the magical and underrated Robin Wright.
HuffPost Canada TV: Where do you see the web TV genre headed? For the past five years or so, I've witnessed several pioneering web producers and writers break new ground with the medium -- and struggle -- but it was "House Of Cards" that really legitimized and cemented the movement.
Beau Willimon: The door is wide open! Of course, people have made content for the Internet ever since it was invented, but what I'm proud of with our show is that we're the first large mainstream show that's delivered on the Internet. And now we've seen other larger shows debut on the Internet, too, like "Arrested Development" and "Orange Is The New Black." In terms of where it's going, we're going to see the web dictate the form. You may see shows of variable episode lengths or we'll see entire seasons that are one entire stream. You're going to see much bigger diversity in terms of different types of stories and characters, because you can reach these niche audiences in ways you couldn't on broadcast TV. I think you're going to see bolder storytelling in years to come.
Like cable TV in the past, do the artistic freedoms make working on the web worth it?
I don't have anything to compare it to because "House of Cards" is my first show. I've done everything from detailing cars to working as a barista. I went from complete obscurity to the big leagues after my film, "The Ides of March," was made. That film led to a gazillion doors for me ... and led to "House of Cards."
Is making TV for the web easier?
Oh, no! It's never easy making a TV show. It's hard to make anything! We all treated it as a 13-hour movie, because none of us made TV before. It was an experiment, more than anything. We had no idea how we'd be received so we decided to have fun and just go for it. It was less uncertain and stressful Season 2, for sure.
Do you think the Primetime Emmy Awards should have a separate category for the web genre like The Daytime Emmy Awards have for its web shows?
No, I don't. Listen, there's no distinction between film and TV anymore. I would suggest fewer categories -- not more! Everything on TV and film today all boils down to one thing: great storytelling and characters. I think what you're seeing on TV or streaming today is just as sophisticated, if not more so, as what you're seeing on the big screen in terms of film. I don't think the kids growing up now -- watching their content on their phones, tablets, laptops, or computers -- will differentiate media at all. They'll just be looking for their stories.
Why is continuing drama ( i.e. soap operas) so addictive narratively?
Well, I don't know about [daytime] soap operas! I don't find them addictive; quite the opposite. Those are more melodramas, but the appeal of continuing drama, like "House of Cards," is that you can delve into character and story in ways you can't in films or plays. Those are limited due to the two hour-ish time frame. There are definitely certain narratives that are better fitted for that economy of narrative. But what I think people have come to love about shows like "The Sopranos," "Breaking Bad," and "Mad Men" are the characters you can really sink your teeth into over the course of years. You can only experience that on continuing drama.
Robin Wright first broke out -- albeit to a smaller audience -- on the daytime soap opera, "Santa Barbara."
One of the things I'm most proud of is all the attention Robin is getting as an actress on "House of Cards." She's one of the most underappreciated actors working today. And how beautiful is she? She's only becoming more and more beautiful, and talented, as she ages.
Speaking of breakout roles, Corey Stoll just blew my mind as Rep. Peter Russo! Perfect performance...
Oh my God, we weren't expecting that performance when we cast him. He blew our minds! One of the things that made the Golden Globes Awards special this year was that Corey got some love [with a Supporting Actor nomination]. He's such a big part of the success of Season 1.
Did you know during the audition process that Corey had the "It" factor?
We always knew he was a fantastic actor. But after he appeared on screen for the first couple of episodes, we knew we had stumbled upon someone fantastic. After that moment, I actually shifted all this story for him. In fact, Peter wasn't supposed to run for Governor; another character was. We hadn't cast that character yet so we shifted the story so we could see more with Corey and Kevin Spacey.
Finally, why are we so fascinated with the political world today? And is Hollywood close to saturating government narratives like it did with vampires?
[Laughs] It's always difficult to say why the culture moves in one direction or the other, but I think what we have in Washington, DC are stories that investigate power, and power is pervasive in all of our lives. But in DC, we have the masters of powers of the game, so they make the perfect and most ideal backdrop. What makes these stories relevant is we have a Washington that's paralyzed by gridlock. In a lot of these type of shows, like "Veep," government is satirized, but on our show, as a part of wish fulfillment, we see someone like a Kevin Spacey decides to dispense with the rules and actually decides to get something done.
By using the gridlock in his favour.
"House of Cards" Season 2 is available for streaming on Netflix on February 14, 2014.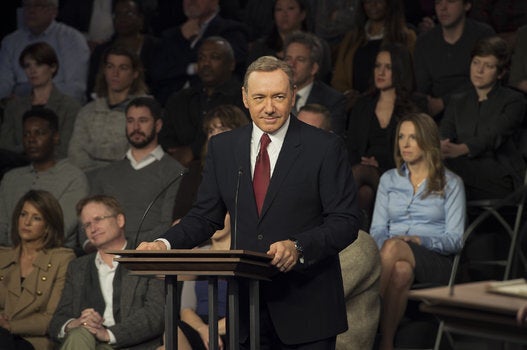 "House of Cards"