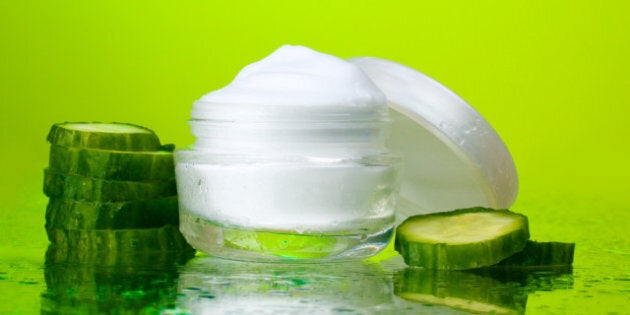 One look at any cosmetics label and you're reaching for your dictionary app. Phosphor-what? Para-who? It's hard to know what's actually good for your skin, and what makes your moisturizer feel like a sweaty mask. We spoke with Bill Baker, owner of Consonant Skincare, to find out what ingredients you should be looking for in your skincare products and what they do.
"Not all natural ingredients are created equal," Bill adds. "There are varying grades of oils and production methods that can have a big effect on the quality of the end ingredient. It's important to ask questions about the source of the ingredients that are in your favourite skin-care products."
With that in mind, here are 10 good-for-your-skin care ingredients you should look for in your beauty products.
1. Cassia Angustifolia Seed Polysaccharide
This unique sugar extract is a very potent water binder and intensively hydrates your skin. The added hydration plumps and improves the appearance of fine lines and wrinkles, as well as providing lasting hydration for up to 24 hours. It's important to note that there is a big difference between anti-dehydrating ingredients, which create a barrier to prevent water loss and, more common, lubricating ingredients like silicone and petroleum (which only make skin feel good on the surface).
2. Niacinamide (Vitamin B3)
This vitamin has astounding anti-inflammatory properties. It helps increase blood flow, which improves skin tone and is especially beneficial for reducing inflammation for those who suffer from mild breakouts.
Europeans have been using this secret ingredient for centuries and for good reason: grape seed oil is rich in Vitamin E and omega 6 oils, making it an incredible antioxidant and anti-inflammatory agent with regenerative properties.
Rich in antioxidants and vitamins A, C, E and B12, this ingredient soothes and calms even the driest skin.
This Tahitian nut oil is commonly known as the "universal skin healer." It promotes new tissue growth and can help treat many skin conditions, from eczema to scarring.
RELATED:8 Natural Beauty Treatments
This rich oil acts as both potent moisturizer and antioxidant helping to slow the physical signs of aging.
Vitamin E fortifies skin's natural water barrier, protects the outer layers of the skin and is a powerful antioxidant that helps to boost the effectiveness of sunscreen.
This mineral is a powerful anti-inflammatory that helps to reduce puffiness and firm the skin. It also reflects light, which helps your skin appear radiant and more even-toned. It's often an active ingredient in natural sunscreens.
Jojoba seed oil is a potent, non-greasy moisturizer that is rich in Vitamin E and a number of minerals. It also helps to re-balance sebum (oil) production, which is especially beneficial to those with both dry and oily skin.
This mineral is commonly an active ingredient in natural SPF products, alongside Zinc. It is an effective alternative to toxic Oxybenzone and other chemical sun protection ingredients. Natural sunscreen actives work by physically blocking UVA and UVB rays, rather that being absorbed into the skin like traditional chemical ingredients.
Popular in the Community