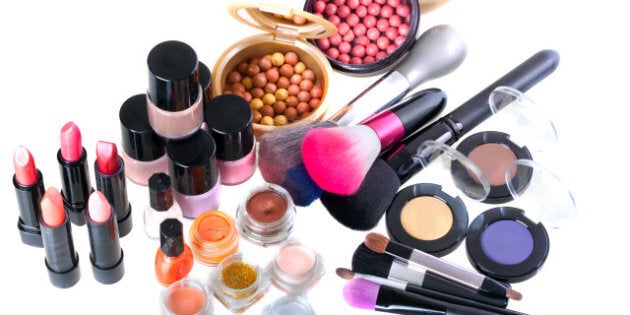 Does being caught with bright red lipstick on your teeth make you shudder? What about greeting the world with a cakey complexion after lathering your face with too much foundation? They're called makeup mishaps, and they happen to the best of us.
If you find yourself facing this kind of crisis, the only thing you can do is damage control. We chatted with Toronto makeup artist Jessica Jean Myers and nabbed some of her quick and easy fixes for some of these — and other — beauty blunders.
Here are her how-to-cope tips.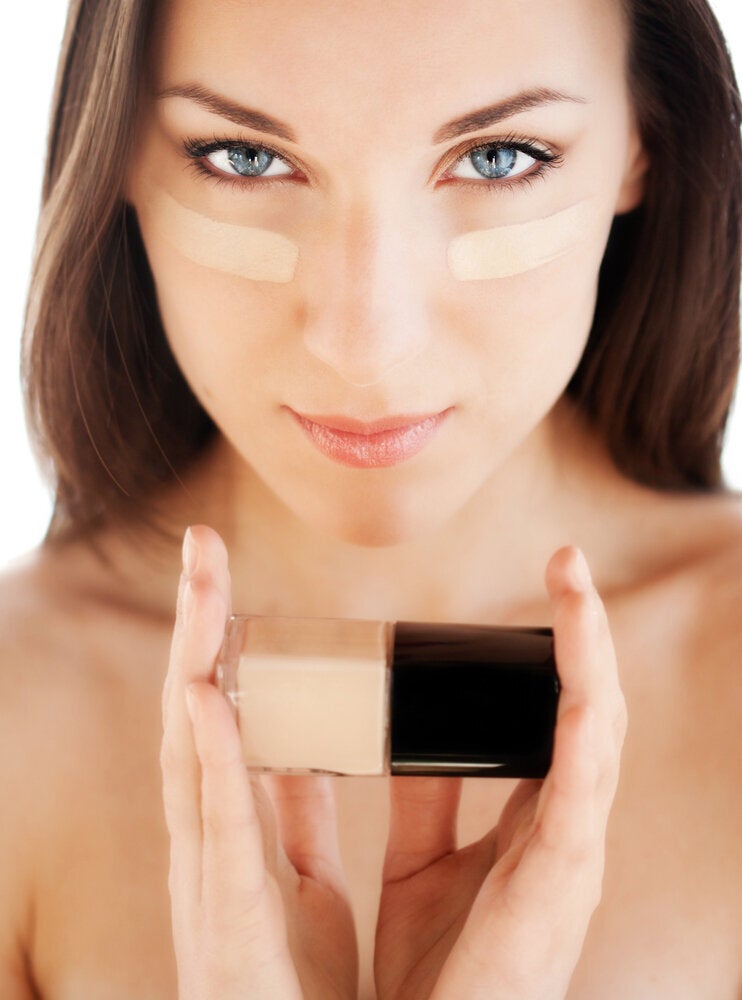 10 Makeup Mishaps And Quick Fixes
Makeup Mishap: Women who inadvertently walk around donning a foundation mask. Myers describes this as "a line where their foundation ends and their neck starts." Usually the shade of foundation is darker than their complexion, but there are also cases when it's lighter.
Quick Fix: "Get your foundation matched by a professional at a cosmetic counter. Change your foundation depending on the season. You may need to go a shade or two lighter in the winter when you don't have your summer tan," says Myers. "Ask a friend — real friends don't let friends walk around with a foundation mask!"
Makeup Mishap: Stop. Put down those tweezers. "Thin brows haven't been in since the 90s so there's no reason for ladies to be over tweezing their brows. Everyone's brows are different, and it's important to work within the natural shape and arch of your own brow," says Myers.
Quick Fix:Myers recommends waxing. She also suggests allowing your brows to grow for a few weeks or even months depending on just how much (or little) of your brow is left. "Go see a professional for a clean up. Ask for a referral from a friend that has great brows. If you fill in your brows, only tweeze the hairs outside of the filled in area. You can always try and use those eyelash growing serums on your brows as well."
Makeup Mishap: There are some who don't tweeze their brows... ever. This might work for a rare few, but, for the rest of us, tweezing is a must. "Even if you're rocking a beautiful, full brow there's bound to be a few stray hairs that need plucking," says Myers. "Cleaning up brows and creating a natural arch helps frame the face and can not only open up your eyes and completely change your face but in a lot of ways getting rid of those stray hairs can help create a fuller, stronger looking brow."
Quick Fix: Find a professional. They can use their expertise to help you decide what brow shape is right for you. Myers recommends doing your own maintenance every few days or once each week by tweezing stray hairs that grow in.
Too Much Concealer Or Foundation
Makeup Mishap: Today's foundations have come a long way. Myers says foundation formulations contain a lot of pigment, thus good coverage doesn't require application of a heavy layer, otherwise your face will appear cakey.
Quick Fix: Spot-conceal troubled areas like blemishes rather than your entire face. "Dab a bit of concealer on with a concealer brush or a clean ring finger and gently pat it into the skin on the desired area. The warmth of your finger and the patting motion will help blend the concealer over the problem area instead of using a sponge which just spreads it over the whole face, therefore causing you to use more product," says Myers.
Too Much Blush Or Bronzer
Makeup Mishap: Wearing way too much bronzer or blush. "No one wants 80s stripe cheek blush or the dirty face bronzer look," says Myers — we couldn't agree more.
Quick Fix: All you need is just enough blush to add a natural flush to your cheeks. Bronzer should also be used in doses. The key to this quick fix is to blend, says Myers. "For blush, just take a brush, I like MAC's 187 Duo Fiber brush, and swirl it around over the cheek colour helping to remove excess product and blend in the rest. Always tap your blush brush to remove excess powder before applying it to the cheeks or if all else fails, swipe a layer of translucent powder over the area to soften things up." Myers strongly cautions us against using sparkly bronzers on our entire face: "You'll just end up looking like a shiny disco ball."
Makeup Mishap: Think back to that moment when we all felt utterly horrified for Nicole Kidman as she walked down the red carpet looking as if she had dipped her nose in flour. We don't want this happening to you.
Quick Fix: If you've put on too much powder, Myers recommends letting it sit on your face for about 10 minutes before doing anything to correct it. "A lot of times the skin's natural oils will absorb the powder in a few minutes. If it's still too much powder, take a tissue, hold it over your face and mist a product like Evian's Facial Spray, which can instantly moisturize the skin and take away that powdery finish."
Makeup Mishap: Ok, yuck. Lipstick on your teeth is just as bad as food stuck in between them. It's embarrassing and more common thank you think, especially with dark lipstick.
Quick Fix: Always check that your teeth are clean before leaving the house. Myers recommends doing the finger trick — put your index finger in your mouth and pull it out to remove any excess lipstick that could find its way on your teeth.
Makeup Mishap: Lip liner tends to last longer than lipstick on your lips, so once the lipstick fades you may find yourself donning an unsightly lip liner ring.
Quick Fix: Myers suggests either using a lip liner that matches your natural lip colour and not the shade of your lipstick or colouring your entire mouth with lip liner first, not just the outline of your lips. Myers says this will increase your lipstick's staying power without getting "the dreaded ring-around-the-mouth look."
Smokey Eyes, Not Black Eyes
Makeup Mishap: There's the smokey eye look and then there's raccoon eyes — know the difference.
Quick Fix: The perfect smokey eye should be a gradation of colour across the lid instead of a lid covered entirely in black. "Remember to blend, blend, blend. Usually what can take an awful smokey eye to an at least acceptable version is taking a fluffy eye makeup blending brush and gently swirling it over the entire lid going from inside corner to outside," says Myers.
Makeup Mishap: It's common for specks of eyeshadow to fall and land just beneath your eye, especially when doing a smokey eye. You don't want to leave the house like this.
Quick Fix: Eyeshadow fallout happens to everyone, even professionals like Myers. She recommends applying eye makeup first, followed by foundation to prevent eyeshadow fallout entirely. "If I'm on set and I'm layering looks this isn't always possible. Putting a veil of translucent powder under the eyes while you work is a great way to catch powder fallout and make it easy to sweep away without messing the foundation. Or if it has fallen on to the cheek, use that fan brush you've never used before and lightly sweep it away," says Myers.
Watch the video below to find out which makeup mistakes you're making that actually age you.