Every parent has a different approach when it comes to their kids' nighttime routines.
Meg has realized that getting involved in the evening routine is pretty much an exercise in futility.
"I use to be like in there like 'Get your pyjamas on, get your pyjamas on!' Now, I just give them 10 to 15 minutes to get the pyjamas on and that's more successful for me."
"Apparently the harder I try to run my evenings routinely... the opposite happens," Leigh says.
Meg's advice: If parents give themselves double the time actually needed to get your kids ready for bed, you might — just might — have some extra time to relax and unwind with your kids.
For more on their approach to the evening routine, check out the video above.
'Apparently' is AOL's new Originals series that shows the hilarity (and chaos) that comes with having kids. Canadian sisters, bloggers and moms Meg and Leigh are giving us an all-access pass into their lives. From the shitstorm that is the morning routine to the desperate attempts to find 'me time,' these oh-so-relatable women give us an honest look at what it means to be a parent (Now, where's the coffee?).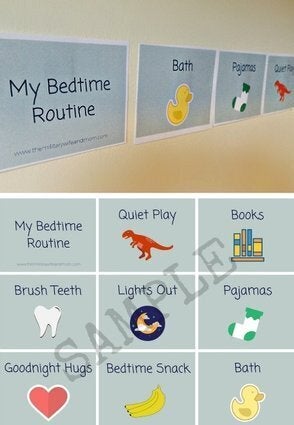 Bedtime Hacks To Get Your Kids Back On A Sleep Routine